Baseless and unproven accusations linking prominent political figures to the Communist Party of the Philippines (CPP) and its military arm, the New People's Army (NPA), continue circulating online two years after the controversial Anti-Terrorism Act (ATA) of 2020 took effect.
With the enactment of the ATA, VERA Files Fact Check debunked a barrage of claims that baselessly associated women politicians and celebrities with the CPP-NPA. (VERA FILES YEARENDER: Red-tagging online ramps up as Anti-Terror Law takes effect in 2020)
These online posts are a form of red-tagging or red-baiting which the International Peace Observers Network (IPON), a Germany-based nonprofit, defines as:
"…the act of labelling, branding, naming and accusing individuals and/ or organizations of being left-leaning, subversives, communists or terrorists (used as) a strategy…by State agents, particularly law enforcement agencies and the military, against those perceived to be threats or enemies of the state."

Source: International Peace Observers Network (IPON), Red-Baiting: Civil Society under general suspicion, Nov. 2, 2011
This time, the red-tagging playbook includes a long list of politicians and members of party-list organizations running for either the presidency or a congressional seat in the 2022 elections.
Posts targeting these political figures sought to delegitimize their election bid and discourage readers, specifically on Facebook, from voting for the candidates.
Some claims went beyond linking the targeted individuals to the CPP-NPA, going as far as   calling them terrorists outright; again, without presenting evidence.
Of the 454 mis- and disinformation items debunked by VERA Files Fact Check in 2022, 10 engaged in red-tagging public figures and groups. At least 25 articles debunked red-tagging in  1,367 articles produced by other partners of collaborative fact-checking project Tsek.ph.
After analyzing these, VERA Files Fact Check noted these patterns:
Members of the opposition were frontline victims of red-tagging
Just like in 2021, former vice president Leni Robredo remained the most red-tagged public figure this year. Thirteen posts associated her with the CPP-NPA, saying she has been working with the communist movement all this time with no proof. Robredo was the political opposition's candidate for president in the May 2022 elections.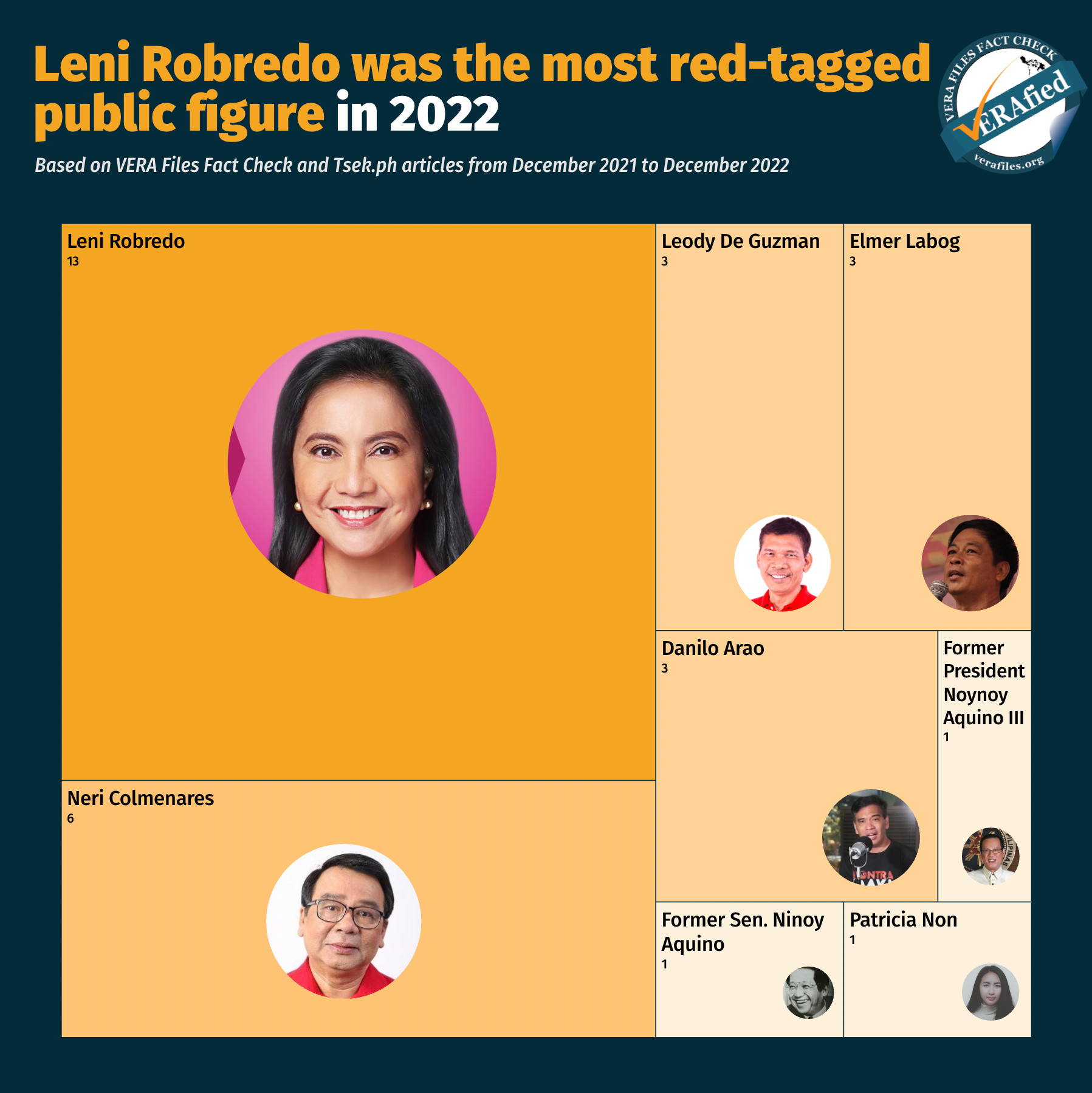 A couple of these accusations were made after election day (May 9) and linked her to the Kabataan Party-list (KPL) although Robredo and her camp never endorsed the group or campaigned for its candidates.
Red-taggers did not spare the former vice president's personal relationships. In March, Facebook netizens recycled a post claiming that Robredo was married to an NPA member prior to her marriage to the late Interior secretary Jesse Robredo. The post had appeared on the social media site as early as July 25, 2016, almost a month after Robredo was sworn in as vice president.
Senatorial aspirant Neri Colmenares followed Robredo on the list. At one point, he was outrightly branded as a "terrorist" (terorista) and called a lapdog (tuta) of CPP founder Jose Ma. "Joma" Sison in a post that circulated on Facebook in December 2021.
The post came with an edited photo of Colmenares, veteran labor organizer Elmer Labog and Sison. Some photos of senatorial hopefuls Colmenares and Labog – both running under the Makabayan Coalition – were edited to have cartoon horns. Sison's had the horns of occult figure Baphomet.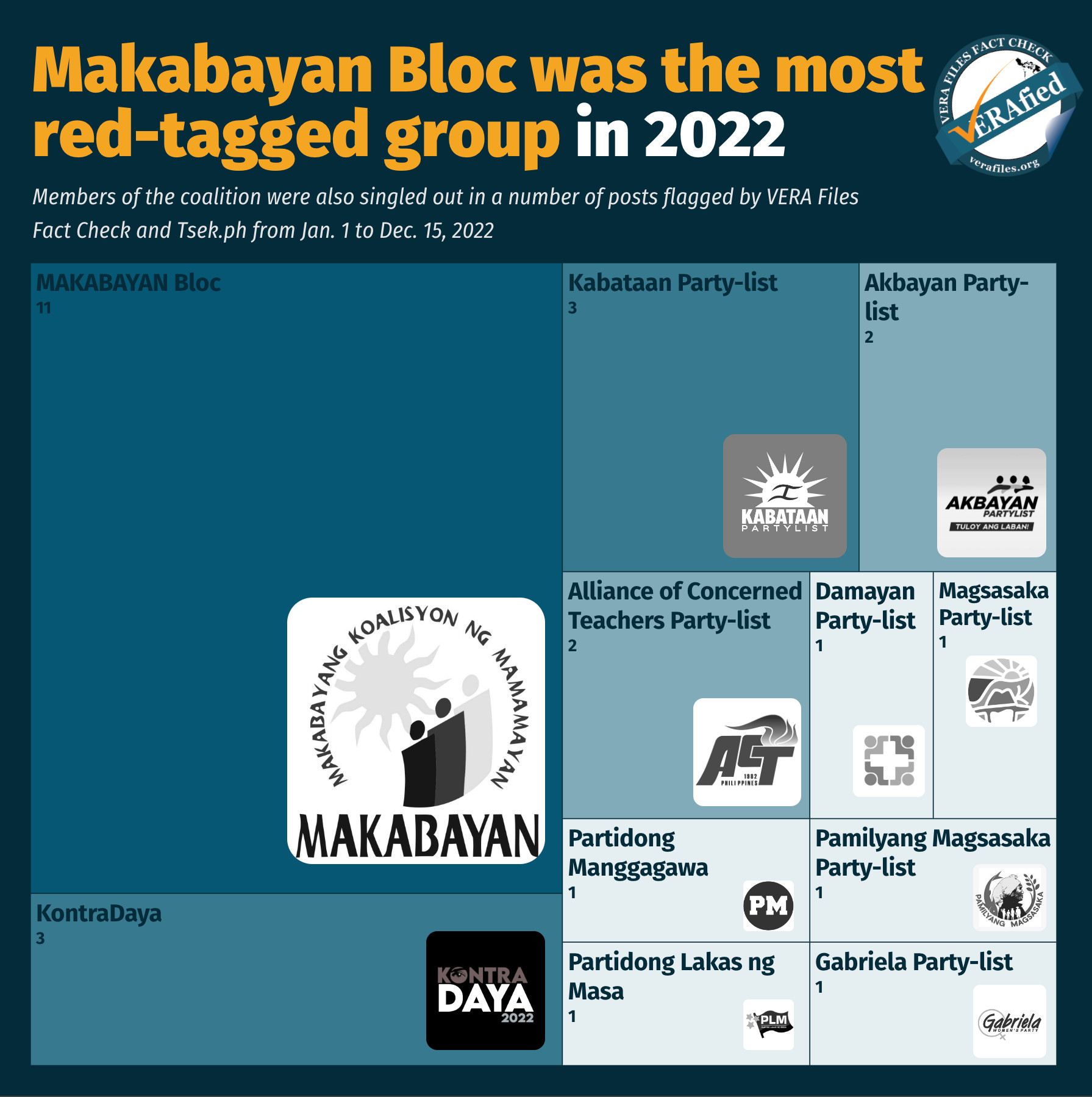 Colmenares, a former Bayan Muna Party-list representative, was often red-tagged  with Makabayan bloc affiliates such as KPL, Gabriela Women's Party, and Alliance of Concerned Teachers Party-list.
Labog came after Colmenares followed by  labor leader and activist Leody De Guzman, who ran for president and was red-tagged twice with his party-list Partido Lakas ng Masa.
Political candidates were not the only targets. A few days before election day, poll watchdog Kontra Daya and its convenor Danilo Arao were baselessly accused of having ties with the CPP-NPA in an article published in the  state-run newswire service Philippine News Agency (PNA) published on May 16.
Red-tagging posts peaked on election day, but did not stop there
Red-tagging claims of opposition politicians who ran for national seats in the 2022 elections started prior to Feb. 8, the start of the 90-day official campaign period. The earliest was a post on Colmenares and Labog which was flagged by Tsek.ph in December 2021.
There appeared to be a concerted effort to delegitimize the election bid of red-tagged candidates as polling day drew close although they were recognized by the Commission on Elections (Comelec) as legitimate and eligible to run for public office.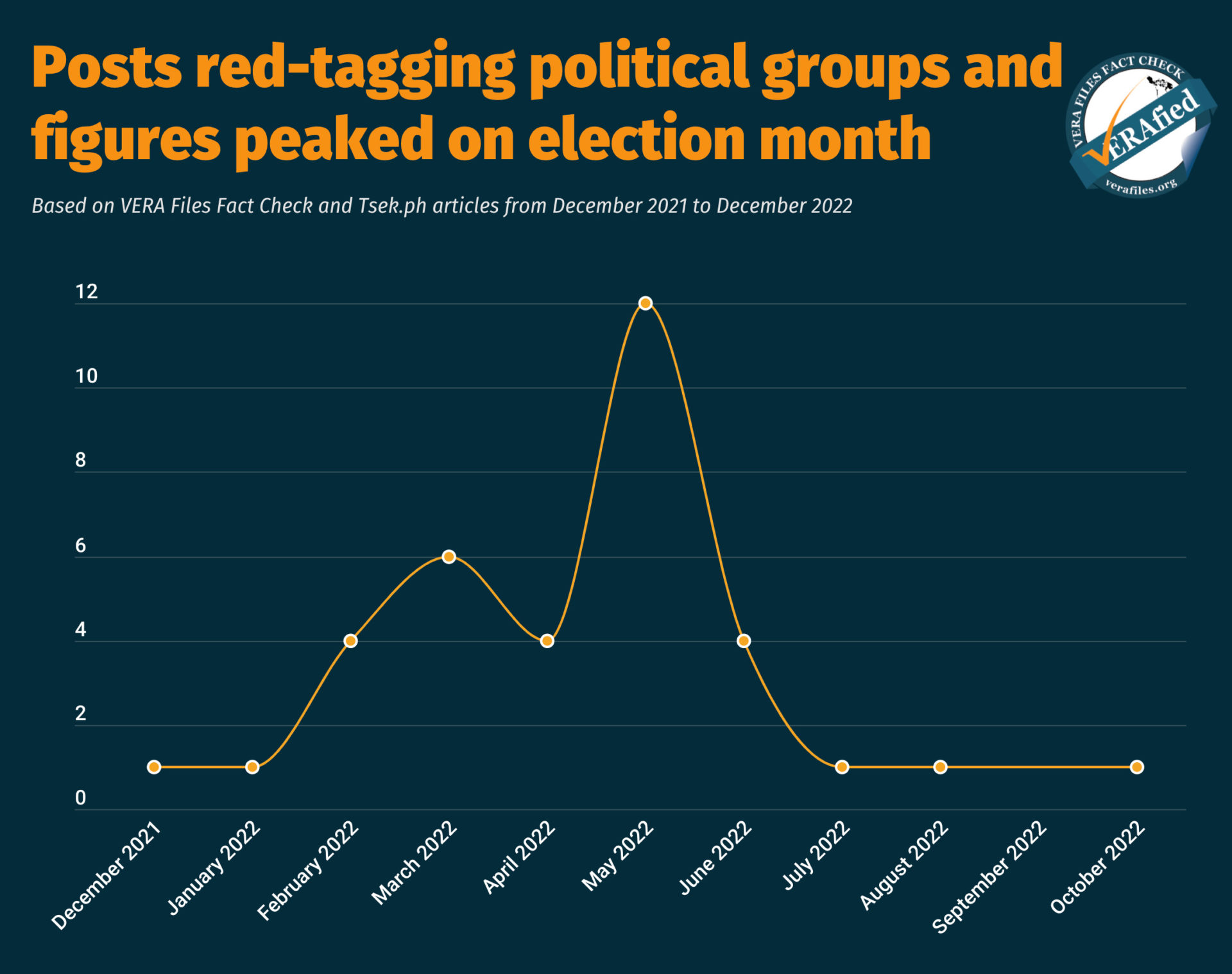 This is demonstrated in the claims which ramped up in April, a month shy of election day. All four posts alleged that members of the opposition were working with Sison or the CPP-NPA.
One was a spliced video of Sison that circulated on Facebook. The video was edited to look like Sison was confirming that members of the Makabayan bloc – such as Gabriela Women's Party and Alliance of Concerned Teachers party-list – were part of the CPP.
Robredo was specifically targeted in posts that red-tagged her in April.
Two claimed that Sison was Robredo's presidential campaign adviser while another Facebook post carried a video, amplifying the unfounded statement that the former vice president had ties to the NPA.
Red-tagging of political figures peaked in May, with nine posts flagged. The posts had become more direct with calls not to vote for these candidates.
An example is a photograph of a pamphlet that Tsek.ph flagged on May 6, three days before election day. The pamphlet claimed that Comelec had disqualified the party-list groups under the Makabayan bloc because of their "involvement to terrorism." It carried the phrase "do not vote" (huwag iboto) beside Comelec's logos for the 2022 polls.
Efforts to link Robredo and KPL to the CPP-NPA continued after the initial results of the elections were released and even after she had lost in the presidential race. These claims were all rated as "baseless" and "false" by VERA Files and Tsek.ph partners Fact Rakers and Baguio Chronicle.
Red-taggers preferred using videos, next to text posts, to amplify their claims
Pure text posts were the most used form of red-tagging this year. These were either a list of political figures who allegedly support the CPP-NPA or lengthy statements written by Lorraine Badoy, former spokesperson of the National Task Force to End Local Communist Armed Conflict (NTF-ELCAC).
Nine out of 35 flagged posts came in the form of videos which were circulated on Facebook earlier this year. Of all types of misinformation, videos are among the hardest to verify, according to a 2018 article of Poynter Institute, a U.S.-based non-profit media organization.
Two of the eight flagged videos took out of context statements made by former politicians. For example, one video that circulated on Facebook was a spliced and edited version of a speech of the late senator Benigno "Ninoy" Aquino Jr. in March 1978. It was stitched together to make it look like the former opposition leader had called for the "legalization" of the CPP.
The video was posted on Facebook and YouTube on Aug. 29, eight days after the  commemoration of the 39th anniversary of Aquino's assassination. VERA Files Fact Check rated this post as "needs context" in September.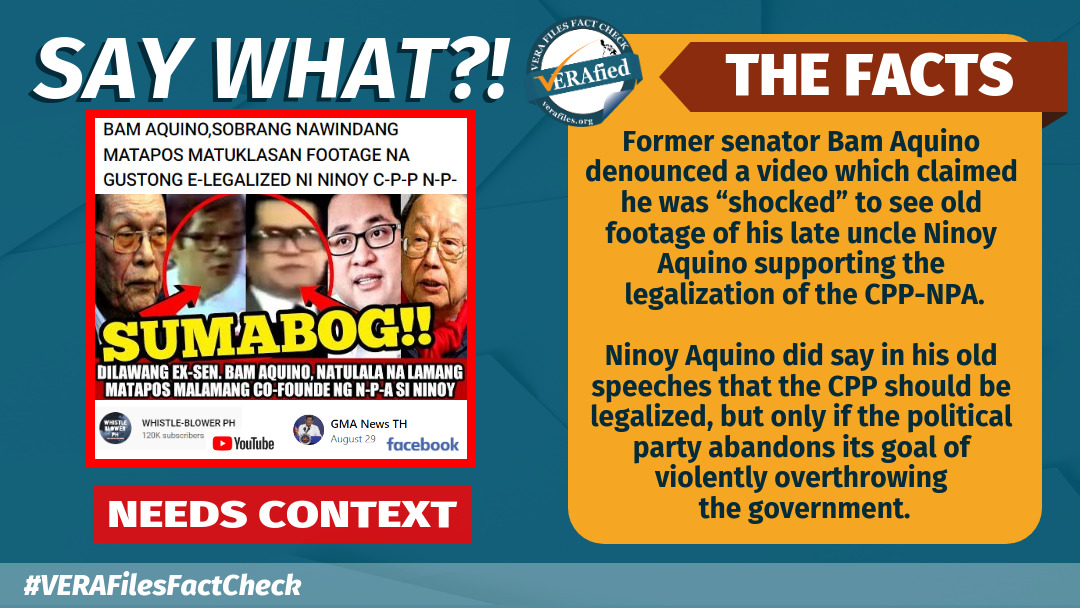 Of the eight flagged videos, three were published by Sonshine Media Network International (SMNI), a media group founded by televangelist Apollo Quiboloy, an ally of former president Rodrigo Duterte.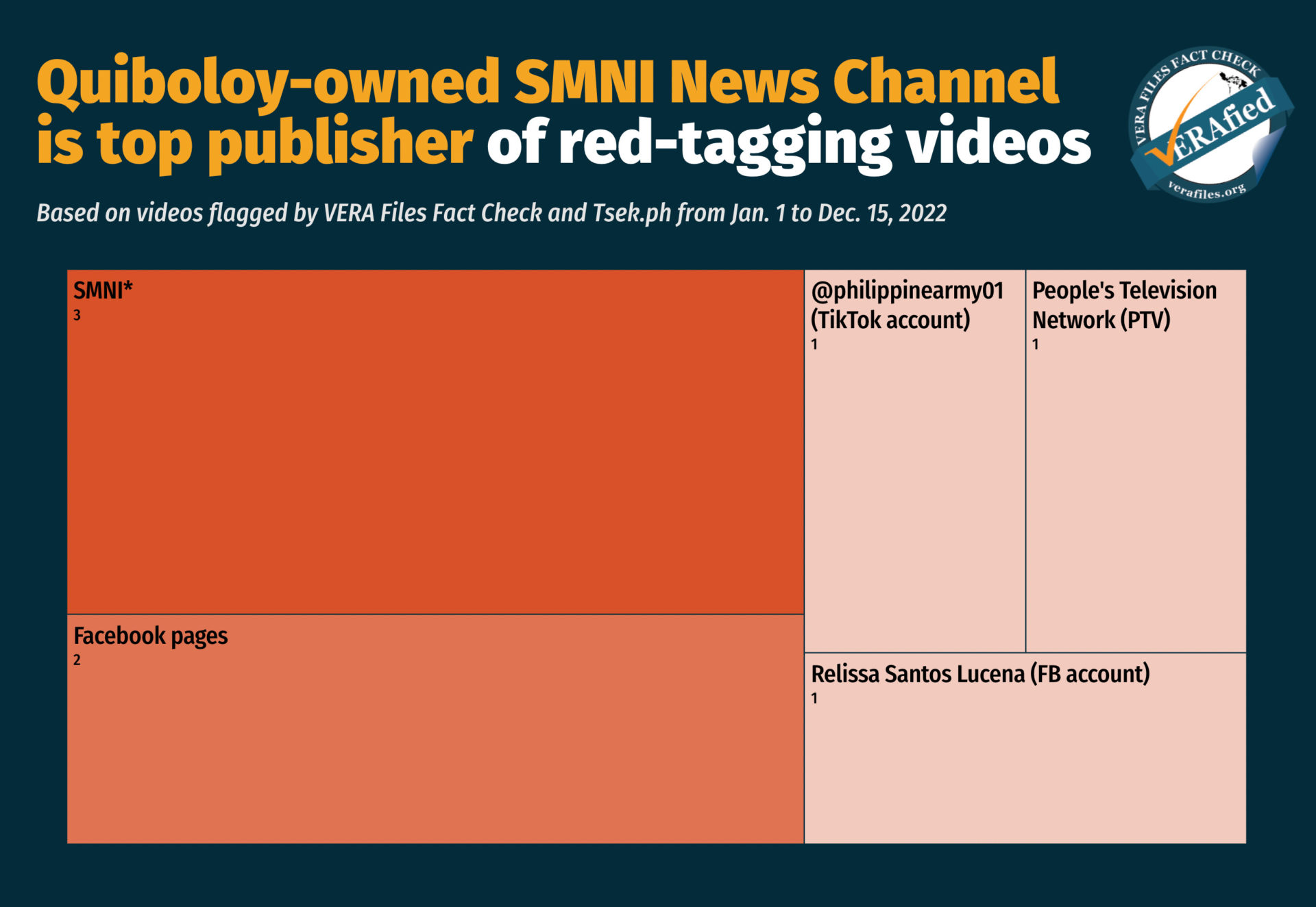 SMNI has a current affairs and commentary program called "Lakas Kasama Ang Bayan" which is dedicated to discussing the government's anti-insurgency efforts.
Often, these videos feature military personnel, Badoy, NTF-ELCAC officers, and even alleged former rebels such as Jeffrey "Ka Eric" Celiz as talking heads repeatedly alleging, without basis, that a certain individual or group is a CPP-NPA supporter or member.
Text posts that associate political figures with the CPP-NPA also failed to provide the basis or visual aids for their claims. These often came in lengthy callout posts such as those made by Badoy and Celiz, throwing readers in a loop by repeatedly mentioning the CPP, NPA, and the National Democratic Front in every sentence where the political figures were named.
"Red-tagging […] has nothing to do with facts. It's mainly false accusations, fabricated information and the use of the military and the trolls to spread disinformation," said Diosa Labiste, associate professor at the University of the Philippines (UP) College of Mass Communication, in a forum in April 2021.
The Philippine Army (PA) partnered with SMNI in June this year, providing the network with information on the government's anti-insurgency campaign used especially for its Laban Kasama Ang Bayan program. The PA dubbed this plan Project Mulat, aiming to counter the narratives of alleged communist terrorist group fronts in online spaces, according to a document obtained by VERA Files in mid-November. (Read Philippine Army partners with SMNI media group in anti-communist campaign)
Red-taggers pose as news orgs, govt bodies
A study of the sources of red-tagging posts revealed that Badoy and Celiz were the top sources of red-tagging this year. Aside from SMNI, the other media sites reported as news the unfounded claims that Sison was Robredo's presidential campaign adviser.
Two of these are Eagle News and NET 25, media outfits associated with Iglesia Ni Cristo. The other is Journal News Online, a media site owned by the family of the late Benjamin "Kokoy" Romualdez, an uncle of President Ferdinand "Bongbong" Marcos Jr.
The fourth is PNA, which began publishing statements from Celiz as early as November 2020.
Three out of four posts from these news outlets were rated as baseless and false by VERA Files Fact Check and Tsek.ph partners.
Two Facebook pages that red-tagged political figures mimicked the name of news organization GMA News (GMA News TH) and the Department of Social Welfare and Development (DSWD 4ps Update). Both pages are still up and running.
Pamphlets, which made the rounds on-ground and online before May 9, carried the logo of Comelec's campaign for the 2022 elections.
Government officials deny that red-tagging exists
Some emerging forms of red-tagging are not as blatant but are just as sinister. A rising narrative is one which outrightly denies that red-tagging exists, whether by twisting Philippine court rulings or claiming that it is a term purportedly invented by leftists to protect themselves.
This denial did not emerge only this year.  In 2021, Badoy made a similar claim when she falsely said that the Court of Appeals had ruled three years earlier that red-tagging does not exist in its decision on a petition for a writ of amparo by select human rights groups.
Badoy's claim that "there is no danger to life, liberty, and security when someone is identified as member of the CPP NPA NDF," undermines the reality that red-tagging, at worst, leads to warrantless arrests, torture, enforced disappearances, or extrajudicial killings, according to a 2012 IPON study. (See VERA FILES FACT SHEET: The dangers of red-tagging under the Anti-Terrorism Law)
Have you seen any dubious claims, photos, memes, or online posts that you want us to verify? Fill out this reader request form.
Sources
International Peace Observers Network (IPON), Red-Baiting: Civil Society under general suspicion, Nov. 2, 2011
Poynter, 10 TIPS FOR VERIFYING VIRAL SOCIAL MEDIA VIDEOS, April 2, 2018
UP Journalism Department Facebook Page, To ask or not ask: Lessons on red-tagging and Community Pantry, April 23, 2022
(Guided by the code of principles of the International Fact-Checking Network at Poynter, VERA Files tracks the false claims, flip-flops, misleading statements of public officials and figures, and debunks them with factual evidence. Find out more about this initiative and our methodology.)