In the wake of discussions and the eventual enactment this year of Republic Act No. 11479 or the Anti-Terrorism Act (ATA), Filipinos saw a wave of personalities being painted in one color: Red.
Journalists, activists, human rights advocates, lawmakers, and celebrities were accused of being associated with the Communist Party of the Philippines (CPP); the New People's Army (NPA), its military arm; and the National Democratic Front (NDF), its political arm.
The CPP-NPA was proclaimed a terrorist organization by President Rodrigo Duterte in 2017, although it is yet to be proscribed by the Court of Appeals.
While not a new practice, red-tagging is especially dangerous with the backdrop of the Anti-Terror Law. Among others, the law sentences anyone found recruiting or being a member of terrorist organizations with life imprisonment (Sec. 10). Suspects may be detained without warrants of arrest for up to 24 days (Sec. 29), compared with a maximum of 72 hours for other offenses.
Red-tagging, or red-baiting, is the act of harassing or persecuting someone based on "known or suspected communist sympathies," according to Lexico.com of the Oxford University Press.
This year, efforts to tag public figures as members, recruiters, and sympathizers of communist and terrorist organizations grew rampant on social media.
Among 332 pieces of online disinformation debunked by VERA Files Fact Check from Jan. 9 to Dec. 9, 22 had to do with ATA and red-tagging. VERA Files debunked only four stories of the same nature in 2018, and three in 2019.
VERA Files analyzed these posts and these patterns emerged:
1. Congressional passage triggered disinfo on anti-terror law
Prior to the House of Representatives' adoption of the Senate version of the anti-terror bill on June 3, VERA Files flagged only two pieces of online disinformation having to do with the CPP and NPA this 2020.
Both were old reports passed off as new: a 2015 story about armed rebels burning a truck filled with goods in Bukidnon, and CPP founder Jose Maria Sison in 2019 calling for the resignation of President Rodrigo Duterte over health matters.
Come June, however, disinformation-makers got busy. VERA Files flagged eight pieces of false and misleading content about the ATA and its dissenters from June 8 to 25. Some were replicated by several Facebook (FB) accounts, while the Abu Sayyaf claim, the most popular, had an estimated reach of 1.7 million people.
This peaked again in October. This month saw the red-tagging of actresses Liza Soberano and Angel Locsin, who both had been vocal about the shutdown of broadcasting network ABS-CBN, and involved in activities by women's rights group Gabriela.
2. Red-tagging targets were mostly women; Sarah Elago is top victim
Thirteen of the 22 posts debunked by VERA Files had to do with red-baiting, and almost all of its targets were female personalities.
Nearly half (6) were about Kabataan Party-List Rep. Sarah Elago.
Membership in the NPA and recruitment for the organization were the most prominent narratives peddled against her online. She was targeted using doctored photos, images given false context, and false quotes attributed to her.
Publishers of disinformation recycled old, fabricated stories from 2017 and 2018 targeting Sen. Ana Theresia "Risa" Hontiveros, another opposition lawmaker. There were two narratives: that she was lobbying for communist rebels to get minimum wage, and that she called the Maute group, which caused the five-month-long armed conflict in Marawi in 2017, an "epitome of courage and resilience."
Former Rep. Satur Ocampo of Bayan Muna, on the other hand, was red-tagged using a 2018 commentary presented as a recent news report. He was accused of being a transporter of minors on the way to becoming "NPA child warriors."
While these kinds of attacks against Elago, Hontiveros, and Ocampo have been around for years, the red-tagging has branched out to include other public personalities.
In May, a photo from 2013 of the National Union of Journalists of the People (NUJP) conducting a safety training in a mountainous area was used to insinuate a connection between CPP-NPA and Rowena "Weng" Paraan, head of ABS-CBN's citizen journalism arm Bayan Mo, Ipatrol Mo. NUJP and the International Federation of Journalists have condemned it.
More ABS-CBN-affiliated talents were attacked in the following months. Locsin was red-tagged twice. Photos of her during a 2009 exposure trip to a school for Lumad youth were used as "proof" that she is a "terrorist." Another post claimed she visited CPP's Joma Sison in the Netherlands to get campaign money for former Bayan Muna Rep. Neri Colmenares, a relative.
Meanwhile, after Soberano spoke as a guest of Gabriela Youth in a webinar celebrating the International Day of the Girl Child, YouTube channel MAUI BECKER raked in thousands of views with a video carrying a malicious, screaming headline that asked whether Soberano has become a member of the NPA. MAUI BECKER describes itself as a "certified" DDS, an acronym famously used to refer to die-hard Duterte supporters.
3. Photos were top post type, with context being 'weaponized'
Publishers of disinformation also became creative with their falsehoods, often offering visual support.
Of the 22 fact check articles VERA Files produced on ATA-related disinformation and red-tagging, 14 involved photos and three carried videos.
Three images were manipulated: a "mugshot" of Elago, a picture of Elago and Ocampo donning "communist" bandanas, and an image of ISIS members holding a black flag doctored to bear out the words "Salamat sa suporta (Thanks for the support)" and "Junk Anti-Terror Bill."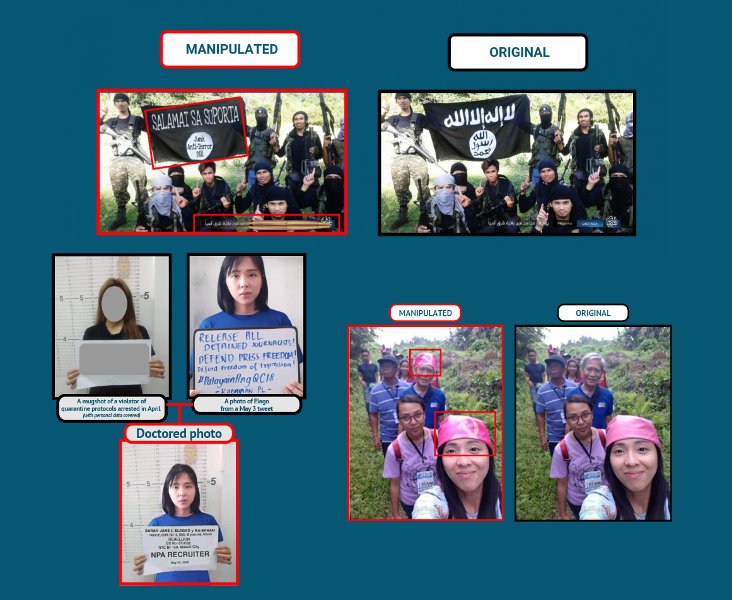 But more than outright manipulation, a more problematic form of disinformation became popular among red-taggers this year: using legitimate photos and videos, often years old, and re-sharing them with false context.
VERA Files flagged seven of these kinds of posts:
United Kingdom-based nonprofit organization First Draft, which studies different information disorders, described this phenomenon as the "weaponization of context."
In a 2019 article, First Draft's executive editor Claire Wardle pointed out that this type of disinformation falsifying context tends to be believed because it has a grain of truth in it.
"Most of this content isn't even fake; it's often genuine, used out of context and weaponized by people who know that falsehoods based on a kernel of truth are more likely to be believed and shared," she said.
4. Disinformation amplified by pro-Duterte FB accounts
An analysis of the sources of ATA-related revealed disinformation was peddled mostly by FB pages, seconded by YouTube channels.
A look at their names shows a mixed bag of publishers, although two bear the name "Duterte" (FB pages Bigboss Duterte and Protect the President Duterte) and two others carry the words "Enlightened" (FB pages Enlightened Youth and Enlightened PINOY). One noticeably appended the name of ABS-CBN (FB page Boycott Abs-Cbn station).
VERA Files also kept track of the accounts that amplified these pieces of disinformation — public FB pages and groups that shared the posts and brought the most traffic to it — through social media monitoring tool CrowdTangle.
This word cloud illustrates that many of the pages and groups were pro-administration, with the most popular keywords used being "Duterte," "president," and "supporters."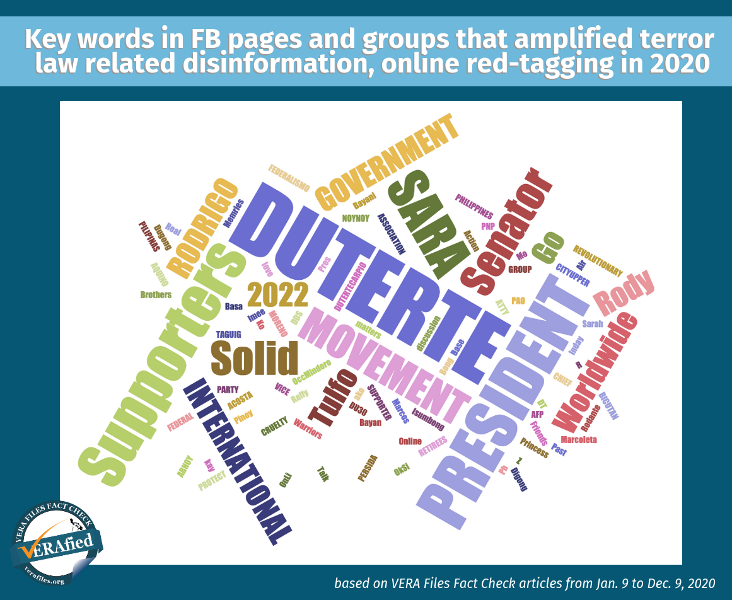 There were also those that carried the president's moniker (Rodrigo, Rody), as well as those of Davao City Mayor Sara Duterte, his daughter, and aide-turned-senator Bong Go, and words that connote the widespread reach ("international," "worldwide," "movement") and defensive nature ("warriors," "protect," "solid") of these accounts.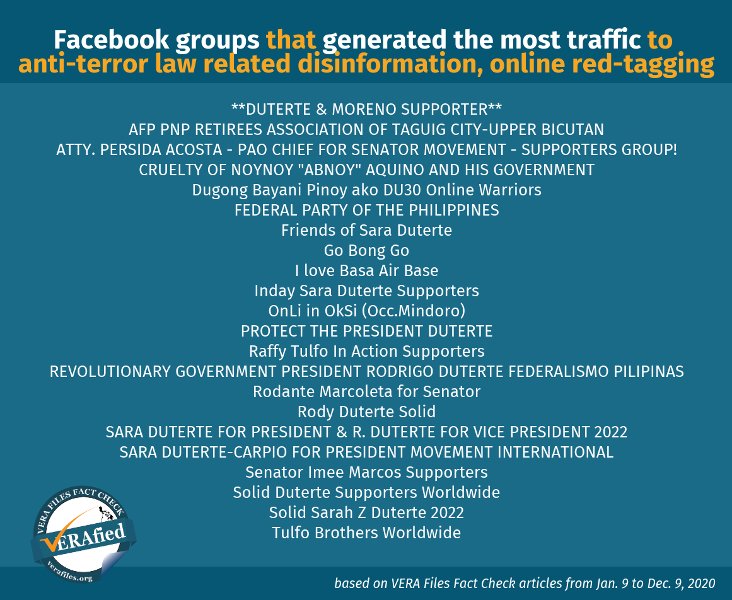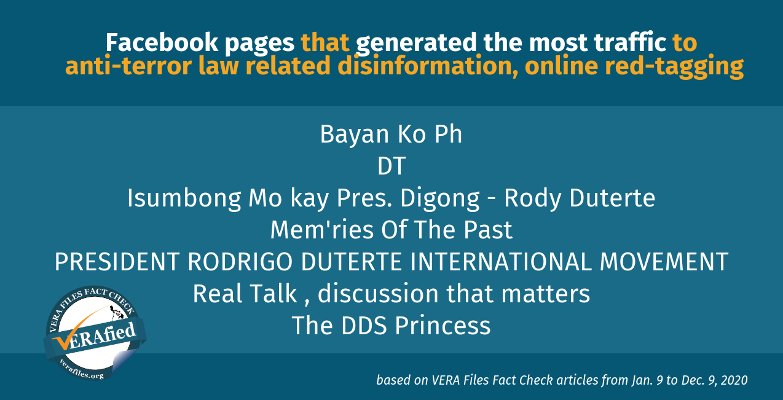 These posts may be recycled in the future
Seven of the 22 pieces of disinformation debunked by VERA Files have actually circulated in years prior, some from as far back as 2017.
Two falsehoods about Sen. Hontiveros from 2017 and 2018 were revived this year, shortly after she said the congressional passage of the ATA was a "case of misplaced priorities" amid the COVID-19 pandemic, and a "tragedy for democracy."
A quote from Lebanese-American writer Kahlil Gibran wrongly attributed to Elago twice this year had been fact-checked by VERA Files in 2019, while the infographic quoting her as saying she will provide support to NPA "if need be" was debunked by the lawmaker herself, also in 2019.
More, a completely fabricated website article about Commission on Human Rights (CHR) Chairman Chito Gascon condemning a surprise attack on communist rebels was copied word for word by another website this year, even though it had already been debunked by MemeBuster in 2018; and the photo of Elago and Satur Ocampo wearing "communist" bandanas resurfaced in December despite having been disproven in July.
As 2021 rolls in, it will not be far-fetched to see the same pieces of disinformation that circulated this year weaponized again.
To avoid falling prey to disinformation, follow VERA Files' six-part video tutorial series on fact checking in YouTube, or check out our do-it-yourself guide.
Sources
Official Gazette, Republic Act No. 11479
Presidential Communications Operations Office, "Duterte declares CPP-NPA a terrorist group," Dec. 5, 2017
Oxford University Press, "red-baiting," 2020
National Union of Journalists of the Philippines, "[Statement] NUJP denounces red-tagging of ex-chair Paraan," May 15, 2020
International Federation of Journalists, "Philippines: Red-tagging of female journalist," May 18, 2020
First Draft, "Information disorder: 'The techniques we saw in 2016 have evolved,'" Oct. 21, 2019
(Guided by the code of principles of the International Fact-Checking Network at Poynter, VERA Files tracks the false claims, flip-flops, misleading statements of public officials and figures, and debunks them with factual evidence. Find out more about this initiative and our methodology.)