Site Asian Policy (asianpolicy.press) published on June 4 a story which wrongly claimed in its headline that the Islamic State-linked Abu Sayyaf Group (ASG) thanked artists and politicians who recently rallied against the Anti-Terrorism Bill. This is not true.
Its content focused on a "meme" using a Manila Bulletin photo of a woman during a protest that day against the controversial measure, spliced together with a doctored image of the ASG with text that read, "Maraming Salamat Sa inyong taos pusong Suporta (Thank you very much for your heartfelt support)."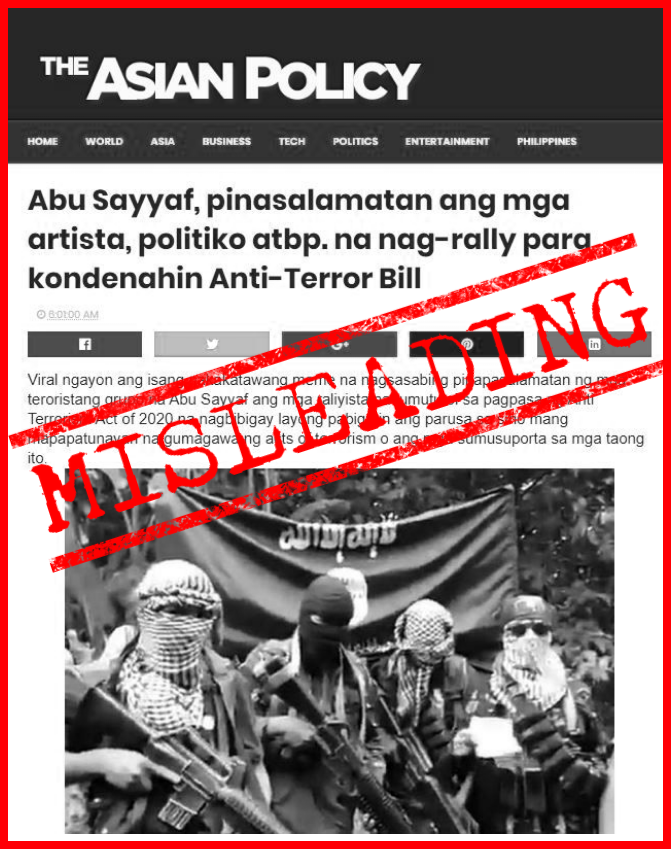 The earliest traceable copy online of the ASG photo is a screengrab from a recording of the terrorist group aligning itself with ISIS in March 2016, uploaded on Indonesian website Merdeka.com.
In its headline, Asian Policy maliciously presented the claim in the meme as fact: "Abu Sayyaf, pinasalamatan ang mga artista, politiko, atbp. na nag-rally para kondenahin ang Anti-Terror Bill (Abu Sayyaf thanked artists, politicians, etc., who rallied to condemn the Anti-Terror Bill)."
The website itself said in the latter part of its story that the meme, also published on June 4, was "just for laughs."
A look at the post's interactions on Facebook (FB) shows that Asian Policy's false headline has led some netizens to believe that the ASG indeed praised critics of the bill. One Facebook user said, "IT IS VERY CLEAR THAT THEY ARE CONNECTED."
Another netizen, referring to the rallyists, said, "Kaya tuwang tuwa mga iyan dahil marami silang kakampi, mga kagaya nilang ang gusto ay pabagsakin ang gobyerno (They are very happy because they have many allies who, like them, want to overthrow the government)."
FB and social media monitoring tool CrowdTangle detected Asian Policy's malicious post gaining traction on June 17, the same day the National Union of People's Lawyers announced it will challenge the Anti-Terrorism Bill at the Supreme Court once President Rodrigo Duterte signs it.
The bill was transmitted to the Office of the President on June 9 amid widespread criticism that it could be used to stifle dissent.
The story's top three online traffic generators on FB are pages DT and Bayan Ko Ph and group I love Basa Air Base, and could have reached over 1.7 million people.
Asian Policy, created in August 2016, has previously been flagged by VERA Files Fact Check for producing misleading articles. (See VERA FILES FACT CHECK: Website MISLEADS with 2018 commentary on Satur Ocampo's arrest)
(Editor's Note: VERA Files has partnered with Facebook to fight the spread of disinformation. Find out more about this partnership and our methodology.)