A Facebook page has revived a 48-year-old incident involving the military's interception of an arms shipment from China intended for communist rebels, claiming it was the reason former president Ferdinand Marcos declared Martial Law in September 1972. This needs context.
The June 14 post by FB page reform.PH gov claims the MV Karagatan incident triggered the declaration of martial law, which in turn, it said, saved the Philippines from becoming a communist nation like its neighbors Vietnam, Cambodia and Laos. The misleading post carried a photo of then-Defense Secretary Juan Ponce Enrile inspecting the intercepted goods brought in by MV Karagatan with the caption: "Ito ang dahilan kaya nagdeklara ng Martial law si Marcos (This is the reason why Marcos declared Martial law)."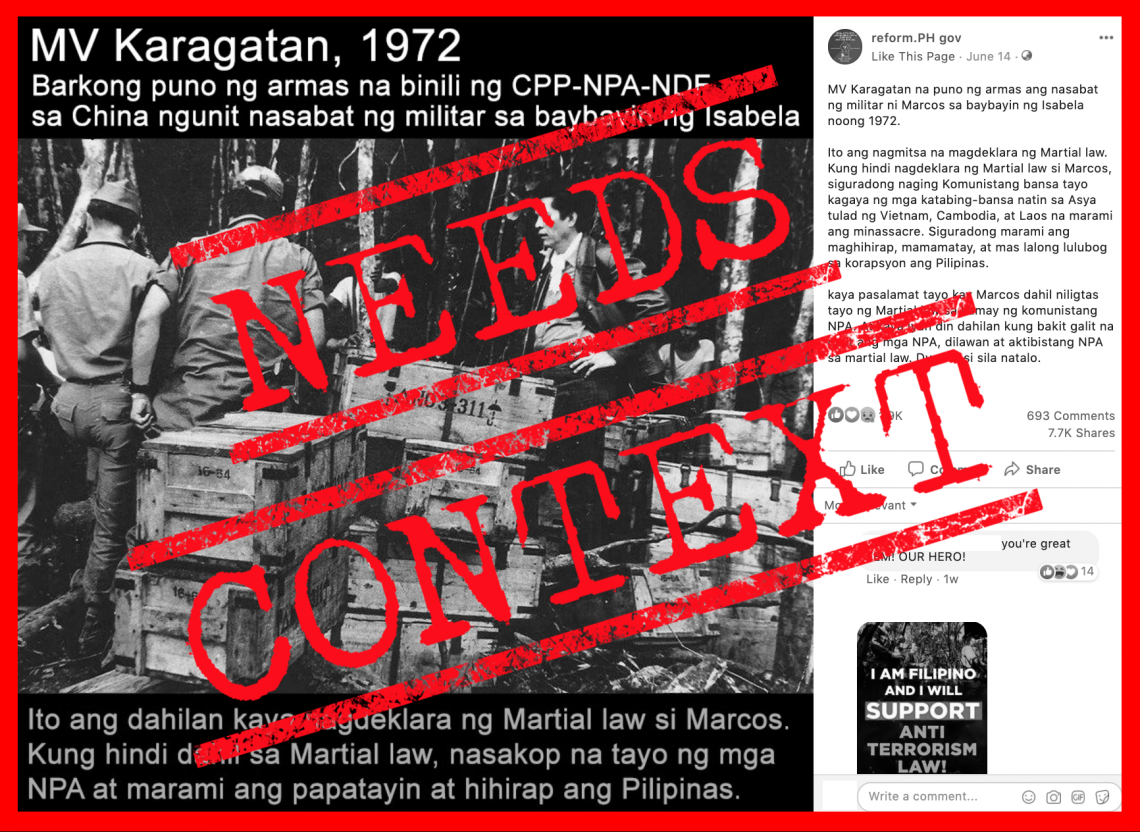 The MV Karagatan incident — named after the trawler that carried automatic rifles, bazookas and several other armaments intercepted by the Philippine military — is just one of several reasons cited by Marcos under Proclamation 1081 that was signed on Sept. 21, 1972, or two months after the military's operation thwarting the rebel arms shipment in the northern province of Isabela.
Geologist Rolando Peña, the revolutionary who helmed the vessel himself, also said in an article published by ABS-CBN News Channel in December 2018 that Marcos declared martial law "partly on account" of the incident on July 4, 1972.
Ex-president Marcos had said lawless elements, including the New People's Army, were then waging an armed insurrection and rebellion against the goverrnment, and cited "intensified acts of violence and terrorism" including bombings and liquidation missions against ranking government officials as justifications for martial law.
Enrile also figured in Marcos' diary entry on September 22, 1972: "Sec. Juan Ponce Enrile was ambushed near Wack-Wack at about 8:00 pm tonight. It was a good thing he was riding in his security car as a protective measure … This makes the martial law proclamation a necessity." It was on the evening of Sept 23, 1972 that Marcos went on air to announce that he had declared Martial Law.
Fourteen years later, when Enrile and then Police Constabulary Chief Fidel Ramos turned against Marcos, the martial law administrator said his 1972 ambush that triggered military rule was a sham.
In a Memoir published in 2012, he took back what he told reporters and said the ambush was real.
The revival of the 48-year-old incident came as the country awaits President Rodrigo Duterte's approval of the controversial Anti-Terrorism Bill, which he himself declared as urgent. It is being reviewed by his legal team. The piece of legislation is being opposed for its broad and vague definition of terrorism, and its tendency for abuse.
Reform.PH gov's post has already received around 1,900 reactions, over 600 comments, and 7,700 shares from FB netizens. The FB page was created just last May 12.
Traffic to the inaccurate port largely came from FB groups MARCOS LEGACY and Philippine History, and FB page Boycott Abs-Cbn Station.
(Editor's Note: VERA Files has partnered with Facebook to fight the spread of disinformation. Find out more about this partnership and our methodology.)