The Anti-Terrorism bill has yet to be transmitted to the Office of the President as of June 8, contrary to an infographic circulating on Facebook (FB) since June 6 that says it's already a law.
"ANTI-TERRORISM BILL BATAS NA!!! TAGUMPAY NG BAYAN!!! MARAMING SALAMAT MAHAL NAMING PRESIDENTE "TATAY DIGONG (Anti-Terrorism Bill now a law! Victory for the Nation! Thank you very much, our beloved president Father Digong)" is the graphic's superimposed headline over a photo featuring Pres. Rodrigo Duterte, Interior and Local Government Sec. Eduardo Año and Sen. Christopher "Bong" Go with members of the Armed Forces of the Philippines.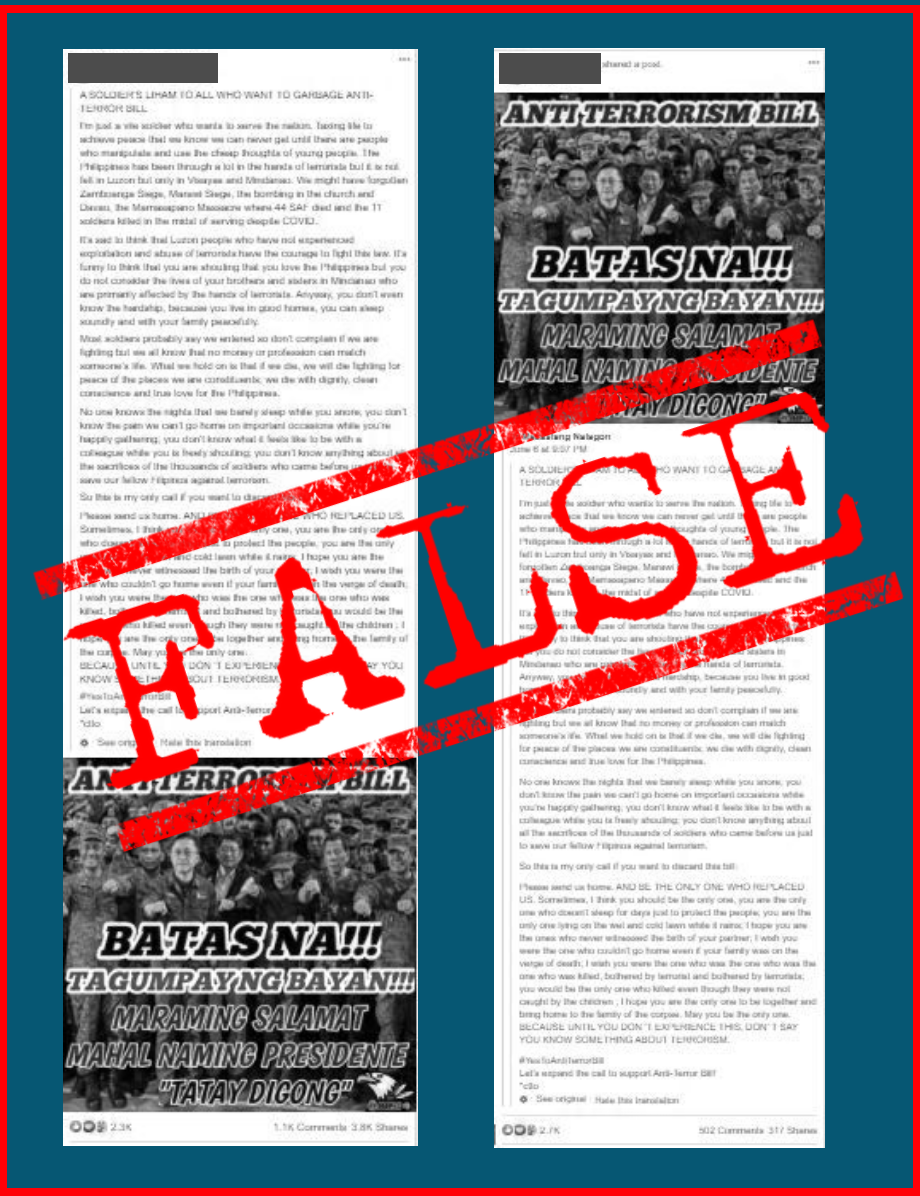 On June 3, the House of Representatives approved on third and final reading House Bill 6875 or the Anti-Terrorism Act of 2020. Two days later, it adopted the Senate version of the bill, Senate Bill 1083, which was approved by the chamber in February.
As of June 8, a final copy of the bill has yet to be transmitted to Malacañang, according to Presidential Spokesperson Harry Roque. Several representatives who voted yes to the bill have asked the House to record the change in their votes to No or Abstain. The Department of Justice has begun reviewing provisions of the controversial bill that has drawn strong opposition from different sectors because of fears it could be used as a tool for repression.
There are three ways the final bill can become law: once the president signs it, once it lapses into law a month after Malacañang receives the bill even without the chief executive's signature, and once Congress overrides a presidential veto of the bill.
Protests against the Anti-Terrorism bill flared on social media and in different parts of the country. Eight students from the University of the Philippines Cebu who joined demonstrations were detained by police on June 5 in violation of the general community quarantine (GCQ), according to the Philippine National Police. They have been released on bail on June 8.
The original photo used in the graphic was taken from the Presidential Communications Operations Office (PCOO) during Duterte's visit at the Kuta Heneral Teodulfo Bautista Headquarters in Jolo, Sulu on December 14, 2019.
One false post on FB had over 3,900 shares. Another one from FB page Tulfo Brothers Worldwide had at least 317.
(Editor's Note: VERA Files has partnered with Facebook to fight the spread of disinformation. Find out more about this partnership and our methodology.)