While many netizens denounced the passage of the Anti-Terrorism Bill, Facebook (FB) page Bigboss Duterte uploaded on June 7 a manipulated photo of international terrorist group Islamic State (IS) in the Philippines purportedly thanking those who want the bill junked.
In the image, the IS members carried a black banner with a fake message that read SALAMAT SA SUPORTA (Thank you for the support) JUNK ANTI-TERROR BILL. The post was then captioned with "Sa mga gustong ibasura ang Anti-Terrorism Bill, salamat raw sa suporta (To those who want to junk the Anti-Terrorism Bill, (IS) says thank you for the support)."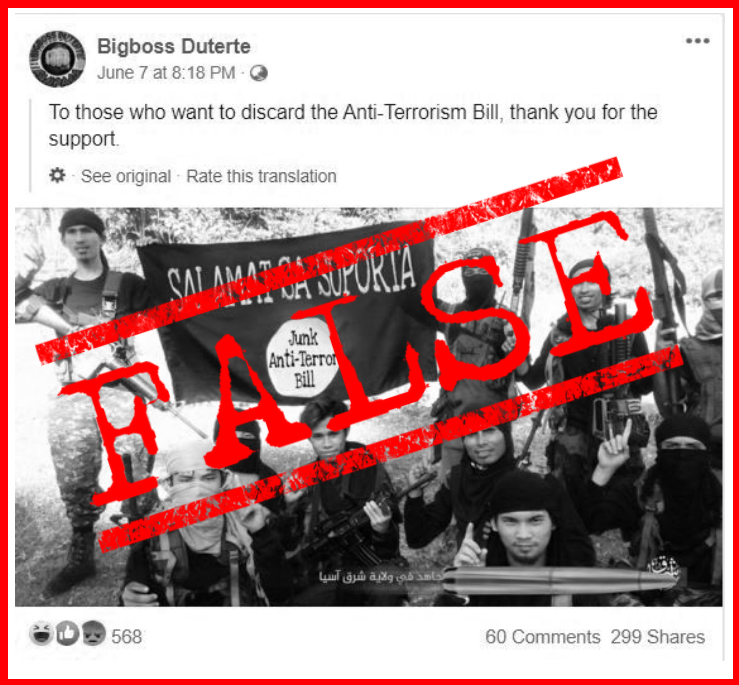 The earliest traceable copy of its original image is found on Twitter. Terrormonitor.org (@Terror_Monitor), which claims to "monitor terrorist groups globally," posted the photo along with seven others on Aug. 17, 2018. The series of images claimed to show IS fighters in a jungle in the Philippines.
In the original photo, the IS members carried the organization's flag with a message in Arabic that translates to "No god except Allah." The text inside the circle translates to "Muhammad, messenger of Allah."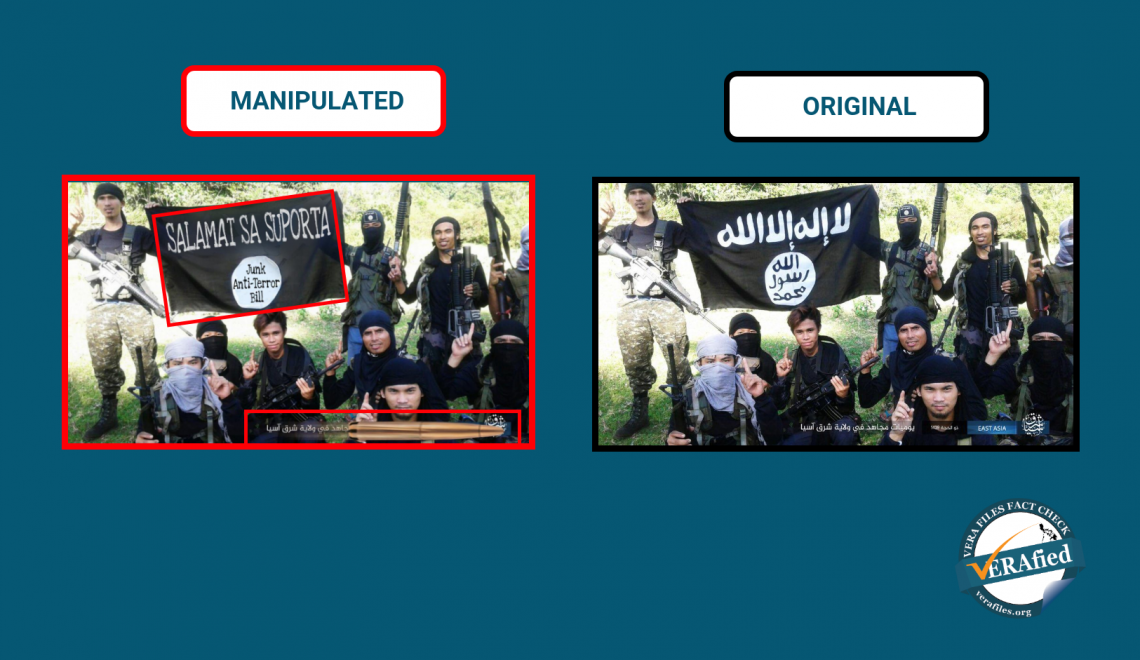 A smaller text on the lower right corner of the image was covered with an image of a bullet in the tampered post. The message read, "Mujahideen in the state of East Asia."
Mujahideen is an Arabic word which refers to "those who proclaim themselves warriors for the faith."
The Islamic State, known as Islamic State of Iraq and Syria (ISIS) has links to the Maute armed group, which was responsible for the terror attacks in Marawi City that began on May 23, 2017, and which prompted the imposition of Martial Law over the whole region of Mindanao. The Marawi siege lasted for five months but military rule continued till the end of 2019.
The doctored photo was uploaded two days after police detained seven students from the University of the Philippines Cebu on June 5 for violating general community quarantine guidelines by holding a protest. A bystander recording the incident on video was also detained. They were released on bail on June 8.
The controversial Anti-Terrorism Bill was transmitted to the Office of the President on June 9 amid mounting opposition from different sectors. Presidential Spokesperson Harry Roque said Malacañang will review the bill to make sure its provisions are constitutional.
Bigboss Duterte's post could've reached almost 300,000 followers. According to Facebook's Claim Check rating tool, the post had over 44,000 views since its posting. Bigboss Duterte page was created on May 1, 2016.
(Editor's Note: VERA Files has partnered with Facebook to fight the spread of disinformation. Find out more about this partnership and our methodology.)