Two days after the 26th petition against the controversial Anti-Terrorism Act was filed at the Supreme Court, Facebook (FB) page Opinion PH published a photo showing left-wing legislators calling for the resumption of peace talks between the government and communist rebels.
This needs context.
The image of the Makabayan bloc featured in the Aug. 9 post is three years old, and includes former lawmakers who are no longer sitting members of Congress. There are also no recent reports of the group making such a call.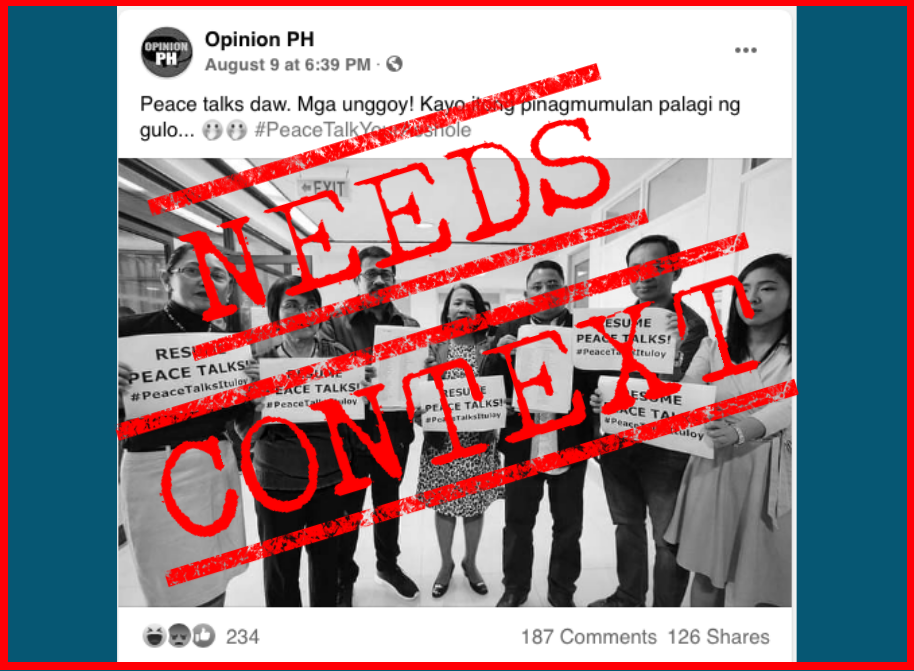 Using reverse image search, VERA Files Fact Check found that the photo accompanying Opinion PH's post was actually uploaded on Feb. 9, 2017 by GMA News Online. It showed solons from the Makabayan bloc in the 17th Congress after they filed a resolution calling for the resumptions of peace negotiations. They were Gabriela Women's Party Reps. Arlene Brosas and Emmi De Jesus, Bayan Muna Rep. Carlos Zarate, Alliance of Concerned Teachers Reps. Francisca Castro and Antonio Tinio, Anakpawis Party-list Rep. Ariel Casilao, and Kabataan Party-list Rep. Sarah Elago.
De Jesus, Tinio, and Casilao are not members of the current 18th Congress.
In April, President Rodrigo Duterte abandoned furthering peace negotiations with the Communist Party of the Philippines and the New People's Army (CPP-NPA) saying the group lacked "respect" for their "spoken words or deeds" following the killing of soldiers on humanitarian missions.
"There is no more peace talks to talk about. I am not and I will never be ready for any round of talks…," he said during his April 27 address. On July 7, the president "declared" the communist rebels as terrorists, four days after signing Republic Act 11479 or The Anti-Terrorism Act of 2020.
At least 30 groups so far have filed petitions with the High Court questioning the constitutionality of the law, its broad definition of terrorism and provisions on extended warrantless arrests of suspects.
Opinion PH's post has received over 600 interactions on FB and could have reached over 174,000 people, with traffic largely coming from FB groups Solid Duterte Supporters Worldwide, Senator Imee Marcos Supporters, and Inday Sara Duterte Supporters.
Opinion PH was created on March 26.
(Editor's Note: VERA Files has partnered with Facebook to fight the spread of disinformation. Find out more about this partnership and our methodology.)