A two-month-old advisory that continues to be widely shared on Facebook (FB) is claiming that drinking boiled hikaw-hikaw plant—also known as trompang elepante—after doing steam inhalation therapy or tu-ob/su-ob will cure anyone of COVID-19.
This is false.
There are neither studies nor conclusive evidence that prove hikaw-hikaw (scientific name: Heliotropium indicum L.) can cure or alleviate symptoms of COVID-19, the Philippine Institute of Traditional and Alternative Health Care (PITAHC) told VERA Files Fact Check in an email.
More, the institute said that based on their project database, there are no ongoing studies or clinical trials looking into the plant's potential as treatment for the coronavirus disease 2019.
PITAHC is the primary attached agency of the Department of Health (DOH) that conducts research, formulates guidelines, and promotes traditional and alternative healthcare.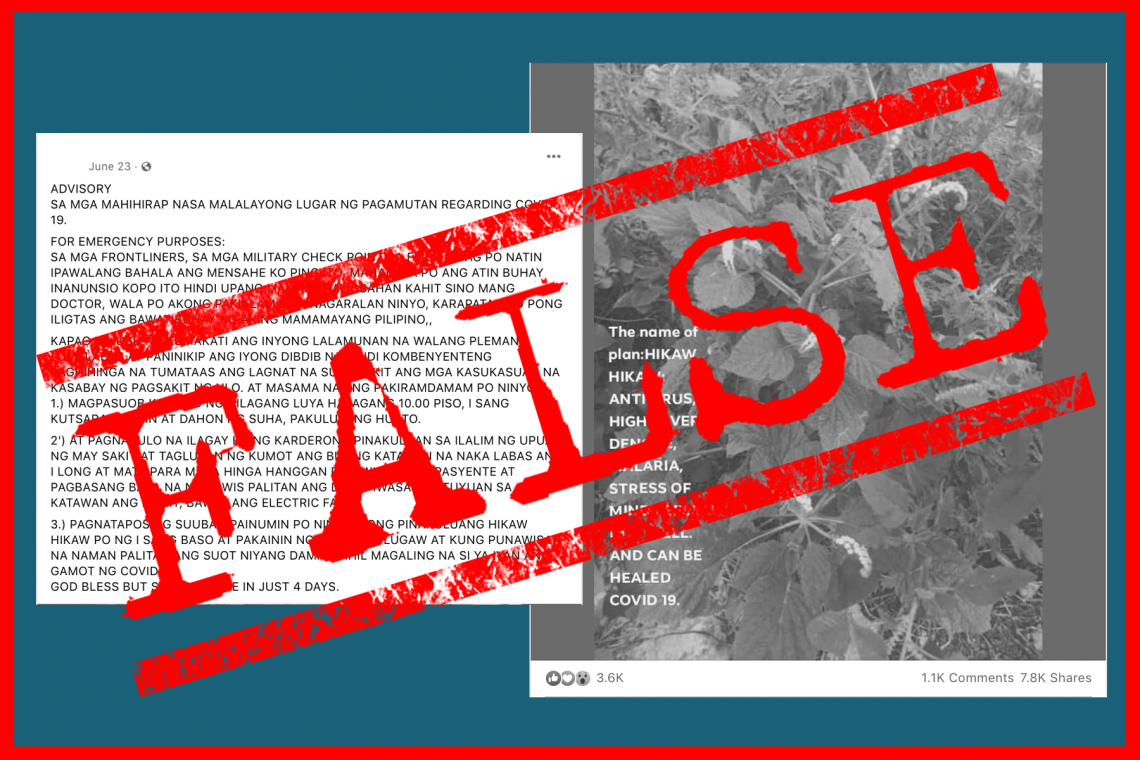 The false June 23 post claims that hikaw-hikaw has antiviral properties and can cure high fever, dengue, malaria, and "stress of mind".
These are not backed up by scientific studies. However, PITAHC noted that there was a 2014 review of the plant's traditional use against hyperthermia and colics, both symptoms of malaria.
On the other hand, the practice of tu-ob/su-ob as a cure for COVID-19 has previously been debunked by DOH and the World Health Organization. (See: VERA FILES FACT CHECK: Salt water steam DOES NOT kill coronavirus and VERA FILES FACT SHEET: What is tuob or steam inhalation therapy?)
In a statement on June 26, PITAHC also said pagtutuob is not the "standard care treatment for COVID-19," as its clinical efficacy against the viral disease still needs to be proven by studies. It reminded the public that "frequent handwashing, physical distancing, and wearing of face mask" are still the advised preventive measures against the novel coronavirus disease 2019.
PITAHC, however, did say it "supports the use of tu-ob/su-ob to alleviate the signs and symptoms of respiratory illness found common among COVID-19 patients," citing scientific studies that found the practice to be effective against symptoms of colds.
The two-month-old FB post has been shared over 7,800 times and received more than 3,600 reactions and 1,100 comments. It continues to circulate amid the rise in the country's COVID-19 cases, which hit 217,396 cases on Aug. 30, according to DOH records. Of this number, 56,473 are active infections and 3,520 deaths.
The World Health Organization maintains that there is still no medicine proven to cure COVID-19. However, just last Aug. 11, Russian President Vladimir Putin announced his country's registration of Sputnik V, which he dubbed as the "world's first" COVID-19 vaccine. (See VERA FILES FACT SHEET: The COVID-19 vaccine from Russia, in context)
Traffic to the inaccurate post largely came from PROTECT THE PRESIDENT DUTERTE, and Mayor Isko & President Duterte Supporters.
(Editor's Note: VERA Files has partnered with Facebook to fight the spread of disinformation. Find out more about this partnership and our methodology.)