A Facebook (FB) post assuring the public that inhalation of steam from water mixed with salt can kill the virus that causes COVID-19 is false.
Currently circulating on social media, the inaccurate post claims the heat from the steam "kills the virus in your resperatory system (sic)" while the salt helps strip off the virus from one's nose and mouth. It added "there is nothing wrong" in trying the method, and provided instructions how to do it.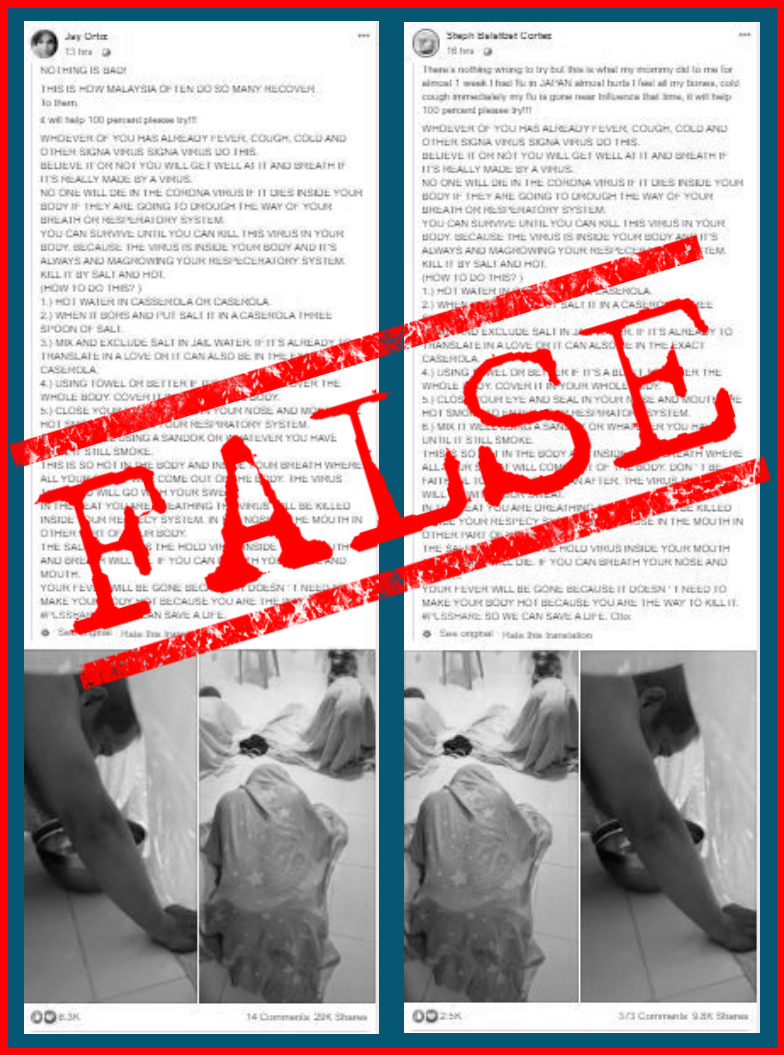 "Salt water steam will not prevent you from catching COVID-19… To date, there is no recommended treatment or vaccine to prevent or treat COVID-19," said World Health Organization (WHO) Representative in the Philippines Rabindra Abeyasinghe in an email to VERA Files Fact Check.
More, WHO warned that extremely hot steam can be harmful, as there is a risk of burn injury. This is reflected in at least a couple of studies, including a 2012 research in the Netherlands and a 2014 study in Spain. The 2012 research also noted that steam inhalation therapy has no proven benefit.
Abeyasinghe said: "To fight COVID-19, we need to be guided by science and evidence… Until there is sufficient evidence, WHO cautions against recommending or administering unproven treatments to patients with COVID-19 or people self-medicating with them."
A WHO webpage dedicated to debunking myths about COVID-19 recommends that "those infected with the virus should receive appropriate care to relieve and treat symptoms, and those with severe illness should receive optimized supportive care."
A look at the false post's history on social media via monitoring tool CrowdTangle shows the claim has been circulating since March 23. More recently, five netizens re-uploaded the untrue post on April 14, adding context that saltwater steam inhalation therapy has caused a lot of COVID-19 recoveries in Malaysia. Other versions replaced the Malaysia context with an anecdote claiming the method has cured a Filipina with "trangkaso" or the flu in Japan.
The false FB post surfaced shortly after the Malaysian Health Minister, in a March interview, advised people to drink warm water to kill the coronavirus. The claim has since come into question, and has been debunked by doctors in London, according to some news reports.
The false Facebook posts have accumulated shares of over 22,700.
(Editor's Note: VERA Files has partnered with Facebook to fight the spread of disinformation. Find out more about this partnership and our methodology.)