A year since the potent virus was detected and over two million deaths around the world, a UK-based Filipina vlogger continues to peddle the false claim that the coronavirus does not exist.
In a Dec. 29 Facebook (FB) Live video, which has so far gathered 65,000 views, Lynn Channel amplified an erroneous statement from a video that originated from Ireland alleging that SARS-CoV-2 has not been "scientifically isolated." This is wrong.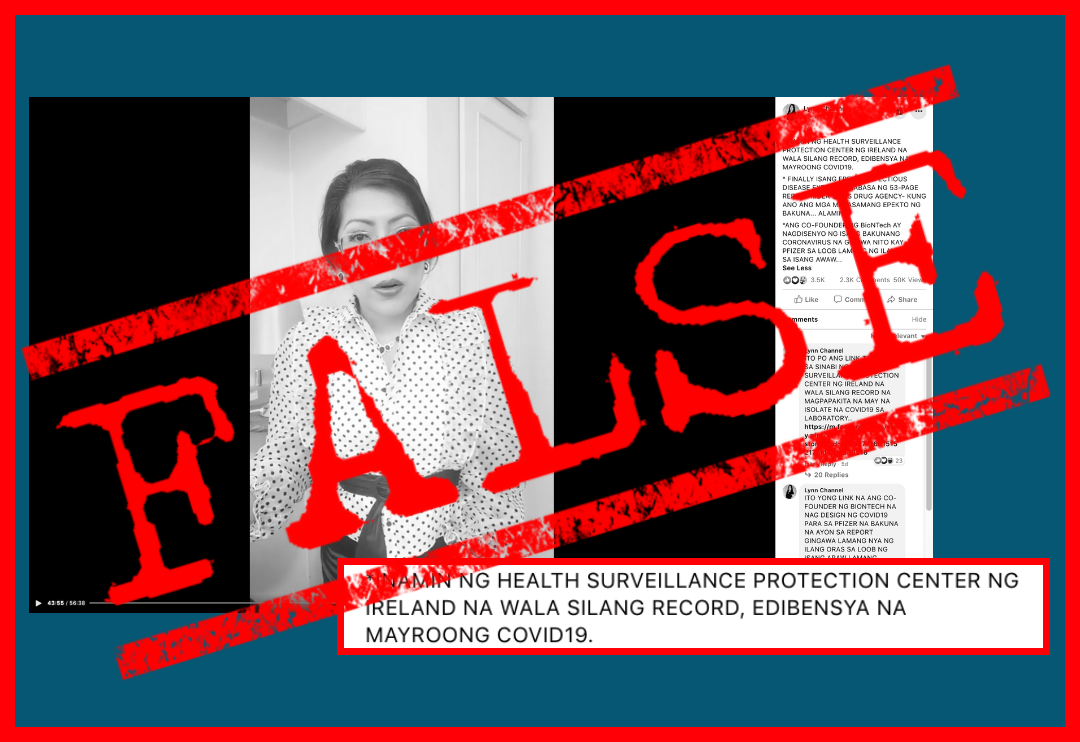 In its livestream, Lynn Channel announced that Ireland's Health Protection Surveillance Center (HPSC) said "there are no records that COVID-19 exists." The vlogger used as her source Gemma O'Doherty, an Irish activist and former journalist, who had sent a freedom of information (FOI) request asking Irish health officials to "provide proof that the virus actually exists."
Part of the FOI response, read aloud by O'Doherty in a video shown by Lynn Channel — and later read again by the vlogger herself — went: "Following consultation with my colleagues, both from the scientific and medical areas of HPSC [I] can confirm that we would hold no records in relation to your request."
The statement is not an admission that COVID-19 does not exist, nor that SARS-CoV-2, the virus behind the disease, was not scientifically isolated.
The virus that brought about the disease was first isolated on Jan. 7 last year (among the earliest isolations is reflected in this study).
The virus' complete genetic code was also published Jan. 15, 2020 on the United States National Institutes of Health's genetic sequences database.
Irish health authorities did not say COVID is nonexistent

Irish fact-checking organization TheJournal.ie has also said O'Doherty's claim was a misinterpretation of the response sent by Ireland's Health Services Executive (HSE) under their FOI law.
TheJournal.ie wrote in an article on Dec. 29 that the HSE "would likely not hold such distinct records" being asked by O'Doherty "because it is a scientific fact that SARS-CoV-2 exists."
It added that the "FOI request was refused because the HSE did not need to prove the existence of a virus that had already been found to be circulating.A HSE spokesperson contacted by the media organization also addressed the falsehood and pointed out "the devastating impact of the COVID-19 pandemic" on the people of Ireland.
There are more than 95 million cases and 2.02 million deaths around the world due to the illness as of Jan. 18. A variant of the deadly virus has been identified and is feared to worsen the spread
of the virus across the world, triggering more stringent travel restrictions in some places and calls for intensified vaccination efforts.
Lynn Channel's post continues to receive engagements as of publishing. So far, it has 4,100 reactions, 2,600 comments, and 6,100 shares. It could have reached 25 million internet users according to social media monitoring tool CrowdTangle, with traffic largely brought by the page itself, as well as public groups Bryna Pancito Fans Group and Friends Who Like Dante Maravillas.
(Editor's Note: VERA Files has partnered with Facebook to fight the spread of disinformation. Find out more about this partnership and our methodology.)