At least eight netizens on Facebook (FB), including page Hugpong ng Pagbabago World Wide, resurfaced an old, manipulated image of Kabataan Partylist Rep. Sarah Elago and former Bayan Muna Rep. Satur Ocampo wearing red bandanas imprinted with a hammer and sickle logo — a symbol largely associated with the communist movement.
A reverse image search revealed that in the original version of the photo, which was uploaded by Elago on her official Instagram (IG) account in April 2018, Elago's bandana did not bear the hammer and sickle symbol. The unaltered image also showed that Ocampo was not wearing any bandana at all.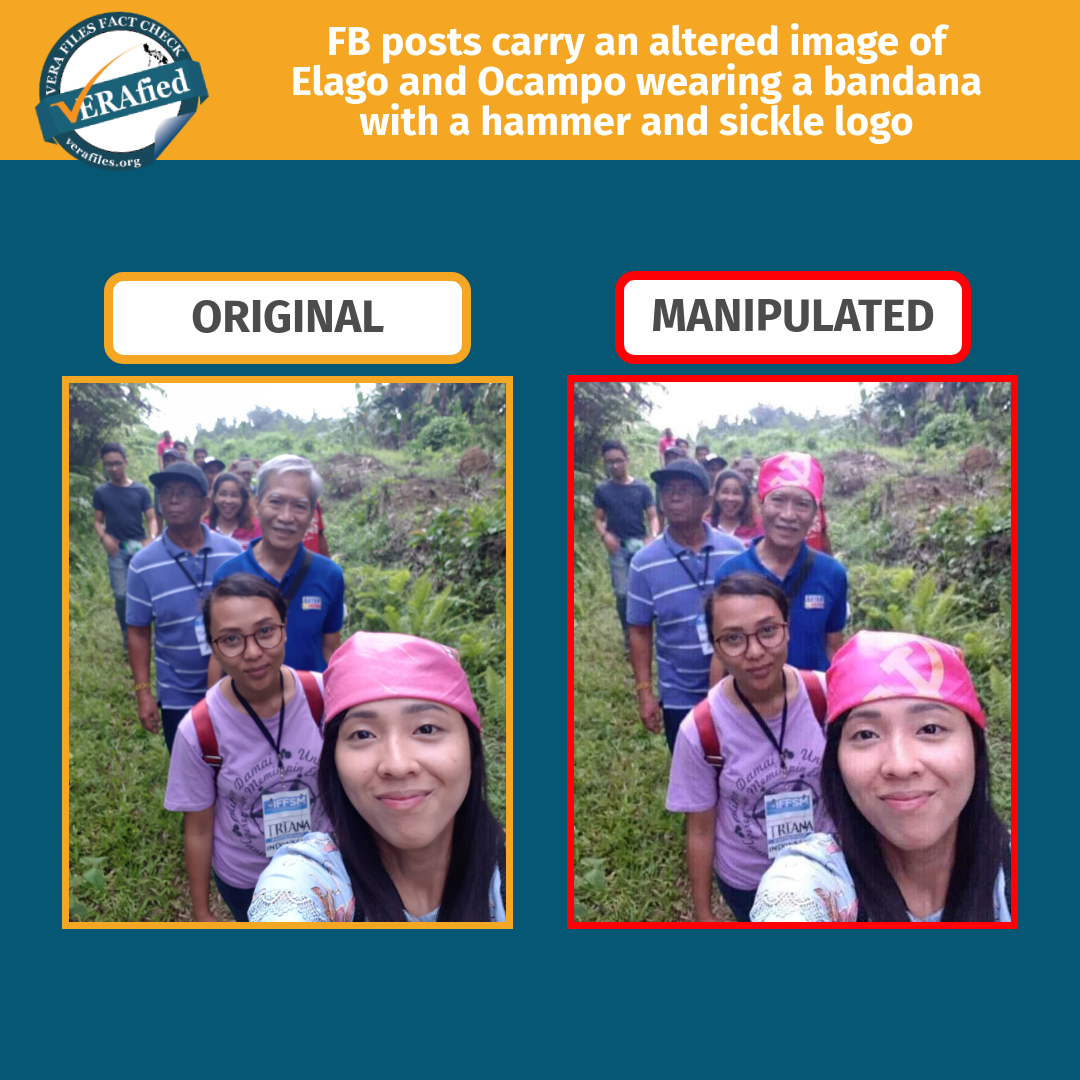 The IG post was Elago's greeting for Ocampo, who was then celebrating his 79th birthday on the day of a fact-finding mission in Mindanao that he and Elago were taking part in.
VERA Files Fact Check had already debunked the manipulated image last July. The image was carried by another FB user red-tagging actress Angel Locsin with baseless claims linking her to the Communist Party of the Philippines (CPP).
The posts bearing the falsified image, published from Nov. 25 to 27, followed the Nov. 24 Senate inquiry attended by Elago on the issue of rampant red-tagging of public figures by state agencies. During the hearing, Elago refuted allegations against her being a recruiter of the CPP's armed wing, the New People's Army (NPA).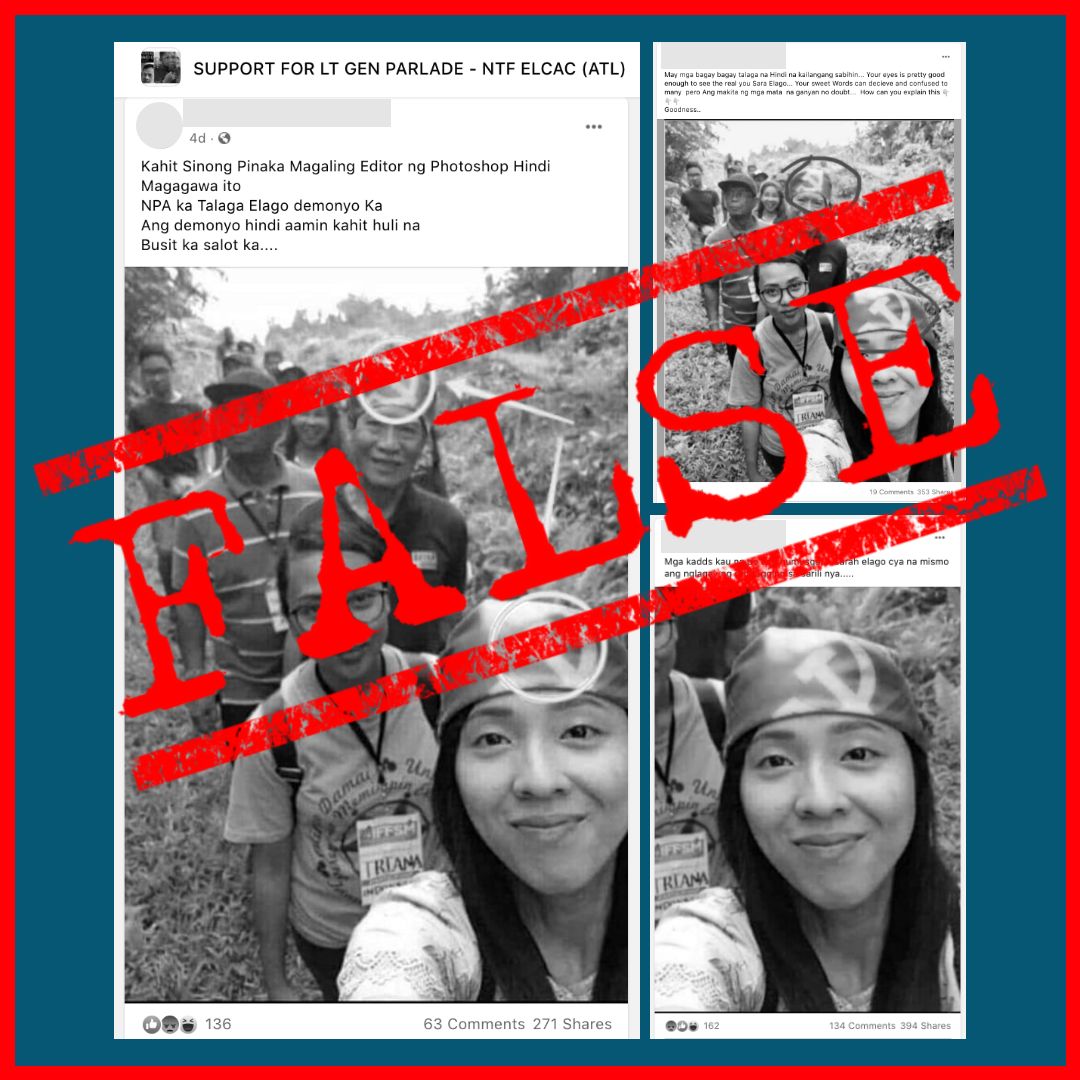 The posts flagged by VERA Files Fact Check tried to frame Elago as a liar for denying her association with the NPA. One netizen, who shared the photo in public group SUPPORT FOR LT GEN PARLADE – NTF ELCAC, insisted that the image was not altered and went as far as saying that "even the best Photoshop editor" would not have been able to manipulate it. Another netizen, who posted in group INDAY SARA DUTERTE CARPIO SUPPORTERS WORLDWIDE, said "Elago already red-tagged herself."
Red-tagging or red-baiting, as defined by Oxford University's Lexico.com, is the act of harassing or persecuting someone "on account of known or suspected communist sympathies." In a 2012 study, nonprofit International Peace Observers Network deemed red-tagging as dangerous for it could eventually lead to warrantless arrests, torture, and even extrajudicial killings. (See VERA FILES FACT SHEET: Why 'red-tagging' is dangerous)
This is not the first time that disinformation was used to red-tag personalities. VERA Files Fact Check has already debunked a number of false and even fabricated online content which had red-tagged not only Elago and Locsin, but also ABS-CBN journalist Rowena "Weng" Paraan, and actress Liza Soberano.
The eight false posts collectively received over 600 reactions, 280 comments, and 2,600 shares from FB users. Page Hugpong ng Pagbabago World Wide and group INDAY SARA DUTERTE CARPIO SUPPORTERS WORLDWIDE were created in June 2016 and May 2018, respectively, while group SUPPORT FOR LT GEN PARLADE – NTF ELCAC (ATL) was made just last Oct. 25.
(Editor's Note: VERA Files has partnered with Facebook to fight the spread of disinformation. Find out more about this partnership and our methodology.)