A nine-minute video uploaded on Nov. 26 by YouTube channel DDS NEWSINFO claimed that 200 members of the New People's Army (NPA) have yielded to the government. The channel called it "breaking news" but the content consists of old, unrelated videos.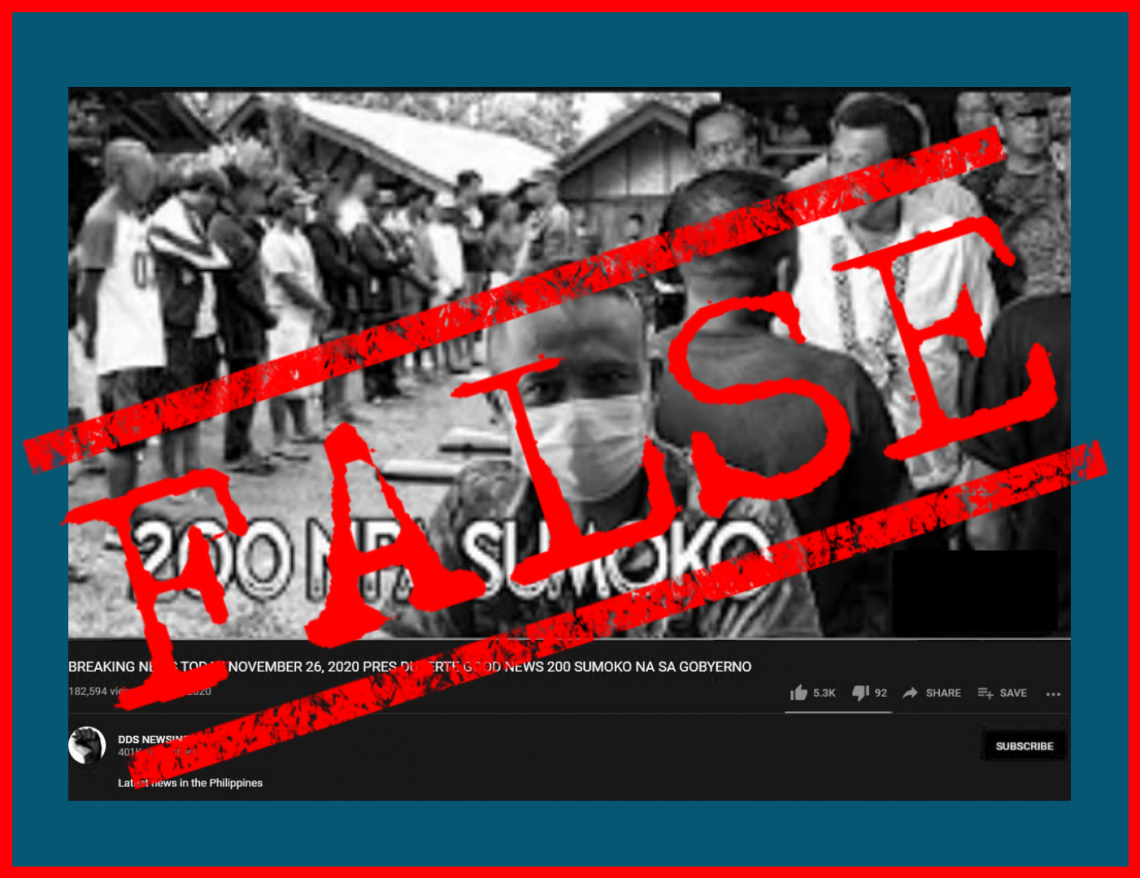 DDS NEWSINFO's false video spliced together two clips, one of which is a manipulated copy of a three-minute-long PTV4 news report from Oct. 14, 2018.
While 38 members of the NPA militia and 278 members of underground mass organizations in Agusan del Norte actually surrendered to the Philippine Army's 23rd Infantry Battalion (IB) last Nov. 24, the PTV4 report in the YouTube video was about the earlier surrender of 217 former NPA rebels in other provinces—Agusan del Sur and Surigao del Sur— to the 401st IB.
The state broadcaster's report was altered by DDS NEWSINFO to crop out its news ticker and logo.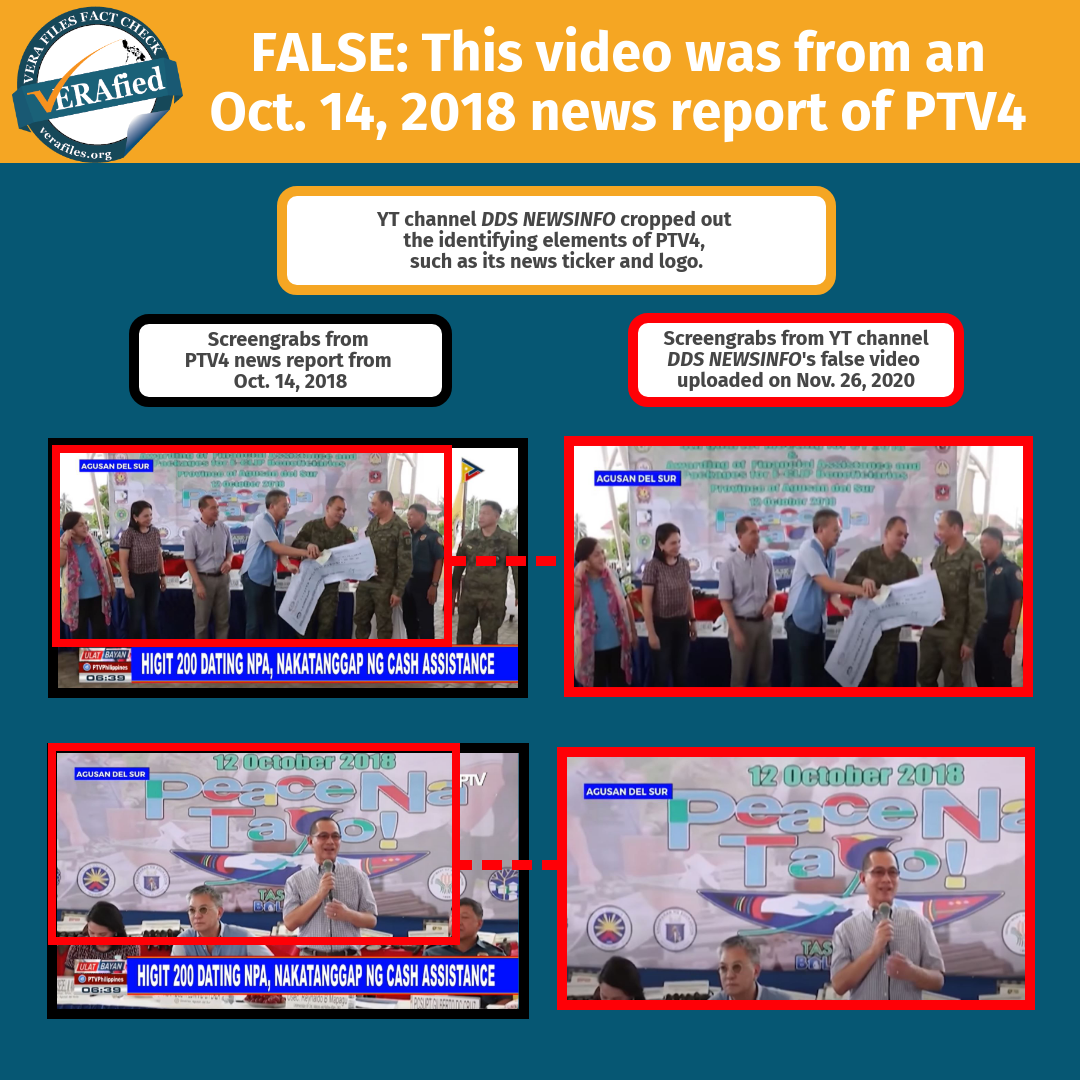 The date of the event—Oct. 12, 2018—can be seen in a tarp flashed in the YouTube channel's video.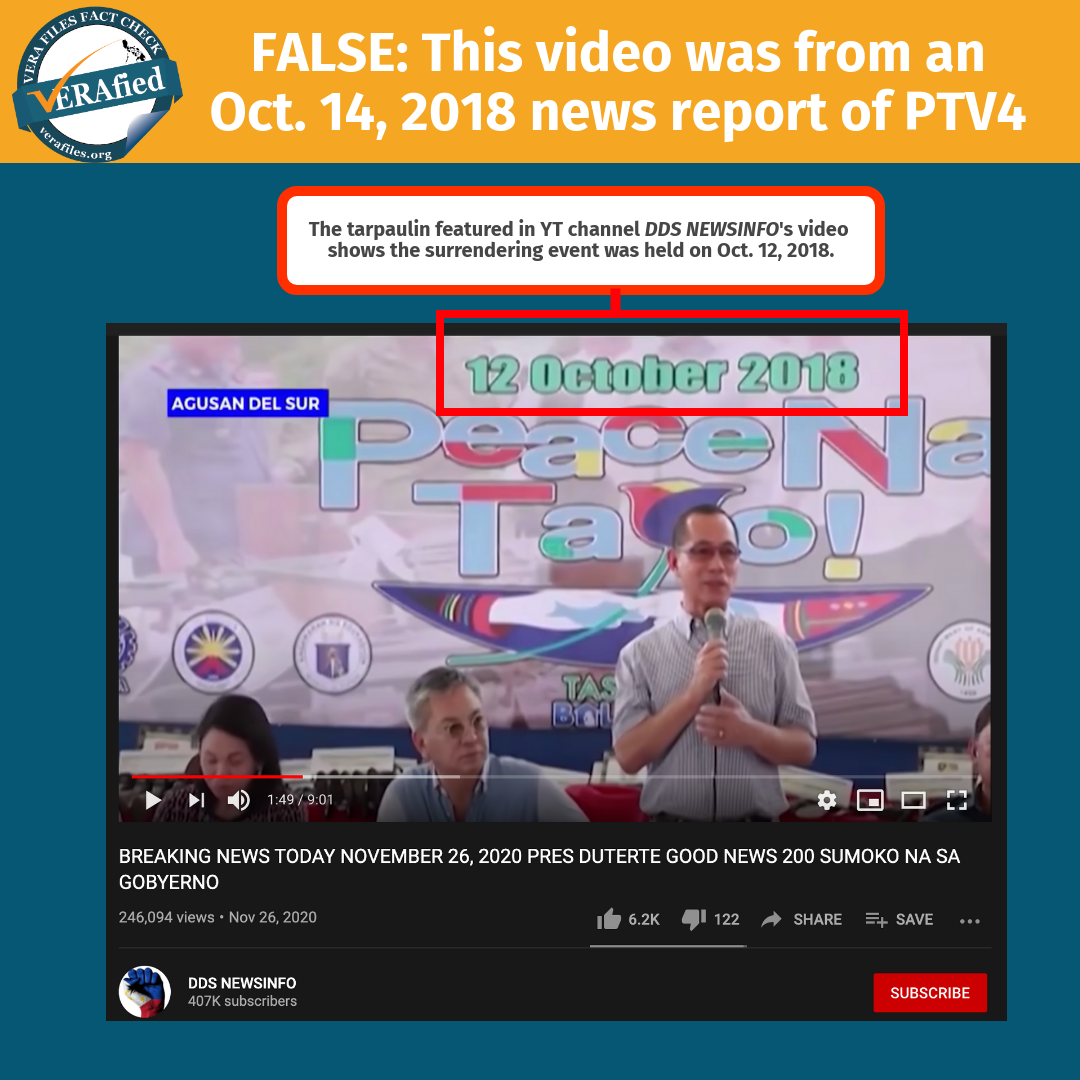 The first part of DDS NEWSINFO's video was also riddled with outdated information. It called Andres Centino as the 401st IB's brigadier general, but he has since been succeeded by Allan D. Hambala. Centino is now commanding general of the Army's Fourth Infantry "Diamond" Division.
It also said Agusan Del Sur's governor was "Adolph Edward Plaza." The incumbent governor is Santiago Cane, Jr.
The second part of the video showing a man who claims to be a former member of the NPA could not be traced. In the clip, which ran for six minutes, the man with the alias "Ka Victor" shared his alleged experience as a member of the underground communist group.
DDS NEWSINFO's untrue video has over 244,000 views to date. The channel was created on Dec. 12, 2012.
Social media monitoring tool CrowdTangle estimates the video could have reached more than 386,951 Facebook users. Its top three traffic generators from FB are public groups SARA DUTERTE FOR PRESIDENT & R. DUTERTE FOR VICE PRESIDENT 2022, FEDERAL PARTY OF THE PHILIPPINES and REVOLUTIONARY GOVERNMENT PRESIDENT RODRIGO DUTERTE FEDERALISMO PILIPINAS.
(Editor's Note: VERA Files has partnered with Facebook to fight the spread of disinformation. Find out more about this partnership and our methodology.)