A dubious blog, which claims to deliver "different kinds of news," has revived an old, fake claim about Commission on Human Rights (CHR) Chairman Chito Gascon calling a "surprise military attack" conducted on members of the New People's Army (NPA) a "violation of human rights."
Site Pinoy News Center (pinoynewscenter.blogspot.com)'s Oct. 14 article is fabricated. The report contains factual inconsistencies, and events not supported by any official records or reports by the news media.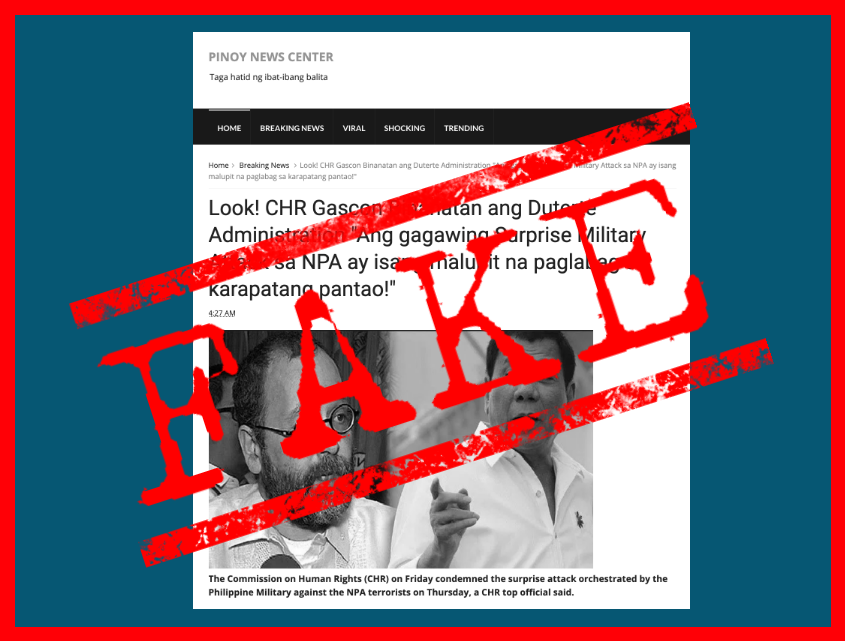 Despite claiming in its headline that it was Gascon who condemned the supposed military activity, the report's body attributed the statement to a "CHR top official" who "didn't want to reveal his identity."
Several keyword searches did not turn up official records nor reports from credible sources about what the blog described as the "most successful military operation" conducted under the Duterte administration, that supposedly killed 21 NPA members.
More, there is no record of any statement made by the CHR or Gascon denouncing the said "attack."
Another NPA member, named "Roberto Dulango," who the article claimed to have been killed in Bohol "on May 4" while under police custody, and whose death the CHR sought to investigate, also appears to be fictional. Cursory web searches for Dulango's name revealed no media organization's report carrying either his name or news of his death.
The web searches showed only one other resource carrying the same claims: a December 2018 article by equally dubious blog Social Net Ph (socialnetph.blogspot.com), from which Pinoy News Center appears to have copied its story word-for-word. The two websites curiously bear the same web page layout, and both sites' "Home" buttons lead to an error page.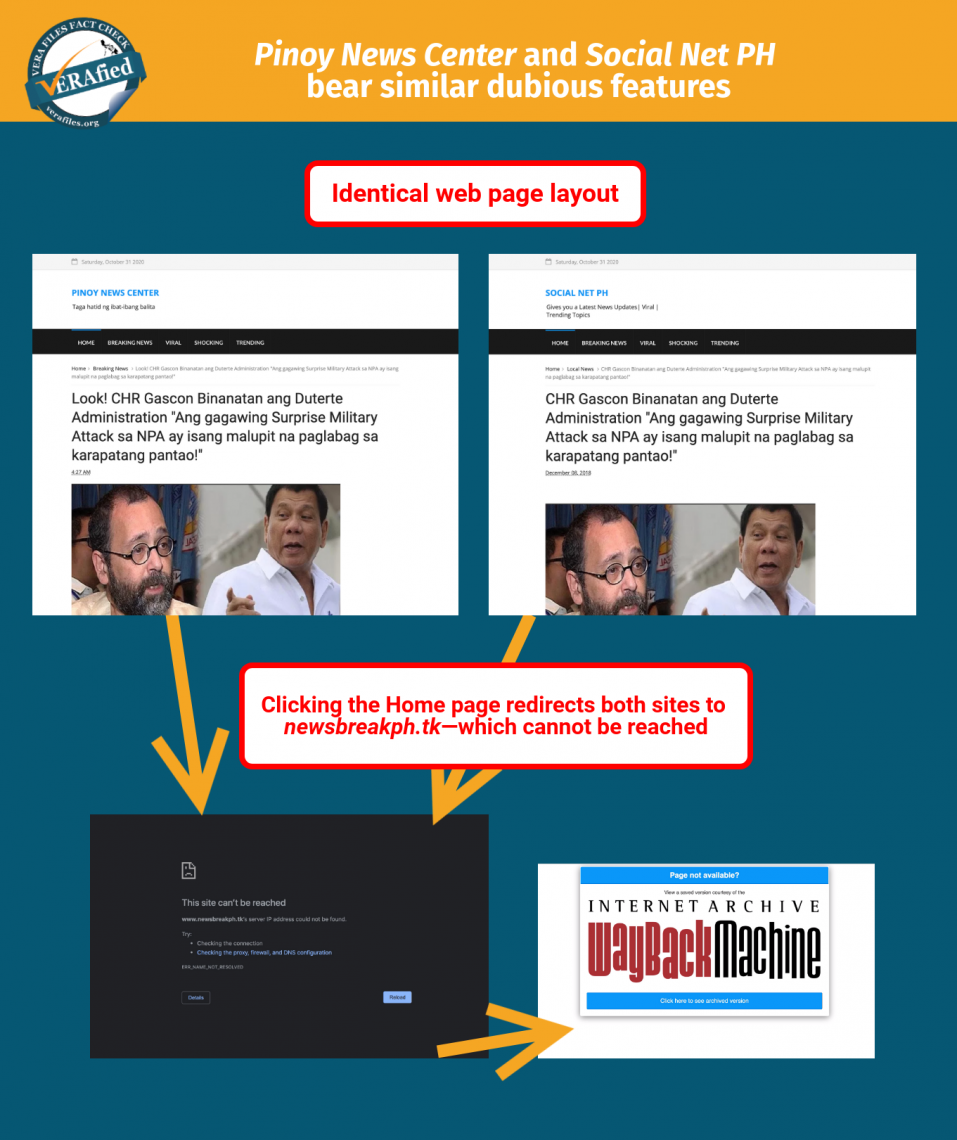 MemeBuster.net, a site dedicated to debunk "memes depicting truth-like claims," has fact-checked an identical fake report in February 2018.
Pinoy News Center's concocted article was published four days after the CHR said it would conduct a probe on the "recent spate of violence and attacks allegedly done by the NPA." It continues to circulate in late October after a military official red-tagged actress Liza Soberano and alleged Angel Locsin's sister was an NPA rebel.
Pinoy News Center's article already got more than 13,000 Facebook (FB) interactions from netizens and could have reached over 2.6 million people, according to social media monitoring tool CrowdTangle. Traffic to the page came largely from public FB groups Rodante Marcoleta for Senator, PROTECT THE PRESIDENT DUTERTE, and Rody Duterte Solid.
This is not the first time the CHR was made a target of disinformation. (See VERA FILES FACT CHECK: Online post twists COA findings on CHR, VERA FILES FACT CHECK: Post about CHR 'statement' on rights of teen slay suspects MISLEADING)
(Editor's Note: VERA Files has partnered with Facebook to fight the spread of disinformation. Find out more about this partnership and our methodology.)