A video circulating on Facebook (FB) falsely claims that Vice President and presidential aspirant Leni Robredo threatened there would be chaos should she lose in next month's election and that she had an "alliance" with the New People's Army (NPA).
The claims were based on the conjectures by a reporter in soliciting a reaction from presidential candidates Isko Moreno, Sen. Panfilo "Ping" Lacson, and former Defense Secretary Norberto Gonzales during a press conference last April 17.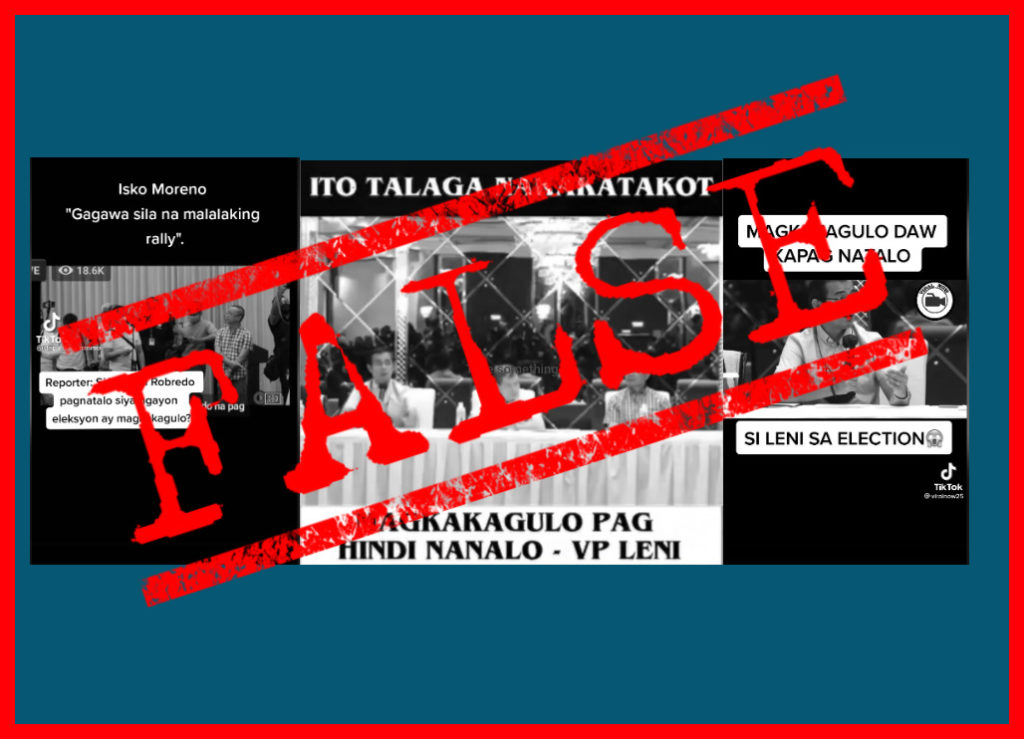 "Kukunin ko lang po sana ang reakson niyo kasi may statement recently si Vice President Leni Robredo na pag natalo siya ngayong eleksyon ay magkakagulo," Journal Group of Publications reporter Marlon Purificacion asked Moreno at the press conference.
(I'm hoping to get your reaction because Vice President Leni Robredo recently said that if she loses the election, there will be violence.)
When Lacson asked him whether the threat of chaos came from the vice president herself, Purificacion said it was from Robredo and from her camp.  
The reporter further asked the three men whether they believed Robredo "made" the alleged statement because of "alliances" with the NPA. Gonzales said that "he can say" there were "communist elements" in Robredo's camp. This claim is also untrue.
VERA Files debunks the two claims below:
On Robredo's threat of unrest if she loses the presidency, there is no public record of such a statement.
Rappler's Mara Cepeda and Philippine Daily Inquirer's Krixia Subingsubing, both reporters covering the Office of the Vice President, denied that Robredo or her team ever made such a statement. The Philippine Star reporter Marc Jayson Cayabyab also belied such a threat was made by Robredo.
But rather, it was Moreno who made similar remarks during an interview with blogger Banat By on April 11, where he said there would be chaos if either presidential frontrunner Ferdinand "Bongbong" Marcos Jr. or Robredo won the presidency.
Robredo has no alliances with the NPA 
Robredo has denied having alliances with the NPA. She debunked the claims via a statement on FB on March 13, and addressed the false reports the next day in a press briefing. In the same forum, former Sen. Antonio Trillanes denied there was any alliance with the communist groups, branding the claim as "propaganda." 
The Communist Party of the Philippines (CPP) Chief Information Officer Marco Valbuena also denied forging alliances with any presidential candidate. "For the record, neither the CPP nor the NDFP has forged any agreement with any of the political parties running in the May 2022 elections," he said. NDFP is the National Democratic Front of the Philippines.
The video was posted following the press conference that generated much publicity after Moreno called for Robredo's withdrawal from the presidential race. According to social media monitoring tool CrowdTangle, at least four FB pages posted the videos with the false claims: Negros Oriental Updates (created on March 31, 2020), Stuffed (January 18, 2022), Andy balana vlogs (April 15, 2022) and Jayson Eleazar TV – JETV (October 16, 2021).
Have you seen any dubious claims, photos, memes, or online posts that you want us to verify? Fill out this reader request form or send it to 'VERA, the truth bot' on Viber.
(Editor's Note: VERA Files has partnered with Facebook to fight the spread of disinformation. Find out more about this partnership and our methodology.)