Contrary to what one Facebook (FB) post claimed, presidential candidate and senator Panfilo "Ping" Lacson held various positions under the government's executive branch.
The executive branch, which carries out and enforces laws, includes the president, vice president, the Cabinet, and executive departments headed by Cabinet members. According to the National Government Portal, independent agencies, boards, commissions, and committees created by the president are also part of the executive branch.
Lacson served in the Philippine National Police (PNP) and in the now defunct Philippine Constabulary (PC) as part of the Metrocom Intelligence and Security Group (MISG). 
The PNP is under the executive department and part of the Department of Interior and Local Government (DILG) by virtue of Republic Act (RA) No. 6975, as amended by RA No. 8551.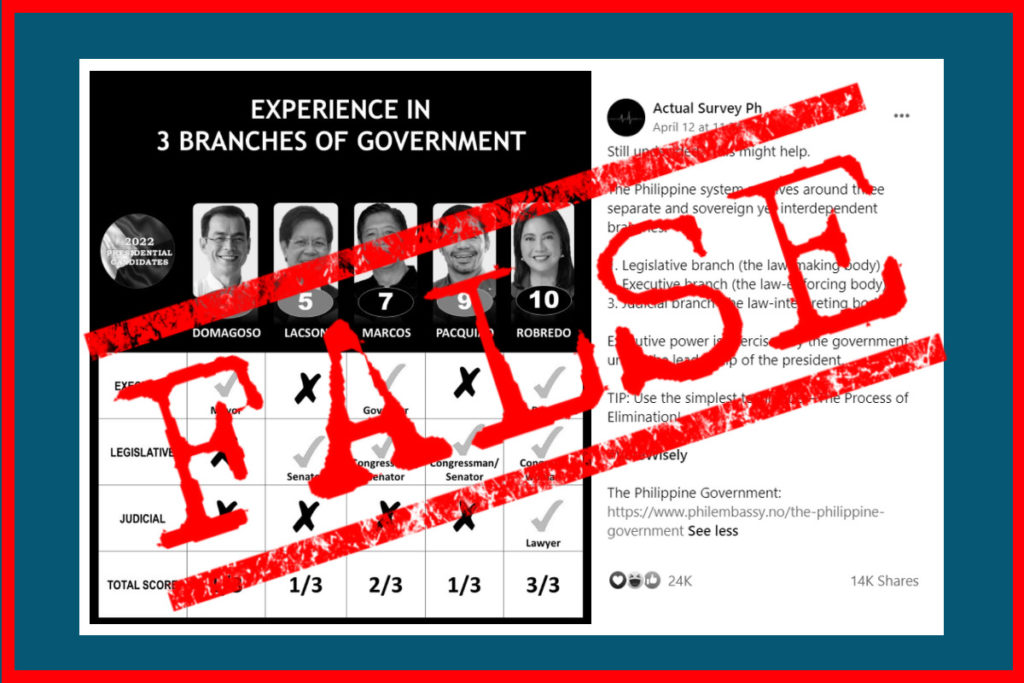 Lacson also served directly under former presidents Fidel Ramos, Joseph Estrada, and Benigno "Noynoy" Aquino III in different capacities. (Read: VERA FILES FACT SHEET: What you need to know about the presidential, VP hopefuls | PART 1)
He was:
FB page Actual Survey Ph (created in Oct. 8, 2020) posted on April 12 the graphic with the incorrect claim on Lacson, garnering 24,000 reactions and 14,000 shares.
Another infographic carrying the false claim was posted on April 19 by FB page Leni Robredo The Extraordinary President (created in October 30, 2021), getting a total of over 3,700 interactions.
Have you seen any dubious claims, photos, memes, or online posts that you want us to verify? Fill out this reader request form or send it to 'VERA, the truth bot' on Viber.
(Editor's Note: VERA Files has partnered with Facebook to fight the spread of disinformation. Find out more about this partnership and our methodology.)