A YouTube channel posted a 10-minute video spliced from unrelated news clips about Senate President Vicente "Tito" Sotto III running against President Rodrigo Duterte in the vice presidential race in next year's elections. Sotto has not affirmed this.
On June 23, PH – EU Official YouTube channel posted the video headlined: DI UURUNGAN! TITO SOTTO KAKALABANlN SI PRES DUTERTE PAGKA VICE PRESIDENT SA 2022 WALA SYANG PAKI? (No turning back! Tito Sotto to fight Pres. Duterte for vice president in 2022, he doesn't care?). This is false.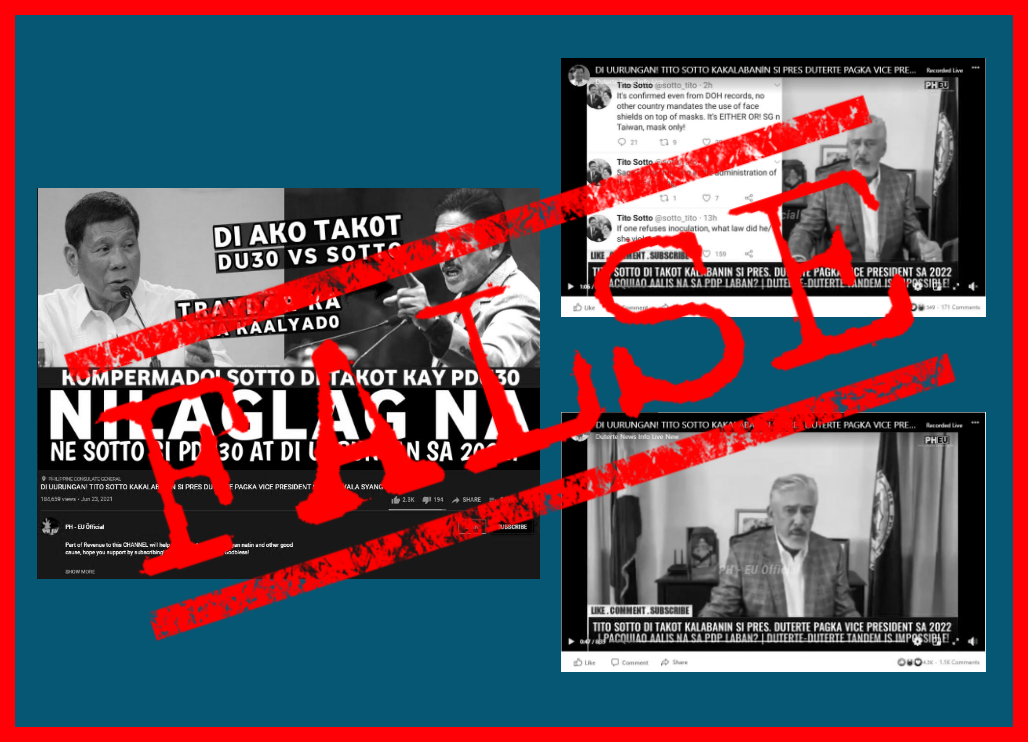 While Sotto said he is open to run as vice president, he has not confirmed this decision. Duterte, however, already expressed intent to run for the post. In answer to a reporter's question last Thursday, he said: "To maintain the equilibrium sa lahat (for all), consider me as a candidate for the vice presidency at this time."
Sotto, meanwhile, only said he will run for the position if Sen. Panfilo "Ping" Lacson runs for president, according to a June 7 interview on the public affairs program The Source.
Lacson has also expressed interest to have Sotto as running mate, but has not confirmed his decision to run as president.
The false video first showed an unrelated muted interview of Davao City Mayor Sara posted on Facebook on Oct. 6, 2018 where a radio presenter reported the presidential daughter's disapproval for a Duterte-Duterte tandem in the upcoming elections. It was posted by Davao-based news network OneTV Philippines.
The second clip featured in the video also showed a news report: that of Sotto questioning the mandatory use of face shields.
The rest of the video featured a June 22 vlog by pro-Duterte commentator Banat By about a June 21 GMA News report where the younger Duterte said running with her father in the 2022 elections is unlikely.
The false video appeared a day after Sotto tweeted that only the Philippines "mandates the use of face shields on top of masks." He then filed Senate Resolution 757 that seeks to investigate the efficacy of face shields in preventing novel coronavirus (COVID-19) transmission.
PH – EU Official's video was viewed nearly 200,000 times. The channel was created on Dec. 2, 2019.
Two other FB pages – Duterte News Info Live and Duterte News Info Live New – also uploaded a shortened version of the original clip by cutting its intro and last minute of the clip.
The former, created on Aug. 8, 2020, has 107,580 followers. The latter was created just a day after, and has 57,556 followers.
Each video drew close to 350,000 views.
(Editor's Note: VERA Files has partnered with Facebook to fight the spread of disinformation. Find out more about this partnership and our methodology.)