Duha ka (FB) pages ug usa ka netizen ang nagpakatap og usa ka hulagway—nagpakita kang Bise Presidente Leni Robredo ug mga opisyal sa Commission on Elections (Comelec), taliwa sa uban- nga dunay di tinuod nga konteksto.
Ang posts sa Abril 18 nigamit sa hulagway nga orihinal nga gi-tweet sa kamaguwangang anak ni Robredo nga si Aika usa ka adlaw sa wa pa kini, nagpasabot nga ang imahe nagpakita nga ang bise presidente ug polling body nagtagbo aron planuhon ang pagpanikas sa eleksiyon. Sayop kini ug way basehanan.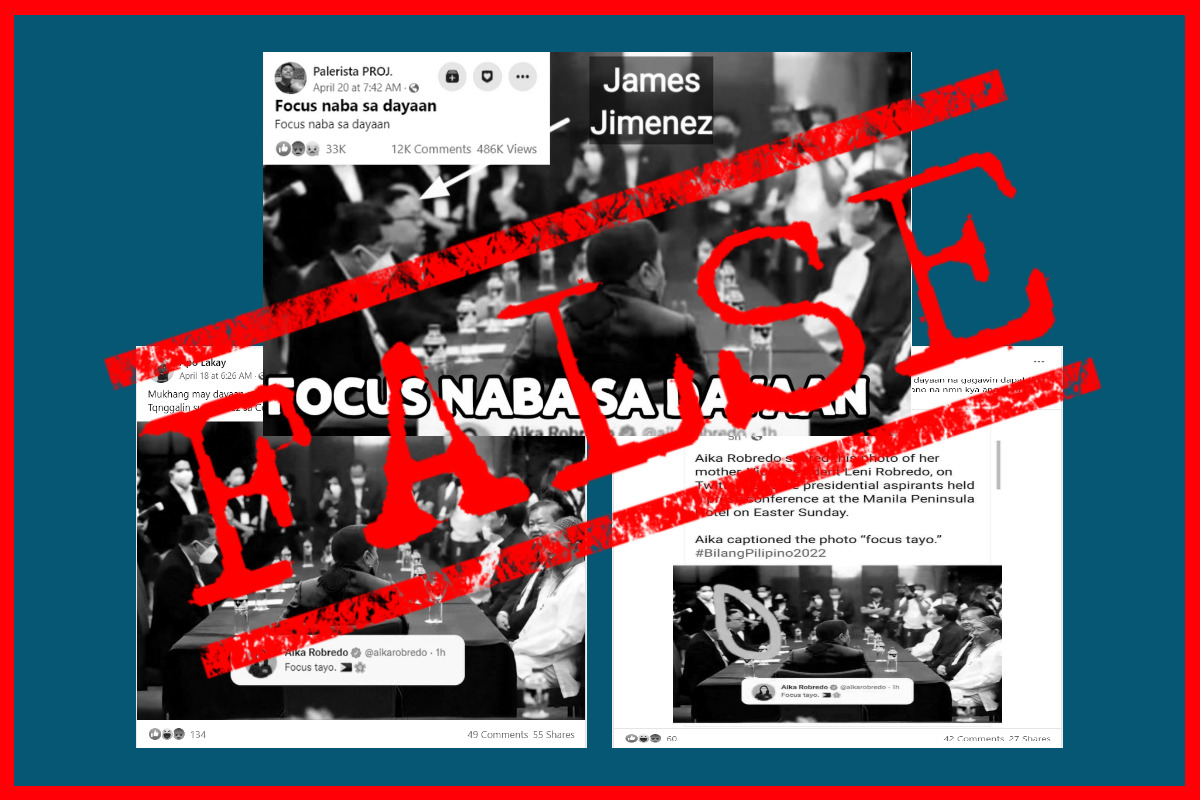 Si Paulo  Espiritu, pangu sa media relations sa Office of the Vice President, niingon pinaagi sa Viber message nga way nahitabo nga panagtagbo tali kang Robredo ug sa Comelec.
Si manlalaban Barry Gutierrez, tigpamaba ni Robredo, nipaka way bili sa posts ug niingon sa laing Viber message sa VERA Files Fact Check nga ang hulagway gikuha atol sa pre-debate briefing sa mga presidential contender sa Abril 3, dihang ang Comelec nipahigayon sa iyang ikaduhang presidential debate.
 Siya nipasabot nga si Comelec spokesperson James Jimenez nilingkod uban sa mga kandidato alang sa usa ka briefing samtang ang pipila ka commissioners ning-apil sa tapok. " Pipila sa ubang mga kandidato klaro kaayong makita sa tuo ni VP Leni," dugang ni Gutierrez.
Ang ubang mga kandidato nga makita sa hulagway mao sila si negusyante Faisal Mangondato, doktor Jose Montemayor Jr., labor leader Leody de Guzman, ug kanhi kalihim sa Depensa Norberto Gonzales.
Ang VERA Files Fact Check nikuha sa komento gikan sa Comelec, nga wa pa makatubag sa pagsuwat niini. Hinuon, ang polling body ni-tweet og mga hulagway sa Abril 3, nagpakita sa samang pre-debate briefing nga gikuha sa laing anggulo, uban sa mga kandidato sa samang posisyon sa paglingkod sama sa hulagway nga gi-post ni Aika Robredo.
Mga reporter sa Rappler, Manila Bulletin ug CNN Philippines ni-tweet usab sa samang mga kopya sa nikatap nga kopya sa hulagway sa Abril 3, nitumbok sa media bureau ni Robredo isip tinubdan.
Ang hulagway subling nitumaw nga duna nay di tinuod nga konteksto usa ka adlaw human sa Easter Sunday conference nga gipahigayon sa mga kaabtang ni Robredo. Si Manila City Mayor Francisco "Isko Moreno" Domagoso nihagit kang Robredo sa pag-withdraw gikan sa pagpapili human sa sunodsunod nga mga pag-atake batok sa bise presidente.
Ang di tinuod nga mga post gipublikar sa FB page Apo Lakay (gimugna sa Hulyo 24, 2020) ug usa ka netizen. Sa Abril 20 nga video nga gipublikar sa FB page Palesteria PROJ. (Mayo 24, 2016) nigamit usab sa samang hulagway isip ebidensiya sa panagkunsabo sa pagpanikas sa eleksiyon.
Sa wa pa kini tangtanga, kini nakadawat na og 484,000 ka views ug nakakuha og kapin sa 33,000 ka reactions, 12,000 ka komento, ug 27,000 ka shares.
Nakakita ka na ba og kadudahang pangangkon, mga hulagway, memes, o online nga posts nga gusto kang among susihon? Suwati kini nga reader request form  o ipadala sa 'VERA, the truth bot' sa Viber.
(Editor's Note: VERA Files has partnered with Facebook to fight the spread of disinformation. Find out more about this partnership and our methodology.)