Two Facebook (FB) pages and a netizen are circulating a photo – showing Vice President Leni Robredo and officials from the Commission on Elections (Comelec), among others – with false context.
The April 18 posts used a photo originally tweeted by Robredo's eldest daughter Aika the day before, implying that the image shows the vice president and the polling body in a meeting to plan an election fraud scheme. It is wrong and baseless.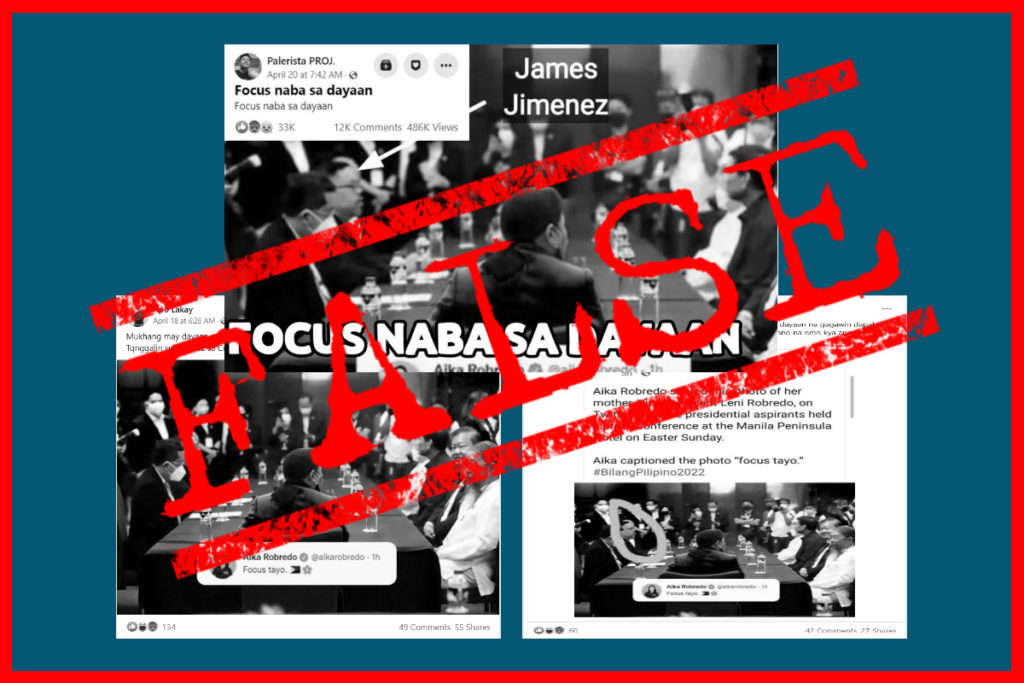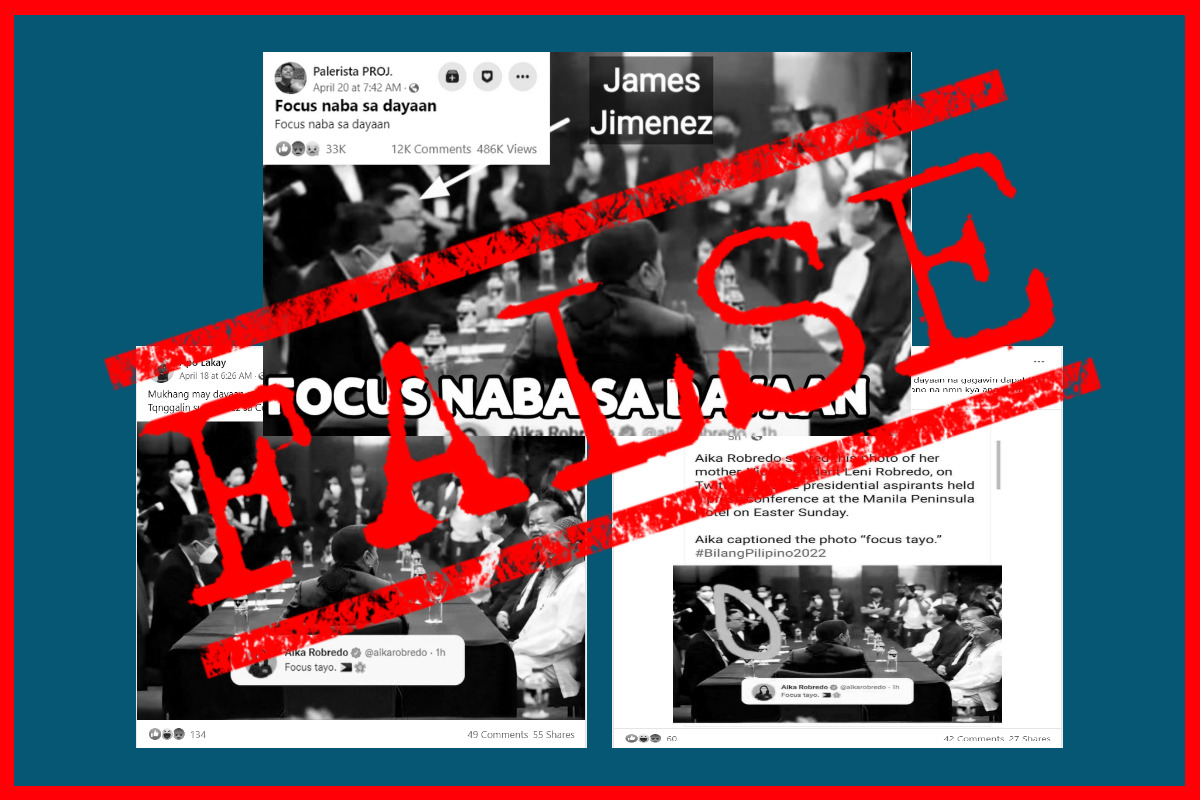 Paulo Espiritu, the Office of the Vice President's head of media relations, said in a Viber message that no such meeting transpired between Robredo and Comelec.
Lawyer Barry Gutierrez, Robredo's spokesperson, debunked the posts and said in another Viber message to VERA Files Fact Check that the photo was taken during the pre-debate briefing of the presidential contenders on April 3, when Comelec held its second presidential debate.
He explained that Comelec spokesperson James Jimenez sat down with the candidates for a briefing while some commissioners joined in. "Some of the other candidates are clearly seen to the right of VP Leni," Gutierrez added.
The other candidates visible in the photo were businessman Faisal Mangondato, physician Jose Montemayor Jr., labor leader Leody De Guzman, and former Defense secretary Norberto Gonzales.
VERA Files Fact Check sought comment from Comelec, which has yet to reply as of writing. However, the polling body tweeted a set of their photos on April 3, showing the same pre-debate briefing taken from a different angle, with the candidates in the same sitting position as in the photo posted by Aika Robredo.
Reporters from Rappler, Manila Bulletin and CNN Philippines had also tweeted copies of the circulating photo on April 3, attributing it to Robredo's media bureau.
The photo reappeared with false context a day after the Easter Sunday press conference held by Robredo's rivals. Manila City Mayor Francisco "Isko Moreno" Domagoso dared Robredo to withdraw from the race after a series of attacks against the vice president.
The false posts were published by FB page Apo Lakay (created on July 24, 2020) and a netizen. An April 20 video published by FB page Palerista PROJ. (May 24, 2016) also used the photo as evidence of a conspiracy to defraud the elections.
Before being taken down, it received more than 484,000 views and garnered over 33,000 reactions, 12,000 comments, and 27,000 shares.
Have you seen any dubious claims, photos, memes, or online posts that you want us to verify? Fill out this reader request form or send it to 'VERA, the truth bot' on Viber.
(Editor's Note: VERA Files has partnered with Facebook to fight the spread of disinformation. Find out more about this partnership and our methodology.)