Old videos where the late senator Benigno "Ninoy" Aquino Jr. showed his support for the legalization of the Communist Party of the Philippines (CPP) and the New People's Army (NPA) were resurrected to refute claims that the late senator was a "hero." This needs context.
The former opposition leader had said that the communist organization should be legalized only if it abandons its goal of violently overthrowing the government.
The video posted on Facebook (FB) and YouTube on Aug. 29 pegged its headline to former senator Paolo Benigno "Bam " Aquino who it alleged was shocked to see this old footage of his late uncle. The video's headline read: 
"BAM AQUINO,SOBRANG NAWINDANG MATAPOS MATUKLASAN FOOTAGE NA GUSTONG E-LEGALIZED NI NINOY C-P-P N-P-A (Bam Aquino very shocked after discovering footage showing Ninoy wanting to legalize CPP-NPA)." 
"Kasinungalingan. Clickbait. Wag i-share. I-report (A lie. Clickbait. Don't share. Report this)," Bam Aquino stated in an Aug. 30 FB post. He warned that he would take appropriate action against disinformation peddlers, and urged netizens to monitor and report similar content. 
The video did not carry any remarks from Bam Aquino but showed his photo, while Ninoy Aquino's statements in the video were spliced and edited.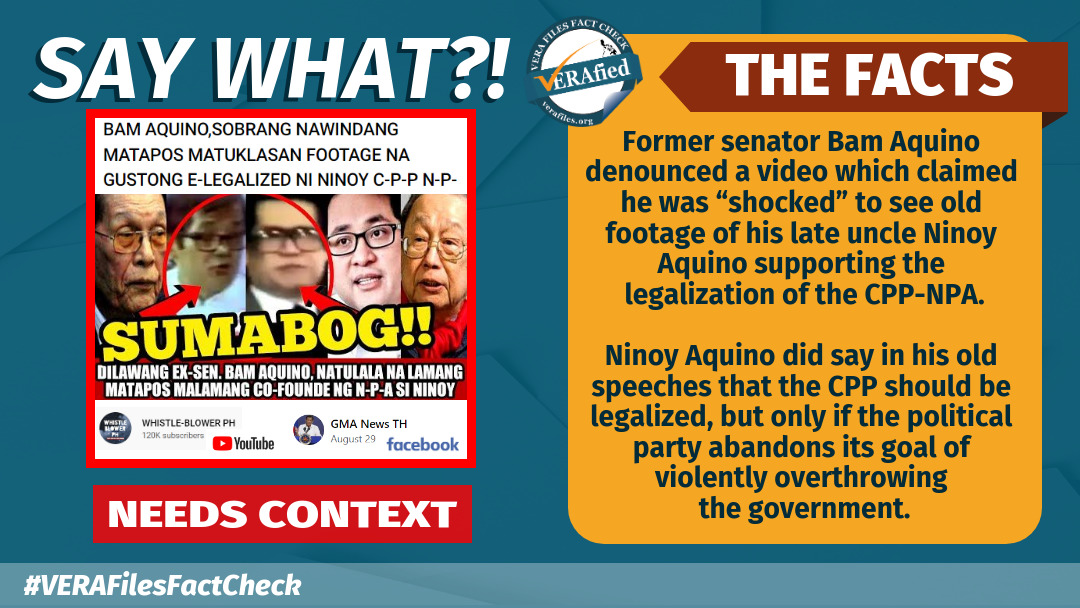 The video flashed two instances where Ninoy Aquino called for the 'legalization" of the CPP. During an episode of television show Face the Nation dated March 10, 1978, he said: 
"Very sincerely, I think the President [Ferdinand Marcos Sr.] should consider legalizing the Communist Party of the Philippines… provided they disavow their aim to overthrow the government by force and violence."
In a 1981 speech in Boston, Ninoy Aquino called for the legalization of the CPP after overthrowing the dictatorship of Ferdinand Marcos Sr. to let the Filipino people discuss ideas and decide which ideology and cause they would want to prevail in the country. 
"We should legalize the Communist Party of the Philippines and give them exactly the same forum to expound on their ideas. And once they have expounded on their ideas and the Filipino people should opt them, then we should, in the spirit of democracy, accept majority rule," he said. 
FB page GMA News TH (created on July 3, 2020) and YouTube channel WHISTLE-BLOWER PH (created on Nov. 23, 2021) shared the video on National Heroes' Day, August 29. This has drawn over 242,700 FB interactions and 48,500 YouTube views.
Have you seen any dubious claims, photos, memes, or online posts that you want us to verify? Fill out this reader request form or send it to 'VERA, the truth bot' on Viber.
(Editor's Note: VERA Files has partnered with Facebook to fight the spread of disinformation. Find out more about this partnership and our methodology.)