A netizen posted a graphic of former senator Benigno "Ninoy" Aquino Jr. and claimed that he was a convicted criminal. This needs context.
"Ninoy Aquino is a Convicted Criminal; NOT a hero," read the claim that accompanied a photo of the late opposition leader. It was posted on Facebook on Aug. 29, when the country celebrated National Heroes Day as a holiday.  
In November 1977, a military tribunal handed down a guilty verdict on Aquino for subversion, murder, and illegal possession of firearms. This was voided by the Supreme Court 10 years later.

PhilStar.com earlier debunked a related claim.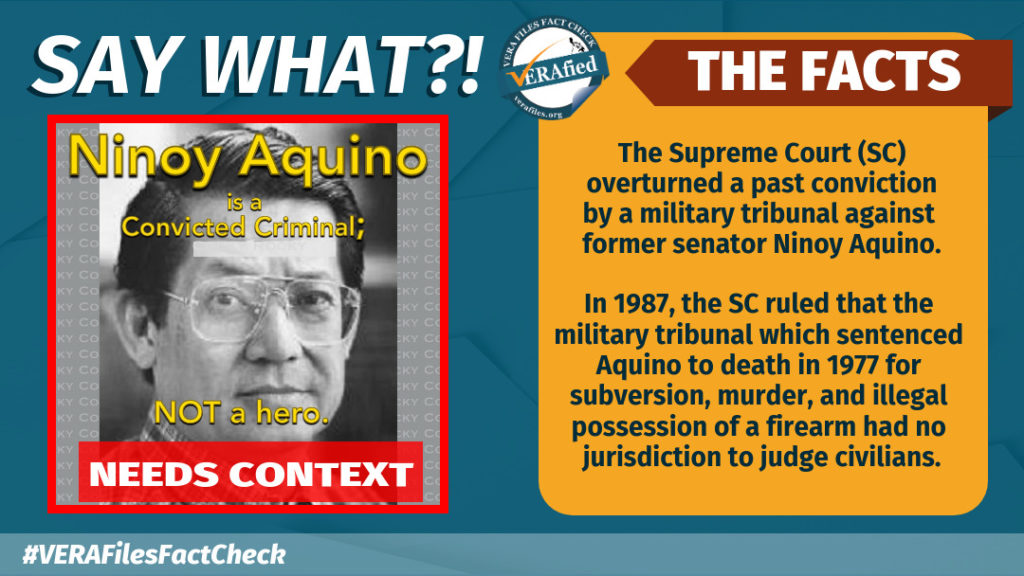 On May 22, 1987, Supreme Court's G.R. No L-54558 ruled that military commissions or tribunals had no jurisdiction over civilian law cases even during Martial Law because civil courts were open and functioning at the time.
In the case of Aquino and other individuals sentenced by military tribunals, the Supreme Court ruled that "…any judgment rendered by such [a] body relating to a civilian is null and void for lack of jurisdiction." 
A military tribunal sentenced Aquino and two others to death by firing squad on November 25, 1977, but this was not carried out. 
In May 1980, former dictator Ferdinand Marcos Sr. allowed Aquino, his political rival, to avail himself of heart bypass surgery in the United States. 
The FB netizen's post has garnered a total of over 2,600 interactions after it appeared on Aug. 29, as the country marked National Heroes Day to honor all the heroes of the revolution who helped to establish the foundation of the country's independence.
Have you seen any dubious claims, photos, memes, or online posts that you want us to verify? Fill out this reader request form or send it to 'VERA, the truth bot' on Viber.
(Editor's Note: VERA Files has partnered with Facebook to fight the spread of disinformation. Find out more about this partnership and our methodology.)