A fake video showing the late dictator Ferdinand Marcos Sr. supposedly questioning the moral values of people who would elect a tax evader for president is making the rounds online.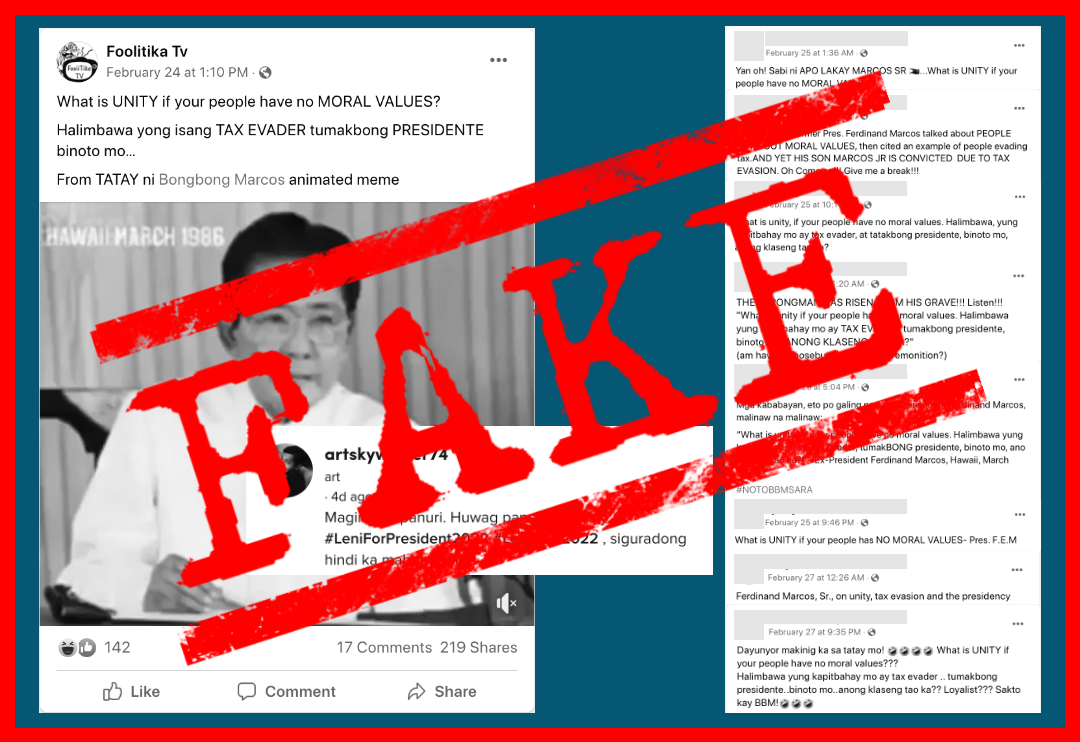 In the manipulated video, Marcos Sr.'s photo was animated to make it look like he was saying:
"What is unity if your people have no moral values? Halimbawa, 'yung kapitbahay mo ay tax evader, tumakbong presidente, binoto mo. Anong klaseng tao ka?
(For example, your neighbor who is a tax evader ran for president, and you voted for them. What kind of person are you?)
Unity is the campaign slogan of Ferdinand 'Bongbong' Marcos Jr., who is eyeing the presidency 36 years after their family fled the country amid a civil resistance movement demanding his father's ouster.
The comment about voting for a tax evader is in reference to Bongbong Marcos' 1997 conviction for tax evasion over non-filing of income tax returns.
Many netizens noticed the clip was edited but a few took it as real. One commented: "THE STRONGMAN HAS RISEN FROM HIS GRAVE!!! LISTEN!!! … (am having goosebumps…he had premonition?)."
The video is called a "cheap fake," or a low-quality version of deepfakes, which are digitally altered videos or images to show people in situations that never occurred.
Deepfakes are manipulated videos featuring "hybridized" or completely "generated human bodies and faces" created through machine learning, while cheap fakes are made using "more accessible software," according to nonprofit research organization Data & Society.
This viral video used an Associated Press file photo of Marcos Sr. taken on Feb. 28, 1986 at the Hickam Air Force Base in Honolulu, Hawaii. It was the first time the former president addressed the public after he and his family fled the Philippines following the four-day peaceful protest known as the People Power Revolution. He said he fled the country to avoid the bloody carnage of innocent lives.
A closer look at the Marcos Sr. cheap fake shows both his body and his visible hand were steady the whole duration of the 14-second clip. Only his head and facial features were moving. Those were the parts of the AP photo that were manipulated to show movement in order to give the impression it is a video clip.
A Feb. 24 Facebook (FB) post by page Foolitika Tv was the first to carry the cheap fake. It was published a day before the 36th anniversary of the People Power Revolution. As caption, it used what Marcos Sr. supposedly said in the video, plus a disclaimer that the clip is an "animated meme."
But this disclaimer was dropped by at least one TikTok user (artskywalker74) and eight FB users who reuploaded the fake video in their own accounts from Feb. 25 to 27, passing off the cheap fake as fact.
Foolitika Tv's post has been viewed 5,700 times by netizens and has garnered over 380 engagements. Meanwhile, TikTok user artskywalker74's copy now has more than 282,000 views, 4,700 hearts, and 2,300 shares.
The other eight copies by private netizens collectively received over 1,200 views and 170 engagements from FB users.
A review of the publishers' accounts reveals eight of them support the presidential candidacy of Vice President Leni Robredo, while one supports Manila Mayor Francisco "Isko Moreno" Domagoso.
Have you seen any dubious claims, photos, memes, or online posts that you want us to verify? Fill out this reader request form or send it to 'VERA, the truth bot' on Viber.
(Editor's Note: VERA Files has partnered with Facebook to fight the spread of disinformation. Find out more about this partnership and our methodology.)