A Facebook (FB) video is insinuating that the existing Angat Buhay Program of Vice President Leni Robredo is a non-governmental organization (NGO). 
Posted on June 7 by the FB page Palerista TV (created on Oct. 7, 2021), the video's creator posted a disclaimer that his statement is "just an opinion and not an accusation." He said: 
"Hindi po ba ang Angat Buhay NGOs ay hindi pa inilulunsad at private po iyang NGOs na iyan at hindi po government? Pero bakit fino-front nila ang Angat Buhay NGOs na yan sa Sorsogon, at hindi Office of the Vice President?"
(Isn't it that Angat Buhay NGOs have yet to launch, and those NGOs are private and not a government [agency]? But why are they fronting the Angat Buhay NGOs in Sorsogon instead of the Office of the Vice President?)
The OVP was first to respond with relief efforts for residents affected by the eruption of Mt Bulusan in Sorsogon through its Angat Buhay outreach arm.
This claim needs context. According to the OVP official website, Robredo's Angat Buhay is one of the programs initiated by her office in 2016 to help address poverty.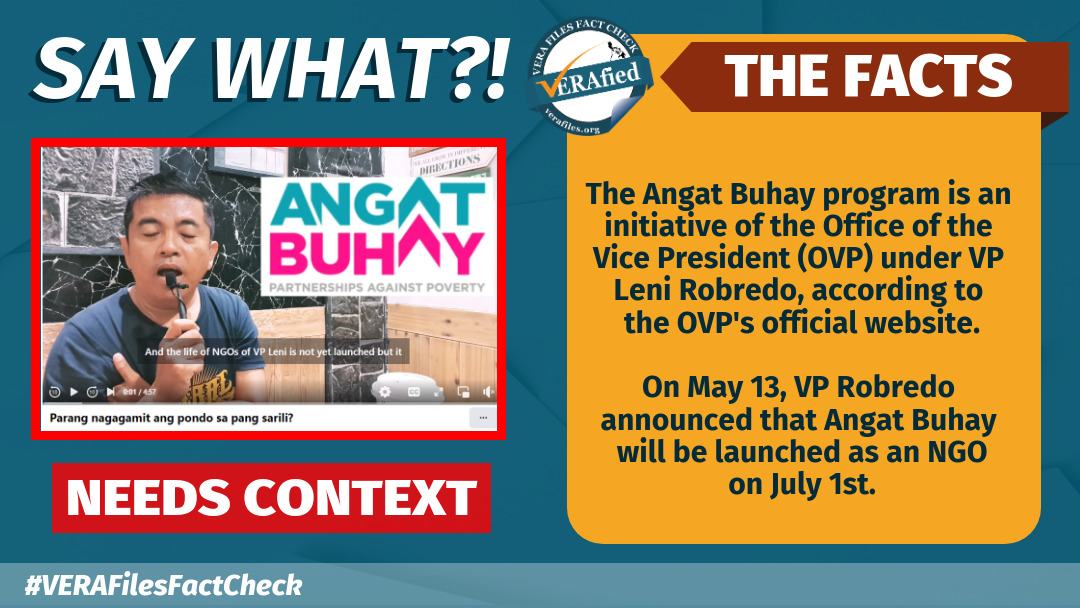 The current Angat Buhay program under the OVP is Robredo's flagship anti-poverty program which has "helped 622,000 Filipino families in 223 cities and municipalities with the help of 372 organizations" as of December 2021, a Jan. 3, 2022 press statement read. 
Given its limited government resources, the Angat Buhay program has partnered with private companies and other NGOs to help fund its projects, primarily food security and nutrition, universal healthcare, public education, rural development, housing and resettlement, and women empowerment.
During a thanksgiving event on May 13, Robredo declared that Angat Buhay will be launched as an NGO on July 1, a day after her term as vice president ends. The vision in formally organizing the program is to create the "largest volunteer network in the history of the country." 
Encyclopedia Britannica defines an NGO as a "voluntary group of individuals or organizations, usually not affiliated with any government, created to provide services or to advocate a public policy."
Palerista tv's video garnered 12,000 comments, 1,900 comments, and 143,000 views on FB. 
This video appeared on FB page KLC Happy Thoughts and Cellphone Repair shortly after Manila Times blogger Krizette Laureta Chu said on June 5 that the Angat Buhay NGO is an attempt to compete with the government of President-elect Ferdinand "Bongbong" Marcos Jr.
Have you seen any dubious claims, photos, memes, or online posts that you want us to verify? Fill out this reader request form.
(Editor's Note: VERA Files has partnered with Facebook to fight the spread of disinformation. Find out more about this partnership and our methodology.)