A TikTok video reshared on Facebook (FB) claims President Ferdinand "Bongbong" Marcos has reclaimed Sabah from Malaysia. 
Not true. There have been no recent claims by the president on Sabah, nor has there been an announcement that the state would be re-incorporated into Philippine territory.
First posted on July 26, the 15-second TikTok clip bore this in-video text: "Pinakamalaking goodnewas (sic) para sa Pilipinas nakakaproud nang yayari sa Marcos administration na Maging bahagi na ng pilipinas ang SabaH mabuhay ang pilipinas mabuhay ang mga taga SABAH." 
(The biggest good news for the Philippines, it makes us very proud. Sabah becoming a part of the Philippines is happening under the Marcos administration. Long live the Philippines, long live Sabah.)
On Aug. 3, FB page Kabagis (created Nov. 2, 2021) reuploaded the TikTok video with the caption, translated from Tagalog: "Sabah was quickly reclaimed from Malaysia. You're the best, Sir President Bongbong Marcos." It garnered over 10,140 interactions.
As of Aug. 2, Press Secretary Trixie Cruz-Angeles said Marcos has yet to articulate his position on the country's claim in Sabah.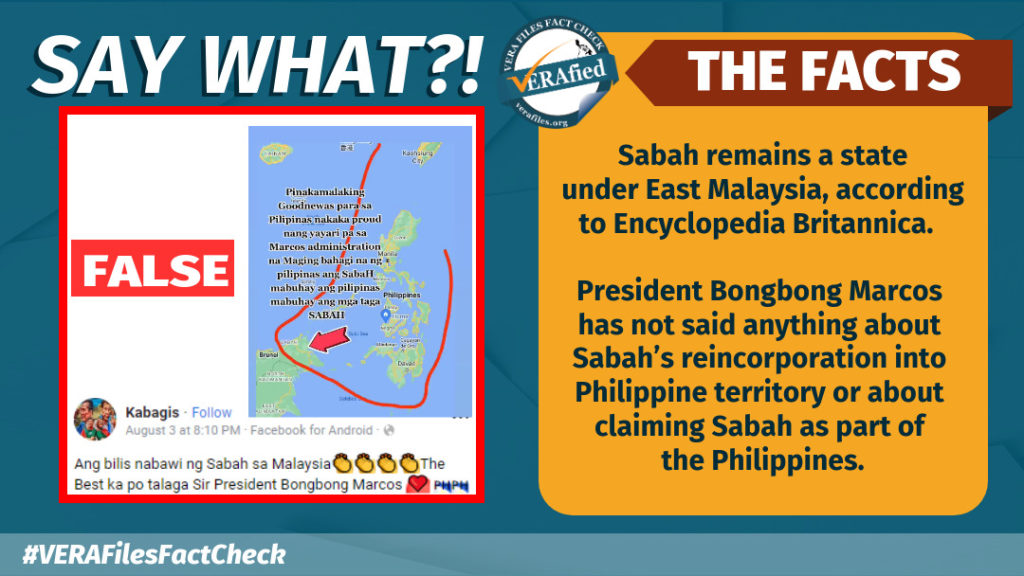 According to Encyclopedia Britannica, Sabah remains a state of East Malaysia in the northern part of Borneo island. 
In 1878, an agreement about Sabah, formerly known as North Borneo, was made between the sultanate of Sulu and the British North Borneo Company. 
The Philippine government and descendants of the old sultanate of Sulu previously claimed the territory was only on lease; the British, though, viewed the agreement as cession of territory. 
Sabah became a British Crown colony in 1946, then was eventually included in the Federation of Malaysia in 1963.
The original TikTok video, which garnered over 291,650 interactions, appeared not long after descendants of the Sulu sultanate seized two units of Malaysia's state oil firm Petronas in an effort to enforce a US$ 15 billion arbitration award the heirs won in February.
A French court earlier this year ruled against Malaysia in a dispute involving a land deal made in 1878 between the sultan of Sulu and European colonists so the latter could "use [the sultan's] territory in present-day Malaysia." The country had paid the heirs US$1,000 monthly until it stopped in 2013, which brought about the suit.
Have you seen any dubious claims, photos, memes, or online posts that you want us to verify? Fill out this reader request form or send it to 'VERA, the truth bot' on Viber.
(Editor's Note: VERA Files has partnered with Facebook to fight the spread of disinformation. Find out more about this partnership and our methodology.)