There is no truth to the claim in a circulating video that President Ferdinand "Bongbong" Marcos Jr. has authorized the operation of the mothballed Bataan Nuclear Power Plant (BNPP).
The video appeared on Aug. 8 with the headline: "Mga Oligarchs Nagulantang Sa Muling Pagbubukas Ni Pbbm Ng Bataan Nuclear Power Plant|panoorin (Oligarchs shocked by [Marcos'] reopening of the BNPP | Watch)."
Throughout the video's 15-minute run, several photos of the BNPP were shown with the superimposed text which read: "FINALLY! ANG MULING PAGBUBUKAS NG (the reopening of the) BATAAN NUCLEAR POWER PLANT!!"
Contrary to the caption, the voice-over only referenced Marcos' State of the Nation promise of "re-examining" building nuclear power plants in the country as a means to lower electricity costs and the creation of the 25-member Special Committee on Nuclear Energy that will prioritize nuclear power development.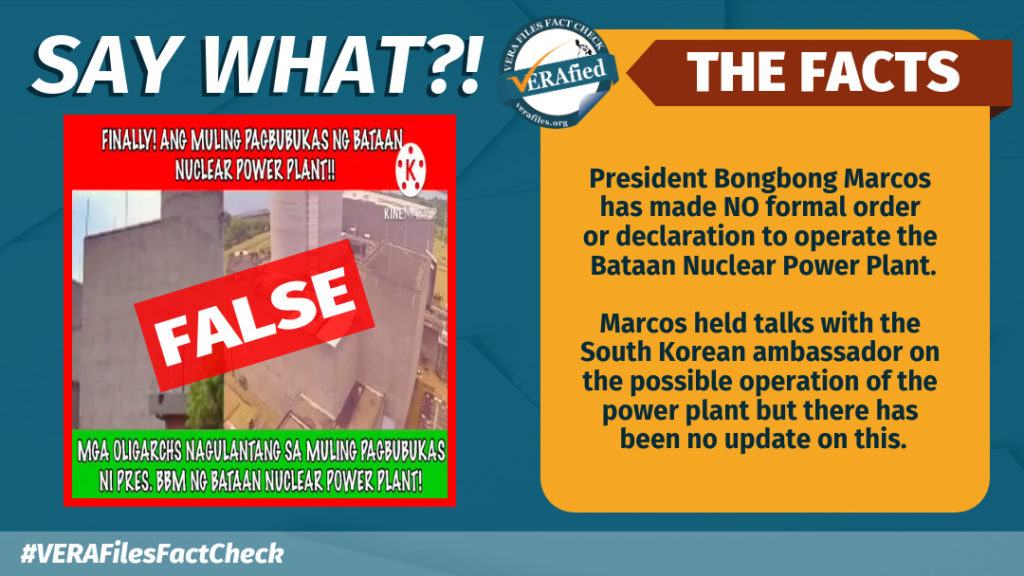 Marcos has made no formal declaration to operate the BNPP. Nor has there been any legitimate news report mentioning the supposed order.
While the president talked with South Korean Ambassador Kim Inchul in May on a possible cooperation involving the operation of the BNPP, there has been no update on this. 
The BNPP – built by the administration of the deposed President Ferdinand Marcos Sr. – was mothballed by the late President Corazon Aquino in 1986 due to safety and economic concerns. (Read VERA FILES FACT SHEET: A sleeping power giant, Bataan Nuclear Power Plant explained)
The same day the false video appeared, Philippine Ambassador to the United States Jose Manuel Romualdez said the U.S. has offered to provide the country with modular nuclear power facilities. He also clarified that the potential installation of the modular power plants is not a revival of the BNPP.
The video with the false headline was published by YouTube channel C&C NEWS UPDATE (created on Nov. 20, 2020), receiving more than 35,300 views.
It was reuploaded by Facebook pages GMA NEWS TH (July 3, 2020), Rodante Marcoleta. (Oct. 20, 2020) and Rodante Marcoleta live (April 10, 2017). Their posts have collectively garnered more than 7,100 reactions, 650 comments, 1,000 shares and 70,000 views.
Have you seen any dubious claims, photos, memes, or online posts that you want us to verify? Fill out this reader request form or send it to 'VERA, the truth bot' on Viber.
(Editor's Note: VERA Files has partnered with Facebook to fight the spread of disinformation. Find out more about this partnership and our methodology.)