A Facebook (FB) video used a misleading headline claiming President Ferdinand Marcos Jr. completed the longest bridge in Asia.
The video, published on Oct. 18, referred to the 2.16-kilometer-long San Juanico Bridge linking the Samar and Leyte islands.
The misleading headline read:
"WOW! PINAKAMAHABANG TULAY SA ASIA TINAPOS NA NI PBBM GOODJOB! FPRRD SUMALUDO (PBBM HAS FINISHED THE LONGEST BRIDGE IN ASIA! FPRRD SALUTED)!"
The video, however, carried a news report about the Oct. 19 switch-on ceremony of the P80-million San Juanico Bridge Aesthetic Lighting and Sound Project.
It also featured Marcos Jr.'s speech at the Philippine Tourism Industry Convergence Reception, where he recognized tourism as the driver of the country's economy.
Marcos Jr. had no hand in the completion of the San Juanico Bridge. The viaduct was completed in 1972 under Ferdinand Marcos Sr.'s administration. It was the aesthetic project for the bridge that was completed recently and its switch-on ceremony was attended by Marcos Jr.
The San Juanico Bridge is also not the longest in Asia. This distinction is held by China's 165-kilometer long Danyang-Kunshan Grand Bridge with its Guinness World Record for the longest bridge in the world since 2011. Some sources say the San Juanico Bridge once held the title.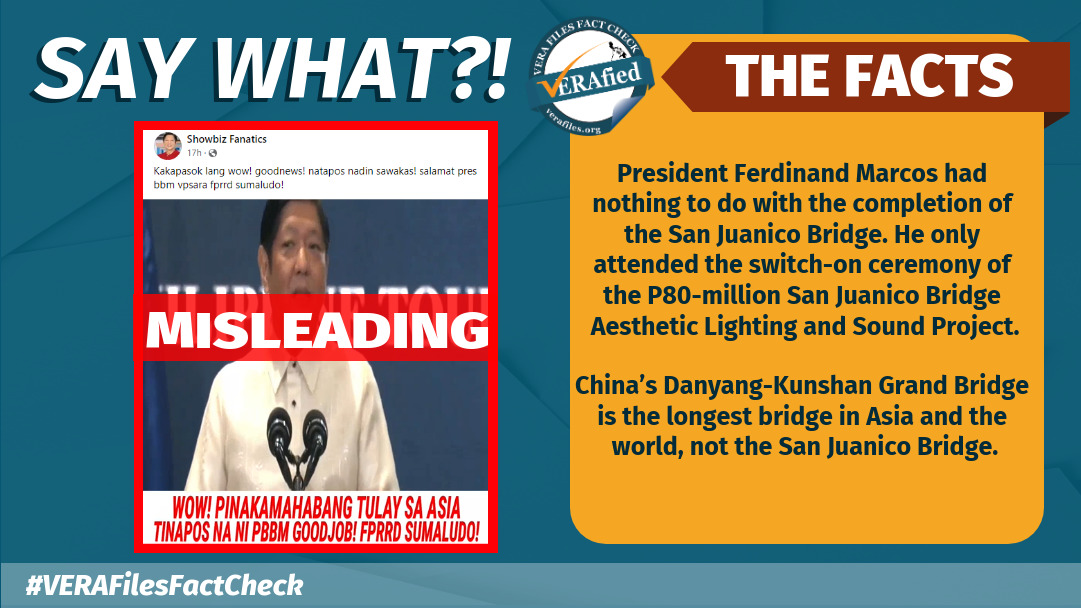 Through the initiative of the Samar provincial government, the Tourism department approved the lighting project's funding in 2017. Its construction began in 2019 with the aim to "boost local sustainable tourism in the province." The completion date was rescheduled multiple times due to rehabilitation works, pandemic restrictions, and electricity supply issues.
The Cebu-Cordova Link Expressway is now the Philippine's longest bridge, a title that the San Juanico Bridge previously held.
The San Juanico Bridge remains the longest bridge in the Pan-Philippine highway that connects Luzon to Mindanao.
The video by the previously fact-checked page Showbiz Fanatics (created July 17, 2022) garnered 55,000 views, 3,600 reactions, 352 comments, and 339 shares. Other FB pages, such as Duterte News Update (March 15, 2022) and Virals Trending Update (April 5, 2022) also shared the post. The same video was reposted by YouTube channel BANAT NEWS TV (created on Dec. 16, 2015) drawing 248,000 views.
Have you seen any dubious claims, photos, memes, or online posts that you want us to verify? Fill out this reader request form.
(Editor's Note: VERA Files has partnered with Facebook to fight the spread of disinformation. Find out more about this partnership and our methodology.)