A Facebook (FB) page used a YouTube video of popular physician Doc Willie Ong to promote a product for stomach pain said to be approved by the Food and Drug Administration (FDA). Not true. The product is not FDA-certified as claimed. Nor is it being endorsed by Ong.
On Oct. 16, the page uploaded a video advertising a product called "Bio Stomach Curcumin" that received more than 226,000 recent views this week, according to FB. It claims to eliminate stomach ulcers in just under a week.
A cursory search reveals that "Bio Stomach Curcumin" or "Bio Stomach" is not on the FDA's list of food and drugs with product certifications.
A clip of Ong discussing stomach pain was taken from an original 2016 video published on his official YouTube channel and was used in the promo video to suggest he is promoting the product. Nowhere in the video did the doctor mention the name of the supplement.
According to health organizations, peptic ulcers – commonly known as stomach ulcers – can be due to several reasons and it is best to consult a doctor to take proper action.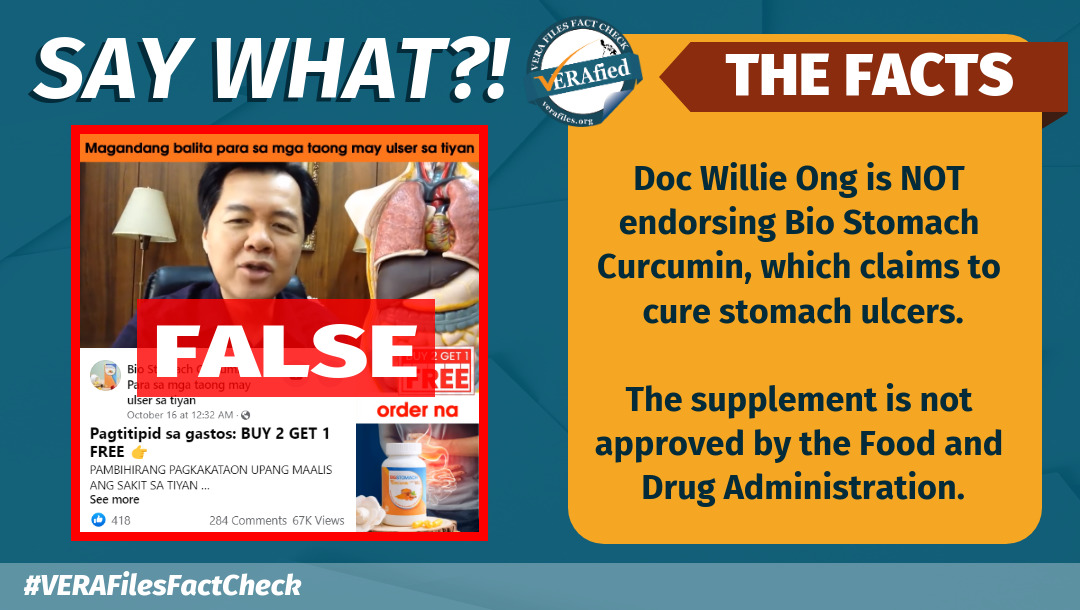 Ong and his wife Dr. Liza Ramoso-Ong, in a previous message to VERA Files Fact Check,  denied endorsing any health supplements, stating these FB pages are illicitly using their name. (Read VERA FILES FACT CHECK: Doc Willie Ong NOT endorsing hemorrhoid cream and VERA FILES FACT CHECK: Doc Willie Ong DID NOT endorse anti-arthritis supplement)
In the past few months, there were more FB pages using Ong's name and face to fraudulently promote health products. (Read VERA FILES FACT CHECK: FB page MISREPRESENTS Willie Ong to promote fungal cream and VERA FILES FACT CHECK: Dr. Willie Ong DID NOT endorse a cure for skin diseases)
FB page Bio Stomach Curcumin – Para sa mga taong may ulser sa tiyan (created on Aug. 21, 2022) published the video, garnering over 400 reactions, 270 comments and 67,000 views.
Have you seen any dubious claims, photos, memes, or online posts that you want us to verify? Fill out this reader request form.
(Editor's Note: VERA Files has partnered with Facebook to fight the spread of disinformation. Find out more about this partnership and our methodology.)