A website posing as ABS-CBN News Channel (ANC) published a report on a product that allegedly treats two eye conditions without surgery. Cardiologist Dr. Willie Ong supposedly developed the cure.
These are fabricated claims. The site is the third scam flagged by VERA Files Fact Check this month that imitates news organizations to sell fake cures.
(Read: Bogus CNN PH pages being used to promote FAKE diabetes cure)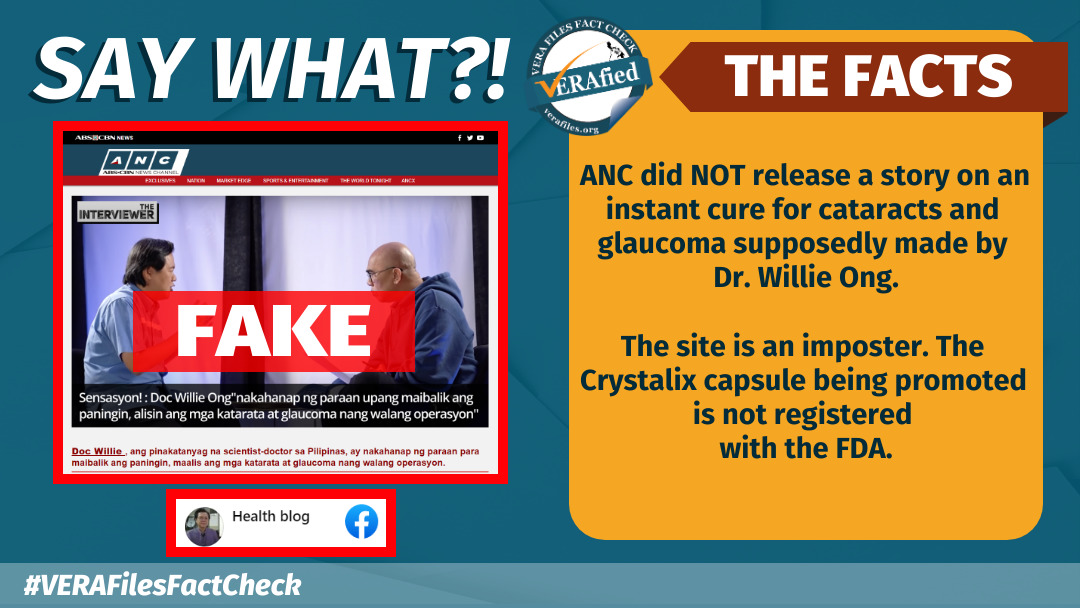 Imposter of ANC
The site (dimanzrenph6eight.enewspaper24.ru) imitates ANC's layout.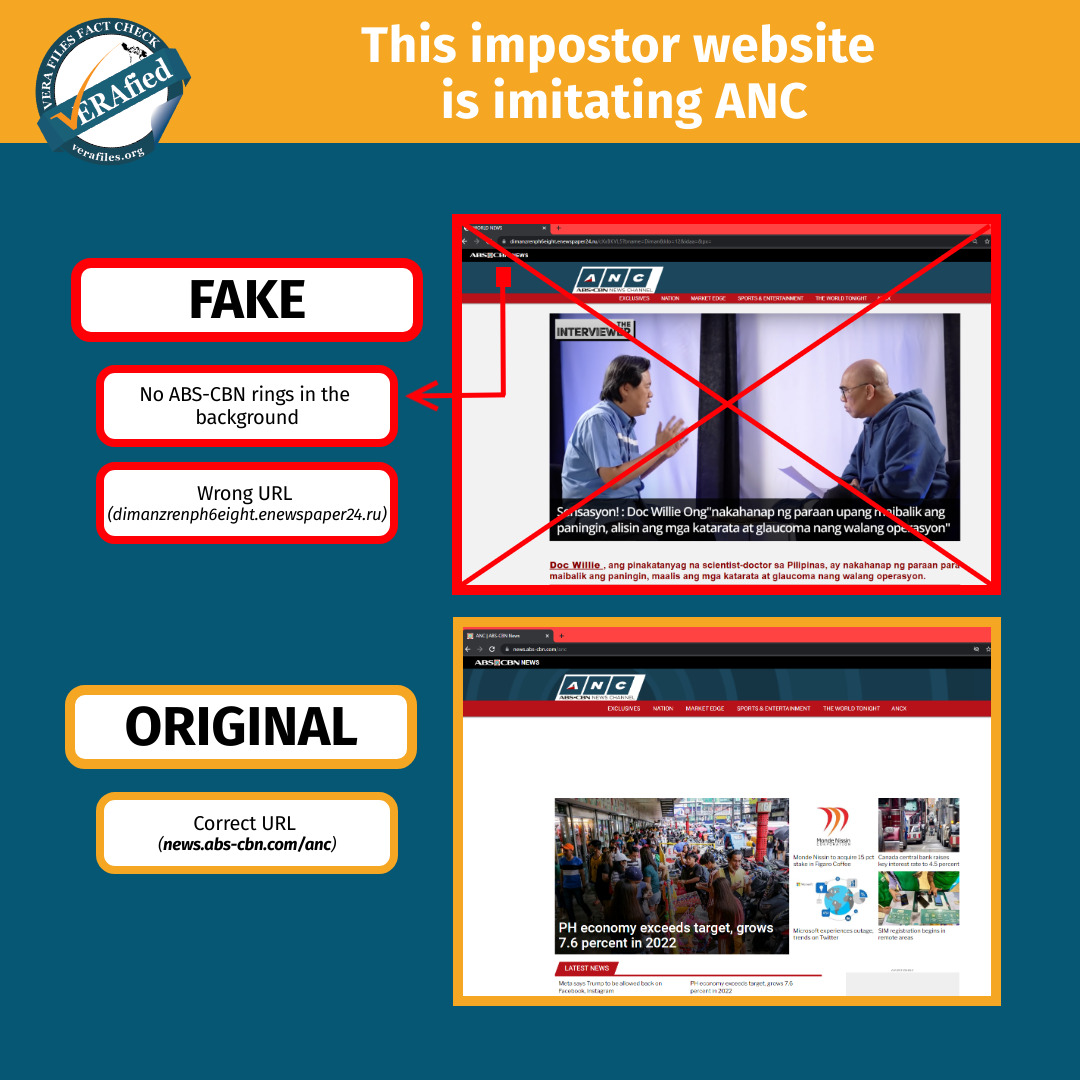 ANC's website is news.abs-cbn.com/anc.
The imposter's story featured a fake interview between Ong and talk show host Boy Abunda about a formula the former created to cure cataracts and glaucoma. It also showed screenshots of the "interview," with subtitles indicating the two were talking about the product.
ABS-CBN Corporation news production head Francis Toral told VERA Files via Jan. 24 email that the "images are fake and do not belong to ANC" and that the network is "addressing the matter."
The photos used in the story were from Ong's April 27, 2022 interview with Abunda, when he was campaigning for the vice presidency. There was no mention of any eye disease cure.
Tip-offs to scam
The circulating story is undated — a red flag indicating that a source purporting to give news is questionable.
The fake report also claims Ong developed the eye product with a certain "Research Institute of Ophthalmology," that leads to several more red flags:
Ong is not an eye doctor. He specializes in internal organs, with a subspecialty on the heart.
There is no such institute in the Philippines. A cursory search shows there is a Research Institute of Ophthalmology in Egypt with no connection to Ong.
Promotion for fake product
Lastly, the imposter site promoted the supposed cure called Crystalix capsule, which it claimed "improves eyesight after 1-2 days," and that it would "permanently bring back eyesight for any age" without an expensive operation.
Crystalix does not appear on the Food and Drug Administration Verification Portal.
Netizens were promised discounts and asked to provide their personal information to purchase the product.
A post by the FB page Health blog (created Jan. 15), which led to the imposter website, garnered 2,300 reactions, 500 comments and 111 shares.
(Editor's Note: VERA Files has partnered with Facebook to fight the spread of disinformation. Find out more about this partnership and our methodology.)