Netizens are still interacting with a two-month-old advertisement made to look like cardiologist Willie Ong is promoting a spray to reduce varicose veins. This is fake.
The video, posted May 8 by Facebook (FB) page Matiyagang Doctor, promotes a spray called South Moon Varicose Veins. The spray is not in the drug product list registered with the Food and Drug Administration. 
"Birch Tree Advance lang ang ineendorso namin. Lahat ng iba, fake (We only endorse Birch Tree Advance [milk supplement]. All the rest are fake), Ong said in an April 19 YouTube video about fake ads using his name.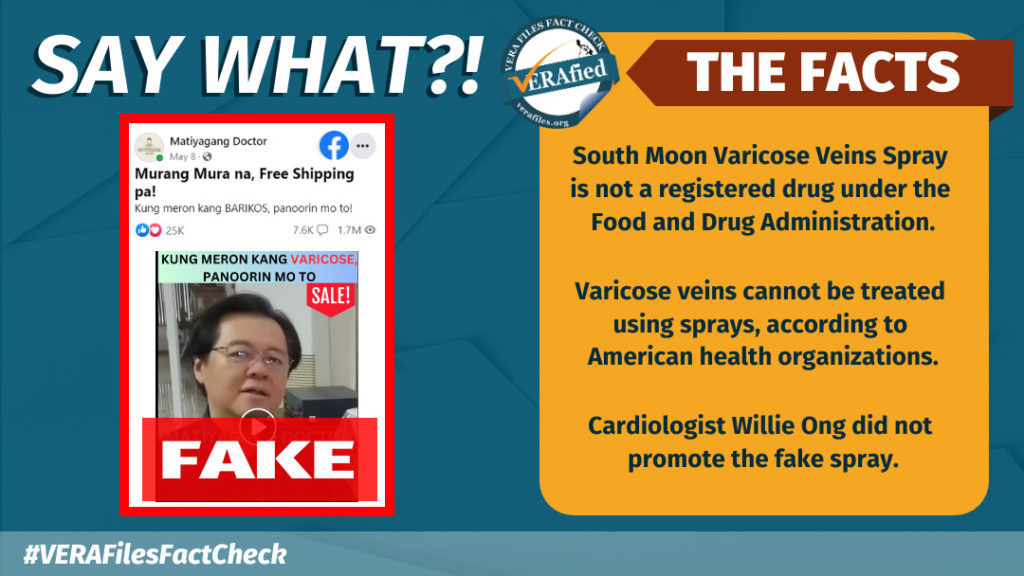 The bogus ad used the first 11 seconds of this March 7 YouTube video. In the vlog, Ong talked about possible complications from varicose veins. 
"Sana totoo yan doc, kung hindi masisira ang pangalan mo (I hope that's true doc, or else your name would be ruined)," one netizen commented. Several others asked about the price of the fake product. 
The bogus page Matiyagang Doctor replied to several comments, asking netizens to check their private message inbox so they could avail themselves of the fake spray.
Varicose veins are veins that are swollen, twisted, and enlarged under the skin. Women, especially those who are old, obese, or pregnant are more at risk, according to the U.S. National Institutes of Health's MedlinePlus, 
People with varicose veins are advised to wear compression stockings, avoid sitting or standing for a long time, lose weight, and get more exercise. Treatment, medical professionals say, could also involve surgery, laser treatment, use of high heat (ablation) or injecting a saline solution (sclerotherapy).
Matiyagang Doctor's fake video got a total of 1.7 million interactions. 
Have you seen any dubious claims, photos, memes, or online posts that you want us to verify? Fill out this reader request form or send it to VERA, the truth bot on Viber.
(Editor's Note: VERA Files has partnered with Facebook to fight the spread of disinformation. Find out more about this partnership and our methodology.)