Several Facebook (FB) posts are using the photos of a Filipino doctor to advertise cereals and mixed nuts that purportedly aid weight loss. The altered images impersonated a real medical professional.
On Oct. 5, 8, and 14, three FB pages bearing different variations of the name Josephine Rojo uploaded various photos of the medical expert based in Bacolod, supposedly carrying packs of cereals named "Super Meal Mix[ed] Nuts." The post included a link that leads to a website for online orders. 
The posts carried conflicting information about the cereal product, including who developed it – a so-called "Japan Nutrition Research Institute" or "Korean Nutrition Research Institute," – and claimed it helps burn calories for weight loss.
In an Oct. 12 post published on her personal FB page, Rojo denied selling or endorsing cereals or any other similar products. "Don't be scammed by FAKE ACCOUNTS using my face and name," she warned in Filipino.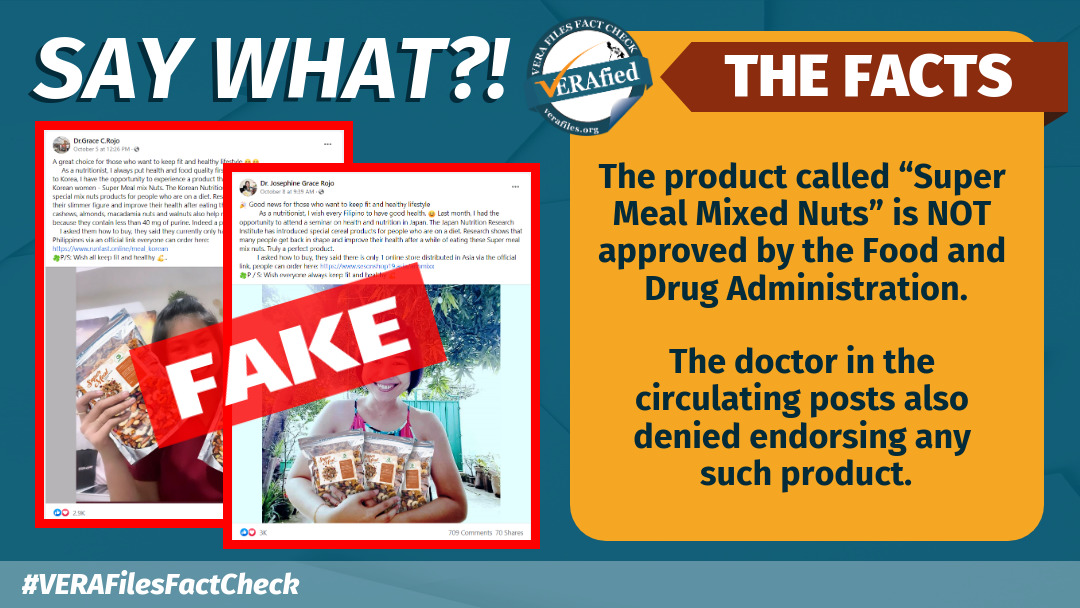 The scam posts grabbed photos from her Instagram account, where she is shown originally holding a blue cup, books and planners.
The names "Super Meal Mixed Nuts" or "Super Meal Mix Nuts" are not listed under the Food and Drug Administration's record of food and drugs with certificates of product registration.
These posts also carry a link leading to a scam website that asks for personal information. A cursory keyword search also shows that the mentioned research institutes in Korea and Japan do not exist or are mentioned only in other fact-checks.
FB pages Dr.Grace C.Rojo (created July 13, 2021), Dr. Josephine Grace Rojo (Sept. 24, 2022) and Dr. Josephine Grace C. Rojo (June 21, 2022) published the scam posts, collectively garnering over 7,000 reactions, 1,500 comments, 200 shares and 230,000 recent views according to FB.
Have you seen any dubious claims, photos, memes, or online posts that you want us to verify? Fill out this reader request form.
(Editor's Note: VERA Files has partnered with Facebook to fight the spread of disinformation. Find out more about this partnership and our methodology.)