A Facebook group pretending to be a Department of Social Welfare and Development (DSWD) account is asking netizens to register with the Pantawid Pamilyang Pilipino Program (4Ps) through an impostor account. 
FB group DSWD Ayuda Update made a total of eight posts asking netizens' personal details, or urging them to register with 4Ps by sending messages. Netizens who wanted to register or viewed the group as legitimate wrote their personal information in the comments section.
This is fake: the DSWD only posts official announcements on their verified social media and web pages and on their regional DSWD pages. Beneficiaries of 4Ps are vetted by the national government and not just chosen via registration. 
"DSWD emphasizes that it has no affiliation with any other Facebook page/pages and that official information is transmitted only in the official accounts aforementioned, and in regional DSWD Facebook pages," DSWD told VERA Files Fact Check in an earlier email.
Created on Aug. 22, DSWD Ayuda Update identified itself as a video game creator while using the DSWD's name and logo. The bogus FB group has also used fake GCash receipts and edited GCash publicity material to fool people.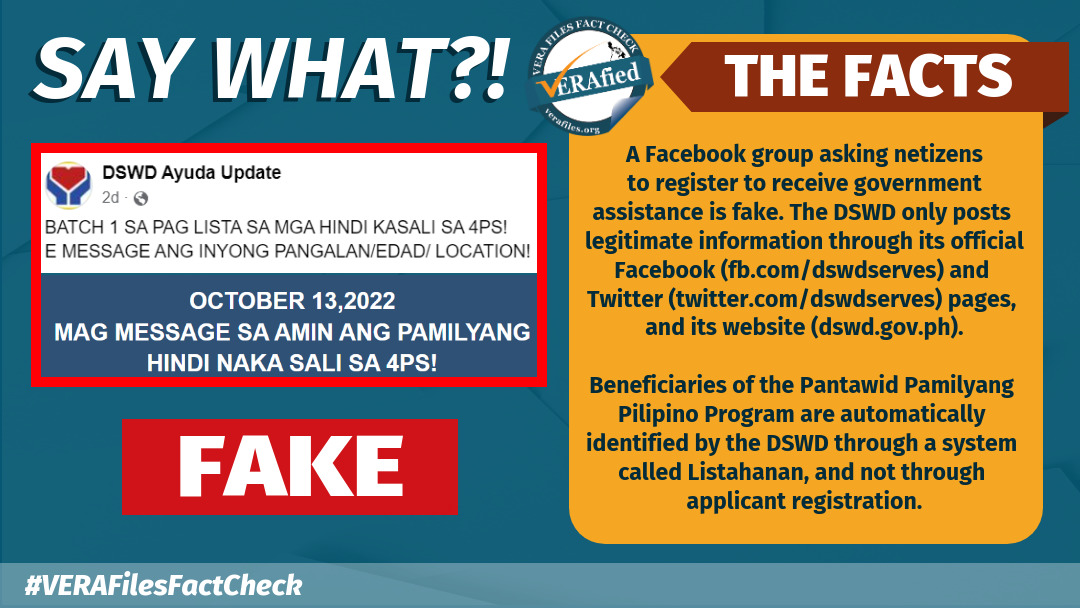 Beneficiaries of 4Ps are determined by the DSWD through the National Household Targeting System for Poverty Reduction (Listahanan), a nationwide information management system that records potential beneficiaries for the 4Ps and other government programs. Delisting of ineligible and unqualified beneficiaries is conducted through a grievance redress system. 
Families of farmers, fishermen, informal settlers, persons with disabilities, geographically-isolated people, and vulnerable groups are automatically included in Listahanan. To qualify for 4Ps, beneficiary households must have:
0-18 year-old family members who are studying;

A pregnant woman during the Listahanan assessment; and 

A poor or near-poor classification based on the Philippine Statistics Authority's poverty threshold
Appearing from Oct. 12 to 16, the fake "DSWD" posts garnered a total of over 586,855 interactions. These emerged hours after the Senate conducted a hearing to discuss the DSWD's proposed budget for 2023. 
Have you seen any dubious claims, photos, memes, or online posts that you want us to verify? Fill out this reader request form.
(Editor's Note: VERA Files has partnered with Facebook to fight the spread of disinformation. Find out more about this partnership and our methodology.)