A Facebook (FB) page pretending to be an official "interagency" account of the labor and social welfare departments is phishing personal information from netizens by saying it's "now accepting online applications" for the second wave of the government's social amelioration program (SAP).
The Department of Social Welfare and Development (DSWD) and the Department of Labor and Employment (DOLE) do not share a singular page on FB. The two agencies have different social amelioration measures independent of each other.
DSWD, which distributes cash assistance to low-income families under its emergency subsidy program, has warned of several bogus FB pages. It clarified that the department will never ask for anyone's personal information through social media.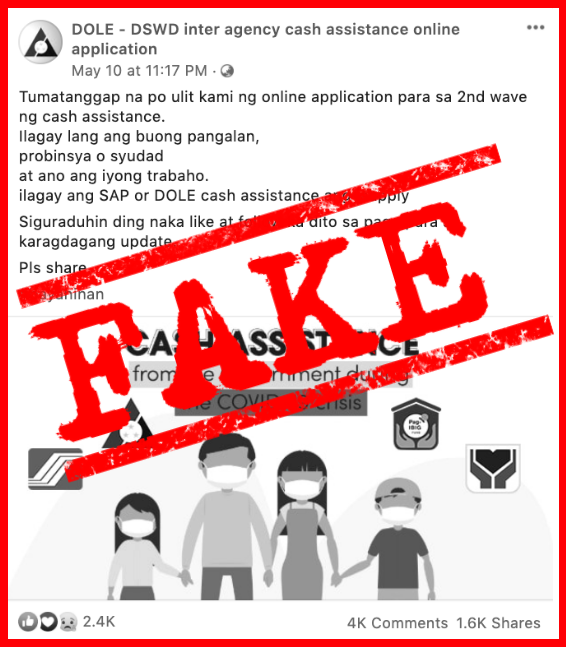 Oblivious of the fraud, netizens have dangerously exposed their personal data — full name, address, and profession — in the comments section of a May 10 post in the fake page called DOLE – DSWD inter agency cash assistance online application. This newly-created FB page calls itself a "personal blog" and has generated over 3,500 comments.
DSWD Region III explained there won't be a new, second batch of beneficiaries in the agency's program. As cash assistance will be provided for two months, those who received the first tranche in April will also be the recipients in May.
According to DSWD Secretary Rolando Bautista, the agency has disbursed more than P92.1 billion to 16.3 million out of the total 18 million family beneficiaries of the SAP as of May 11.
In a May 12 press briefing, Presidential Spokesperson Harry Roque announced that five million families will be added to the initial 18 million eligible for the first tranche of the SAP. However, only families living in areas still under enhanced community quarantine for the month of May are qualified under the second tranche.
After May 15, only the province of Laguna, all highly urbanized cities of the National Capital Region, the municipality of Pateros, and Cebu City will be placed under the modified enhanced community quarantine.
For its part, the labor department said in a May 7 news release that it has disbursed about P5.5 billion pesos under its various social amelioration programs, benefitting over one million workers from both the formal and informal sectors, including overseas Filipino workers.
The fake FB page's illegal collection of personal data from netizens is punishable under the Data Privacy Act of 2012. Unauthorized processing of personal information is subject to imprisonment of one to three years, and a fine of not less than half a million pesos but not more than two million pesos.
The fake post, which made the rounds online more than a week after the original deadline of SAP distribution for local government units, could have reached 5.7 million netizens according to social media monitoring tool CrowdTangle. Public FB groups SSS(E-1 & Static Report), PhilHealth(MDR), PagIbig(MID no.), POEA(OEC form), News Philippines, and Francis Leo Marcos Supporters Group generated the highest traffic to the post.
(Editor's Note: VERA Files has partnered with Facebook to fight the spread of disinformation. Find out more about this partnership and our methodology.)