A video uploaded by a Facebook (FB) page claims news organizations have not reported on the construction of the North-South Commuter Railway (NSCR). Not true.
On Oct. 12, a three-minute video appeared with the headline: "Bakit wala nag babalita nito (Why is no one reporting about this)".
With a drone shot of the rail construction playing, the narrator identified the footage as the ongoing construction of a new "MRT" (Metro Rail Transit) line in Bulacan that started during the Duterte administration, a project which he says the media has ignored.
But the footage is actually that of the PNR Clark Phase 1, under the NSCR project, taken from a vlogger's Oct. 9 aerial shot of the construction, not a new MRT line.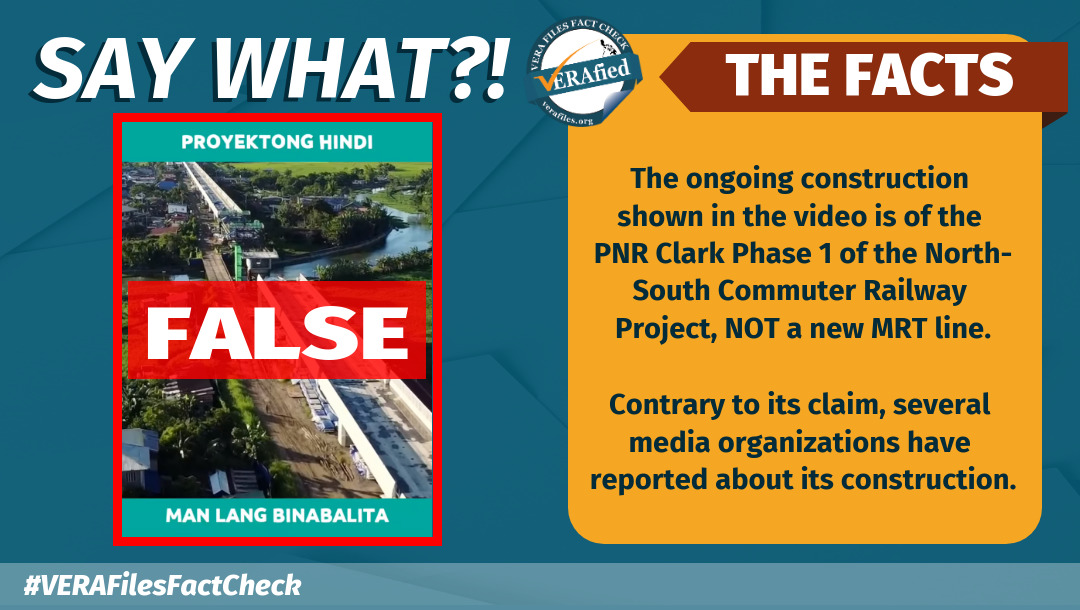 Contrary to the video's claim, several media organizations have reported the railway's construction:
While the NSCR construction started as part of Duterte's "Build, Build, Build" Program, initial funding was under the administration of the late President Benigno "Noynoy" Aquino III in 2015. The project's partial operation is set for 2023.
The video appeared a few days after President Ferdinand Marcos participated in the Oct. 6 contract signing for the South Commuter Railway project of the NSCR, which will have 18 stations between Manila and Laguna.
FB page Project Pal (created on May 24, 2016) published the video, which garnered over 27,000 reactions, 1,700 comments, 6,000 shares and 700,000 views.
Have you seen any dubious claims, photos, memes, or online posts that you want us to verify? Fill out this reader request form.
(Editor's Note: VERA Files has partnered with Facebook to fight the spread of disinformation. Find out more about this partnership and our methodology.)