A graphic showing the Aquinos supposedly making sarcastic remarks about infrastructure projects is circulating on Facebook (FB). A reader requested it to be fact-checked.
VERA Files Fact Check verified the four quotes, and found that one is fabricated, two need context, while another lacks proof it was actually made.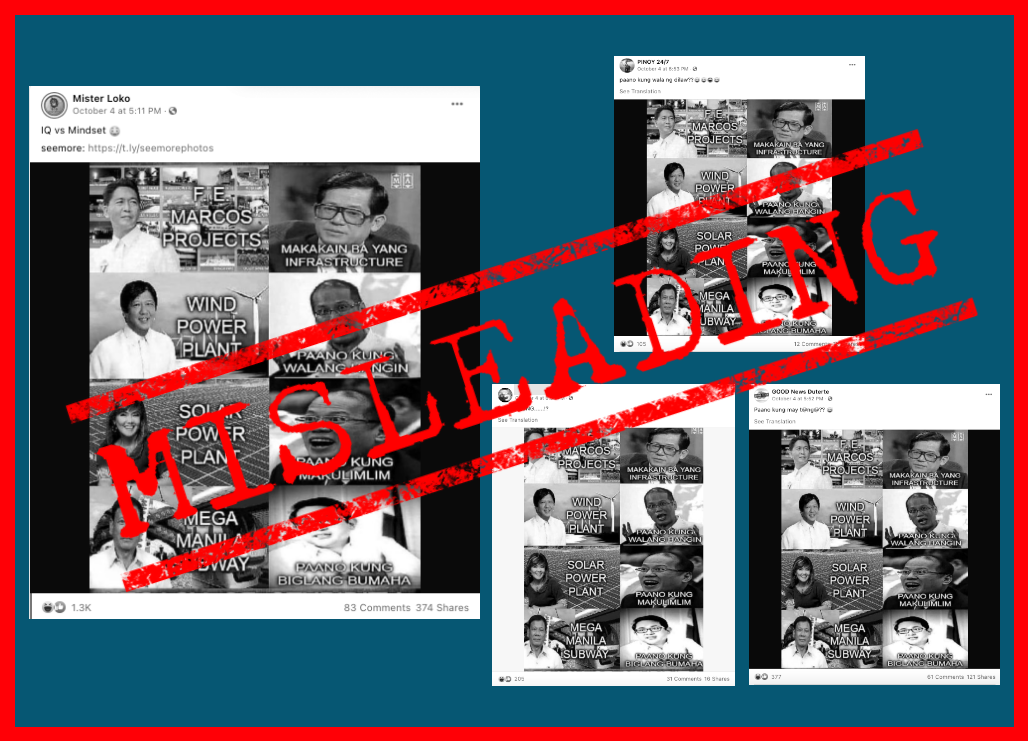 Former senator Bam Aquino, on the Mega Manila subway
Quote: "Paano kung biglang bumaha? (What if it floods?)"
Rating: Fake
The claim that this remark was made by former senator Aquino was already debunked by VERA Files Fact Check in 2019. (Read VERA FILES FACT CHECK: Post on 'silly' quotes by Bam and PNoy MISLEADS)
The quote is a variation of a statement — made to look like it came from Aquino — crafted by the satirical FB page Balitanga News Philippines. The former senator said no such thing. No official statements nor news reports reflected this. Aquino's official FB page also denounced the quote in a post.
The Mega Manila Subway system is one of the flagship projects being fast tracked under the Duterte administration's Build, Build, Build program.
Ex-president Benigno "Noynoy" Aquino III, on wind and solar power plants
Quote: "Paano kung walang hangin? (What if there's no wind?)"
Quote: "Paano kung makulimlim? (What if it's cloudy?)"
Rating: Needs context
The late president did make those remarks during his fourth State of the Nation Address on July 22, 2013, where he explained the need to balance fossil-fuel-fired and renewable power plants in the country's overall energy mix.
His full quote: "Magtatayo ka ng wind; paano kung walang hangin? Kung solar, paano kung makulimlim? Lilinawin ko lang po: Naniniwala rin ako sa renewable energy at suportado natin ito, pero dapat ding may mga baseload plant na sisigurong tuloy-tuloy ang daloy ng kuryente sa ating mga tahanan at industriya (You'll put up a wind plant; what if there's no wind? If it's solar-powered, what if it's cloudy? I just want to make it clear: I believe in renewable energy and we support its use, but there should also be baseload plants that can ensure a steady supply of electricity for our homes and industries)."
Late senator Benigno "Ninoy" Aquino Jr., on the late dictator Ferdinand Marcos' infrastructure projects
Quote: "Makakain ba 'yang infrastructure? (Can infrastructure be eaten?)"
Rating: Unproven
The earliest traceable record of this quote online can be found in a photo of a newspaper clipping posted on Reddit on Sept. 16, 2017. It is not clear what publication the clipping came from, and an extensive cursory search did not reveal any government document nor news report to corroborate it.
The misleading graphic emerged three days after the Commission on Elections opened on Oct. 1 the filing of the certificates of candidacies for the 2022 elections.
Among those who published the misleading graphic are FB pages GOOD News Duterte and Mister Loko. The posts collectively garnered at least 500 shares.
GOOD News Duterte was created on Oct. 11, 2016; Mister Loko was created on Aug. 13.
(Editor's Note: VERA Files has partnered with Facebook to fight the spread of disinformation. Find out more about this partnership and our methodology.)
Have you seen any dubious claims, photos, memes, or online posts that you want us to verify? Send us a message here or here.