Kris Aquino is a victim of a death hoax yet again. A Facebook (FB) page falsely claims that the celebrity has died, but only to mislead people to visit a scam site using the Department of Social and Welfare Development's (DSWD) name.
Posted on June 12 by FB page Bong Bong Marcos Tulong Ayuda (created on April 26, 2022), it read: "Just In | Kris Aquino Namayapa na (now rests in peace) | JUNE 12, 2022." Netizens, believing the headline, expressed their condolences in the comments section.
There are no news reports that the youngest sister of the late President Benigno Simeon "Noynoy" Aquino III has died. Kris Aquino herself issued an update on her health in a June 3 Instagram post, where she said goodbye to her fans "for now and the next few years." According to the post, she is currently in Houston, Texas for medical treatment. 
Her attending physician Dr. Niño Gavino said Aquino was diagnosed with a rare disease, Eosinophilic Granulomatosis with Polyangiitis, that causes inflammation in the small to medium-sized blood vessels, asthma, and a higher white blood cell count.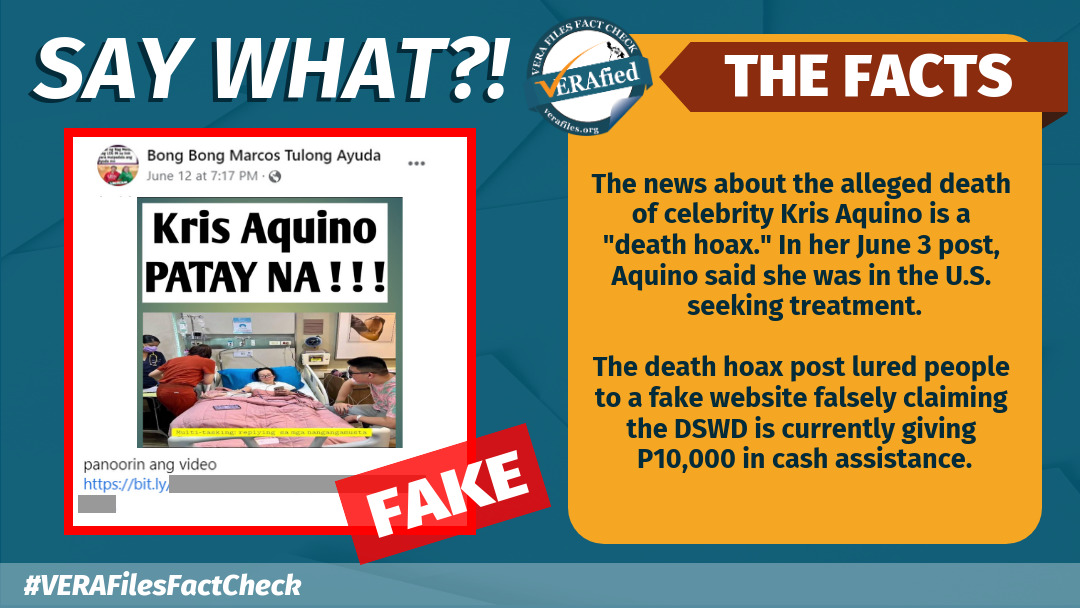 The spurious post urged netizens to click a bit.ly link to watch a video about the death hoax. It redirects to a Blogspot webpage called Ayuda-para-sa-pilipino, which promised to send P10,000 of ayuda (financial aid) through the DSWD's Pantawid Pamilyang Pilipino Program (4Ps). 
The DSWD has not announced any big-time cash assistance distribution on its official pages. On June 9, Irene Dumlao, head of DSWD's Social Marketing Service, said the department plans to start distributing a P500 subsidy for three months to 4Ps beneficiaries before June 30 when President Rodrigo Duterte's term ends.
The FB post instructs netizens to share the bogus DSWD website to 25 Facebook groups and to list their names according to the region where they are based. Each region on the list carried a hyperlink that redirected the user to another bogus Blogspot page that featured an image of Senator-elect Raffy Tulfo.
Online users who fell for the scam and clicked the link provided their names, addresses, and contact details in both fake pages, thinking that the so-called ayuda was real. 
Blogspot user AXIE, previously flagged in another VERA Files Fact Check article, owns the Ayuda-para-sa-pilipino FB account plus five other bogus pages. Mobile wallet GCash and Willie Revillame's game show Tutok To Win, among others, are used by the pages to lure unsuspecting netizens.
Bong Bong Marcos Tulong Ayuda's post got 500 reactions, 245 comments, and 75 shares. It appeared on June 12, the Philippine Independence Day. 
Have you seen any dubious claims, photos, memes, or online posts that you want us to verify? Fill out this reader request form.
(Editor's Note: VERA Files has partnered with Facebook to fight the spread of disinformation. Find out more about this partnership and our methodology.)