Peddlers of disinformation have created several fake Facebook (FB) accounts posing as the Department of Social Welfare and Development (DSWD) and targeting Filipinos in need of cash and housing.
Shortly after the flagging of one imposter "DSWD" page last week, VERA Files Fact Check found another fraudster hosting a fake house and cash giveaway using the agency's name. It also redirected the unsuspecting participants to a scam website.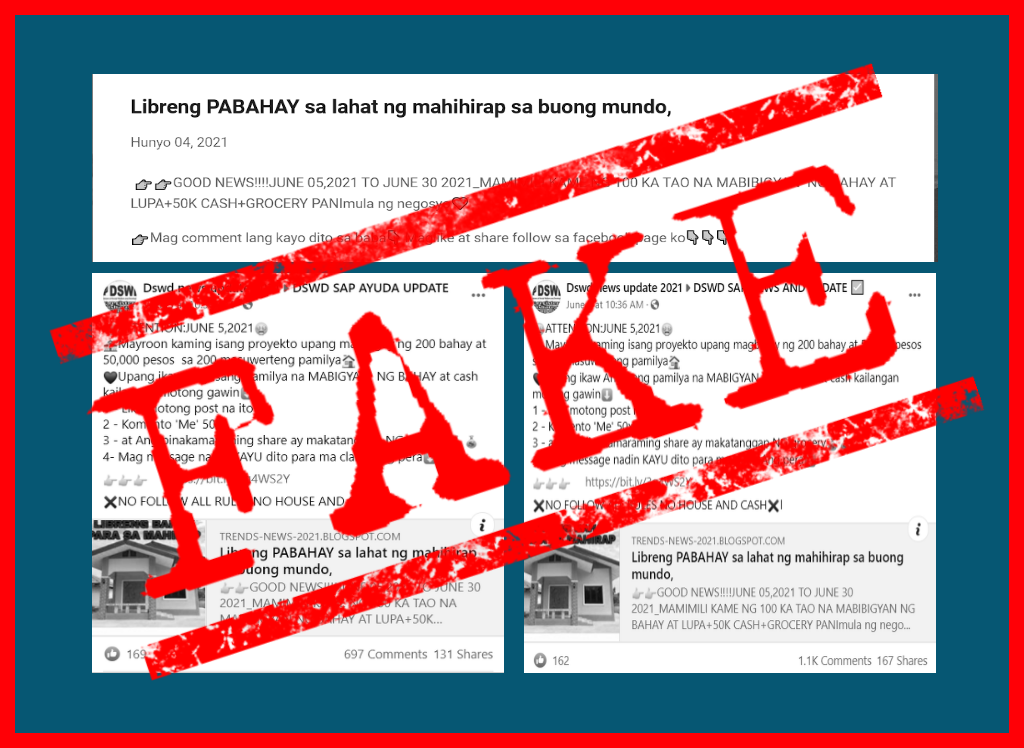 In posts dated June 5 on the public FB groups DSWD SAP NEWS AND UPDATE and DSWD SAP AYUDA UPDATE, the FB page Dswd news updates 2021 wrote in Filipino: "We have a project to give away 200 houses and 50,000 pesos to 200 lucky families."
This is a fabrication. DSWD is not hosting such a giveaway on its official website, or in its Facebook and Twitter accounts. In a June 10 advisory, it told netizens "not to patronize and to immediately report" impostor pages "to prevent the spread of false information."
Dswd news updates 2021, created last May 27, is not an official FB page of the DSWD nor of its field offices.
The link provided by the bogus FB posts redirected users to the website TRENDS NEWS (trends-news-2021.blogspot.com), which described the "giveaway" differently. It claimed it would give 100 families a house and lot, P50,000 worth of cash, and groceries.
A look through the website showed it was filled with scams using the names of DSWD services such as the social amelioration program (SAP) and unconditional cash transfer (UCT) scheme. It likewise carried bogus ayuda giveaways misrepresenting broadcaster Raffy Tulfo and TV host Willie Revillame.
To draw in more participants to its sham giveaway, the site spuriously used a photo of a house originally posted by a Thai real estate FB page in November 2017. The text "LIBRENG BAHAY PARA SA MAHIRAP (FREE HOUSE FOR THE POOR)" was added to the image.
Online users who believed the fake giveaway wrote their name, address, and contact numbers on both the FB posts and the TRENDS NEWS blog post.
TRENDS NEWS's post got more than 3,500 FB interactions, according to social media monitoring tool CrowdTangle.
The FB group NEWS AND UPDATE, originally named EAT BULAGA, was created on Dec. 12, 2020. BALITA PILIPINAS, created March 13, was originally named PHILIPPINE NATIONAL ID REGISTRATION. Both have a history of changing their name, using DSWD's name before changing it to NEWS AND UPDATE and BALITA PILIPINAS this June 12.
(Editor's Note: VERA Files has partnered with Facebook to fight the spread of disinformation. Find out more about this partnership and our methodology.)