Yet another Facebook (FB) page pretending to be an official account of the Department of Social Welfare and Development (DSWD) is deceiving netizens with a fake ayuda or cash assistance announcement.
A May 29 post of the month-old page DSWD Registration, which continued to be shared this June, claimed to give away groceries and P10,000 worth of cash assistance to "everyone who sees the post." To be eligible for the ayuda, it instructed netizens to share the post to 20 different FB groups and register through a link.
The DSWD, the agency in charge of distributing the government's cash assistance amid the COVID-19 pandemic, is hosting no such online giveaway neither through its official website nor social media channels.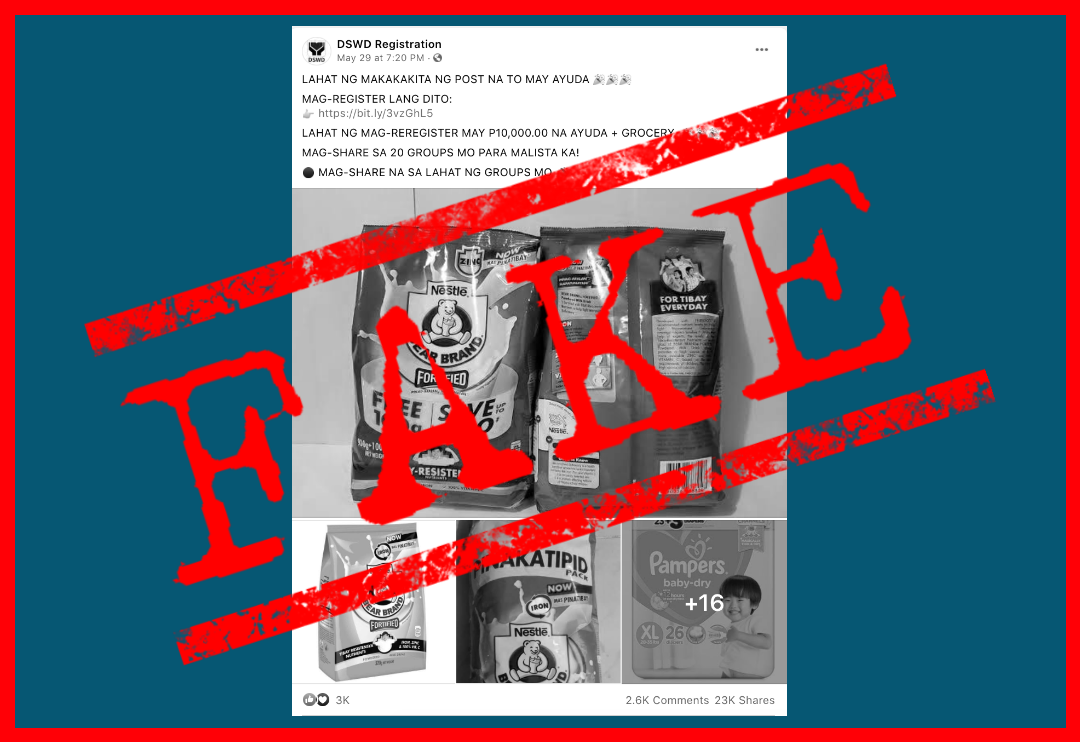 In an advisory published on June 10, DSWD warned netizens against the DSWD Registration page and an imposter FB group. It asked the public to "immediately report and not patronize" the accounts and to "not spread further the wrong information" carried by the posts.
Oblivious of the scam, netizens were quick to disclose their personal information such as their full name, contact number, and address in the comments section of the spurious post.
Clicking the link in DSWD Registration's fake post led to the blog News and Update Worldwide (new-updates-worldwide.blogspot.com) which carries other bogus announcements.
The blog also instructed people to click on another link to find their name in a masterlist of ayuda recipients. There is no ayuda recipients' masterlist. The new link just leads to another blog (rizal-news-updates.blogspot.com).
DSWD Registration's fake cash aid post was published four days after House Bill No. 9411 or Bayanihan 3 was approved on second reading in the House of Representatives on May 25. On June 1, it was approved on third and final reading, while its counterpart bill remains pending in the Senate.
If passed into law, Bayanihan 3 will provide P2,000 to each Filipino as a form of assistance amid the current health crisis. Households in areas under enhanced community quarantine will also be eligible to receive a one-time cash subsidy ranging from P5,000 to P10,000.
DSWD Registration's bogus post has received over 3,000 reactions, 2,600 comments, and 23,000 shares as of publishing. Social media monitoring tool CrowdTangle shows the post has received a total of 122,000 interactions on FB, 91,900 of which were shares.
(Editor's Note: VERA Files has partnered with Facebook to fight the spread of disinformation. Find out more about this partnership and our methodology.)