Fake social media accounts using the name and logo of the Department of Social Welfare and Development (DSWD) are again spreading disinformation about an "ongoing" distribution of cash assistance worth P10,000.
On July 12, YouTube channel DSWD PH TV posted a video with the title: "HOUSE TO HOUSE PAYOUT PARA SA 10K NA AYUDA (for P10,000 cash assistance), ONGOING NA (now)!"
The erroneous video was published on Facebook (FB) group DSWD PH OFFICIAL GROUP on July 30 with this caption: "SAP 3RD TRANCHE FULL MASTERLIST AND UPDATE AS OF JULY 28, 2021."
No house-to-house distribution of aid worth P10,000 is taking place. Neither was there one last month. The YouTube channel and the FB group are bogus and are among the many platforms the DSWD is warning the public about because they spread disinformation and sometimes defraud the public.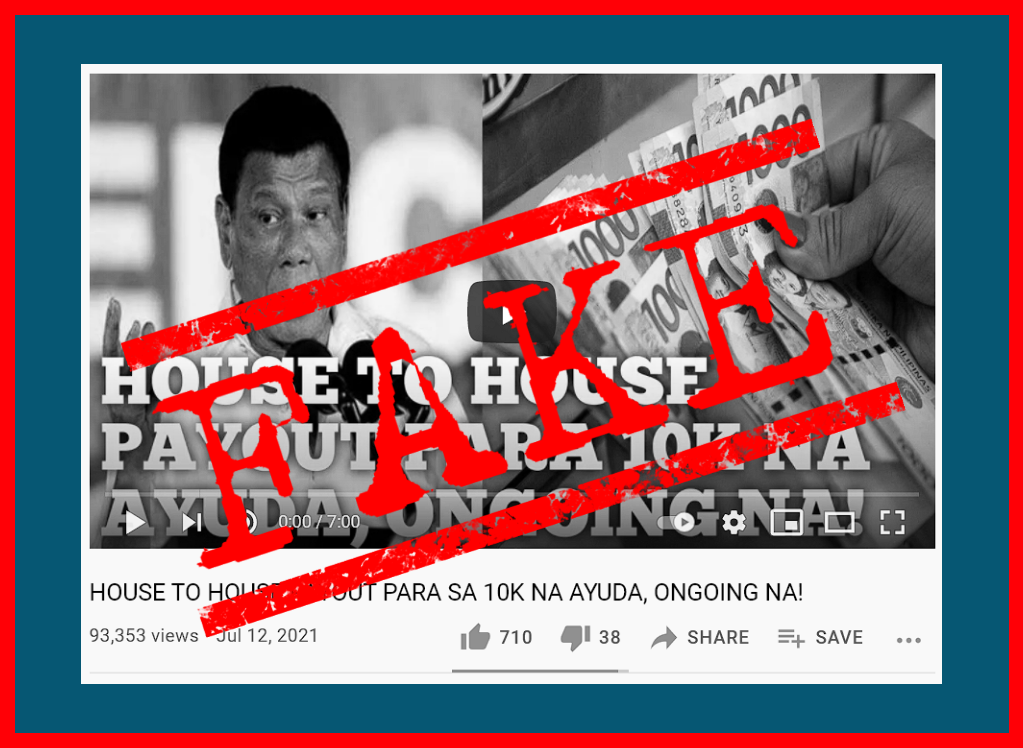 The DSWD PH OFFICIAL GROUP's deceitful video used a 7-minute audio clip of DSWD Sec. Rolando Bautista explaining the challenges of distributing cash subsidies under the first and second tranches of the Social Amelioration Program (SAP).
A cursory search reveals that the clip was from an hour-and-a-half pre-State of the Nation Address forum on July 7. Reverse image search shows that some of the photos used in the video came from different news articles and FB posts about SAP distribution last year.
The DSWD has distributed two tranches from its subsidy scheme under SAP, where poor or low-income families were given cash assistance of up to P8,000. This was carried out under the government's Bayanihan to Heal as One Act in response to the COVID-19 health crisis that hit the country in early 2020.
There are no news reports or announcements from the DSWD about giving away P10,000 in fresh aid.
During an Aug. 3 press conference, Presidential Spokesperson Harry Roque confirmed that financial assistance worth P1,000 per person and a maximum of P4,000 per family was approved by President Rodrigo Duterte.
This will be provided to 10.8 million individuals in the National Capital Region, who are currently under an enhanced community quarantine to prevent the spread of the highly transmissible Delta variant of the coronavirus.
The false video garnered nearly 97,000 views on YouTube, while the netizen's post was reshared 18 times by different FB groups. It garnered over 21,100 FB interactions, according to social media monitoring tool CrowdTangle.
VERA Files Fact Check has debunked similar false videos that led people into believing the non-existent P10,000 package was real. It also flagged various scams using bogus FB pages.
DSWD PH OFFICIAL GROUP, which was earlier named SAP 3rd Tranche Updates, was created in December 2020; while DSWD PH TV first emerged in May 2020.
(Editor's Note: VERA Files has partnered with Facebook to fight the spread of disinformation. Find out more about this partnership and our methodology.)