Bogus websites promising netizens "unemployment assistance" from the Department of Social Welfare and Development (DSWD) have circulated anew days after the Philippine Statistics Authority (PSA) reported that there were 2.26 million jobless Filipinos last month. 
These are fake sites. The department has disowned the circulating links, calling them untrue.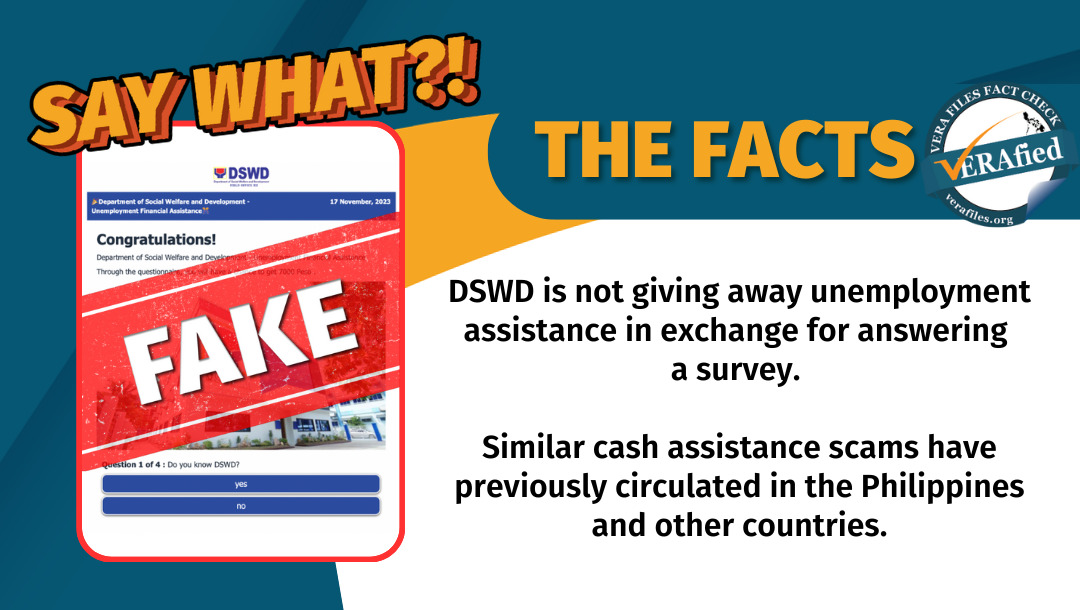 "Ang DSWD ay walang pinapasagutang survey questionnaire kapalit ng unemployment financial assistance (The DSWD does not ask for a survey questionnaire to be answered in exchange for unemployment financial assistance)," part of DSWD's Nov. 14 advisory read. 
This November, netizens shared links on Facebook (FB) and FB Messenger that redirect to websites bearing the title: "Department of Social Welfare and Development – Unemployment Financial Assistance"
Featured on the websites are DSWD Field Office 12's logo and a file photo of their office from the Philippine News Agency. 
This is a scam. It used the same modus that VERA Files Fact Check has previously debunked. (Read 'Mercury Drug' P7k medical subsidy is FAKE) 
Similar to other scam sites, it asks netizens to complete a short survey for a chance to win P7,000. After "winning" a game, netizens are instructed to share the links with their FB friends and enter their personal information. The assistance will supposedly be delivered within five to seven days after completing the steps. 
VERA Files Fact Check has repeatedly debunked similar scam posts with the same format, ranging from government subsidies to private companies' anniversary giveaways. (Read 'Petron' 7k anniversary giveaway is FAKE)
The unemployment assistance scam resurfaced after the Nov. 8 release of PSA's Labor Force Survey. According to the report, there was a decrease in the number of jobless Filipinos in September compared to September 2022's 2.50 million. However, it is higher compared to the number of unemployed persons last August at 2.21 million. 
These cash giveaways from bogus sites have also circulated in other countries like Africa, India and Indonesia.
The links shared on FB carried the domain names M.SUBSIDIZEPROTOTYPE.TOP, JOLVAZMCPIF.SUPERSTITIOUSCENSUS.TOP, M.SYNDROMEOBSESSIVE.TOP, DPOAMNMXY.SPACECATHOLIC.TOP, JVMFFSNW.SECONDARYDEPICTION.TOP and TMJHRHGB.REVISIONROTATE.TOP. These then redirect to websites with the domain names rh2nl6.cfdn and huog5c.cfd, which will ultimately lead to bbl5drz.cn.
Have you seen any dubious claims, photos, memes, or online posts that you want us to verify? Fill out this reader request form or send it to VERA, the truth bot on Viber.
(Editor's Note: VERA Files has partnered with Facebook to fight the spread of disinformation. Find out more about this partnership and our methodology.)