Several links circulated via Facebook (FB) Messenger that redirect netizens to websites claiming Petron Corp. is giving away P7,000 for their 90th anniversary. The oil company has issued a public warning against the scam links. 
Since March 2, FB netizens have been posting screenshots of the bogus sites to warn other netizens or ask for their legitimacy.
These sites bore the title: "Petron Corporation 90th Anniversary Government Subsidy." 
Netizens have to answer questionnaires or play interactive games before they "win." To claim the prize, they must share the links to five FB groups and 20 FB friends, while others are told to enter their home addresses for the gifts' "delivery."
On March 3, Petron Corp.'s official FB page posted an advisory disowning these websites and calling them "scams." 
"We enjoin the public to be vigilant against online scammers. We are not conducting any surveys or awarding cash prizes," a part of the announcement read.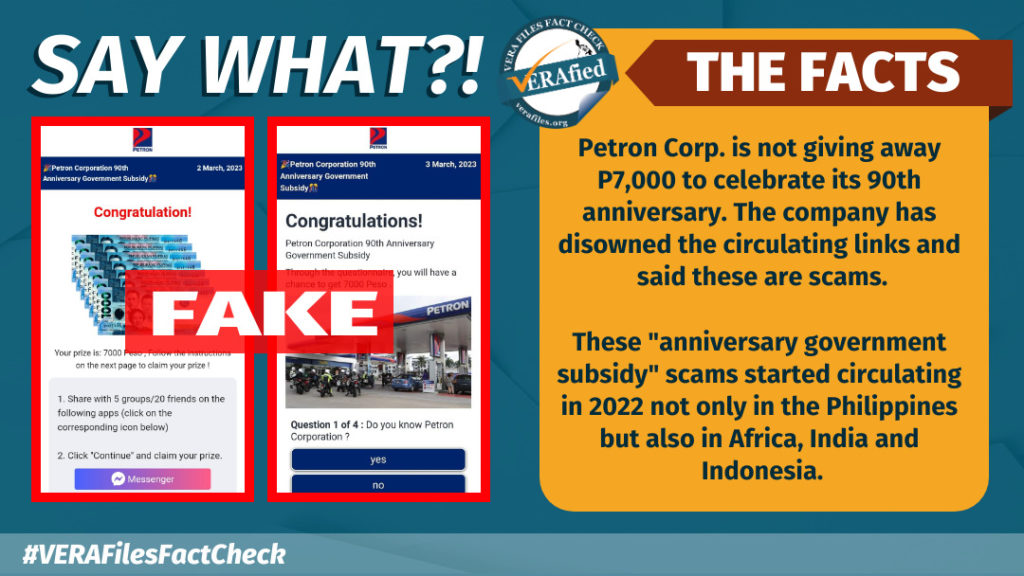 The oil firm emphasized that their products, promos and raffles are posted only on their official website and social media accounts.
Petron Corp. will also celebrate its 90th anniversary on Sept. 7, not this March.
The links redirected to websites with the domain names pf7bg.cn, hbpnnz.cyou, widtco.cyou, 0fzj64.cn, siegepresume.top, gliderexcerpt.top and proteinincur.top. Some netizens reported that their accounts got restricted after sharing them. 
Websites claiming Petron was giving away "government fuel subsidy" also circulated in 2022. 
These links resurfaced this year shortly after a tanker capsized in Oriental Mindoro on Feb. 28 and caused an oil spill. Petron Corp. has clarified that neither the product nor the vessel was theirs but it has extended assistance for containment and clearing operations.
This bogus "anniversary government subsidy" format has also been used in scams flagged by fact-checkers in other countries like Africa, India and Indonesia. Different company names were used in these scams.
This is not the first time that VERA Files Fact Check debunked a scam spread via private messaging platforms. (Read Web links to 'PHLPost' subsidy a SCAM)
Have you seen any dubious claims, photos, memes, or online posts that you want us to verify? Fill out this reader request form or send it to 'VERA, the truth bot' on Viber.
(Editor's Note: VERA Files has partnered with Facebook to fight the spread of disinformation. Find out more about this partnership and our methodology.)