Three YouTube videos are claiming that Vice President Sara Duterte-Carpio has resigned from her post. Not true.
Duterte-Carpio only withdrew her request for P650 million in secret funds for the Office of the Vice President (OVP) and the Department of Education (DepEd), but she did not leave her posts in these agencies. 
First uploaded on Nov. 11, two days after Duterte-Carpio said she will "no longer pursue" her request for confidential funds in the 2024 budget, one video's headline read:
"KAPAPASOK LANG: NAGKAGULO ang SENADO/Pres marcos NALUHA VPSARA ISINUKO ang POSISYON SPEAKER ROMUALDEZ (Just in: The Senate was in chaos. President Marcos cried. Vice President Sara gave up her position. Speaker Romualdez)." 
Its thumbnail also contained the text: "OMG: RESIGN NA SI VP SARA. NAIYAK SI PRES MARCOS LAHAT NAGIMBAL. ISINUKO ANG POSISYON (Oh my god: VP Sara resigned. President Marcos cried. Everyone was shocked. Surrendered her position)."
Two other YouTube channels repeated a similar claim in videos uploaded on Nov. 13. They bore the headline:
"BUMALIKTAD NA DUTERTE! VP SARA BUMITAW NA! UMAYAW NA! GRABE PBBM AT SEN IMEE NAGULAT! BIGLA ANUNSIYO (Duterte flipped! VP Sara has given up! Backed down! This is intense, PBBM and Sen. Imee [Marcos] was shocked! Sudden announcement)."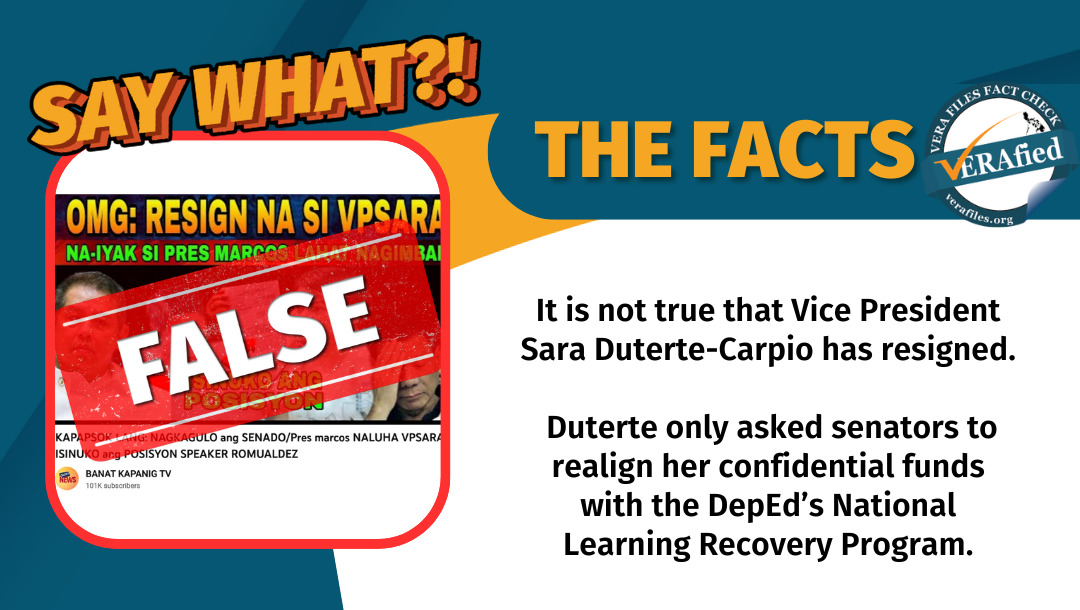 None of the videos showed any evidence to back the claim but only played unrelated video clips, including a Senate budget hearing on Nov. 9 for the OVP and DepEd and a commentary from broadcaster Mike Abe about a supposed rift within the UniTeam alliance. 
There was no statement from either the OVP or the DepEd about Duterte-Carpio's alleged resignations from her dual posts.
Duterte-Carpio has said that she will stop pursuing her bid for confidential funds because the issue is divisive. However, VERA Files Fact Check found this to be misleading. The vice president requested the Senate to transfer the amount to the DepEd's National Learning Recovery Program. 
(READ: VERA FILES FACT CHECK: Sara Duterte's statement on confidential funds MISLEADS)
The House of Representatives previously realigned the P650 million worth of funds from Duterte's offices with agencies at the forefront of defending the West Philippine Sea. 
Uploaded by YouTube channels BANAT KAPANIG TV, Boss Balita TV and BALITA NI JUAN, the videos received a total of 199,129 views, 4,756 likes and 1,375 comments. Netizens also shared the links on Facebook.
Have you seen any dubious claims, photos, memes, or online posts that you want us to verify? Fill out this reader request form or send it to VERA, the truth bot on Viber.
(Editor's Note: VERA Files has partnered with Facebook to fight the spread of disinformation. Find out more about this partnership and our methodology.)