Several Facebook (FB) users have been sharing results of a "presidential survey" where Davao City Mayor and presidential daughter "Inday" Sara Duterte-Carpio was shown being favored by 94% of the respondents — an overwhelming win over Vice President Leni Robredo and Sen. Grace Poe.
The FB posts are erroneous and misleading.
The so-called survey was an informal Twitter poll conducted by an account with the username Vote (@VoteNow). What the FB posts have been sharing is a screengrab of @VoteNow's Jan. 15 poll published in a Jan. 17 FB post of former broadcaster Jay Sonza.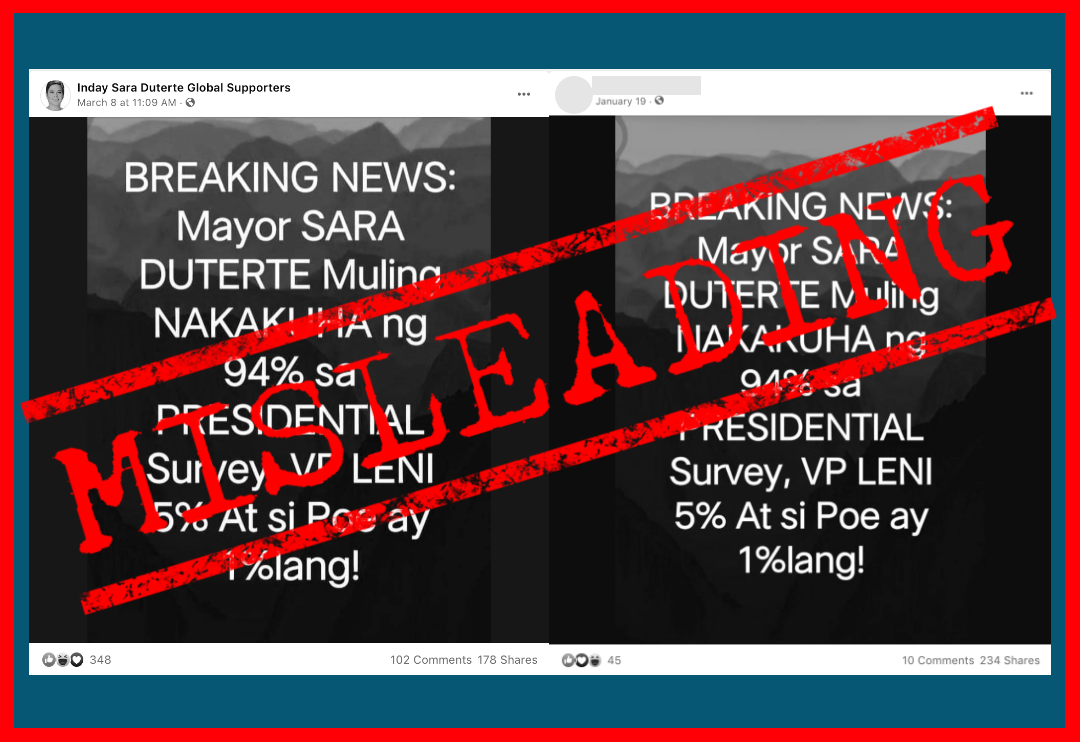 Sonza's post carried an image showing Duterte-Carpio leading the survey "for Lady President," but the poll had only received 582 responses at the time the screenshot was taken, with "5 days and 17 hours" left before it was set to close.
The poll eventually closed with Robredo ranking highest among the three women.
A visit to @VoteNow's Twitter page showed that its poll collected 14,644 votes at its close, with 82.2% or around 12,000 going to Robredo. Only 15.7% of the votes went to Duterte-Carpio, while the remaining 2.1% favored Poe.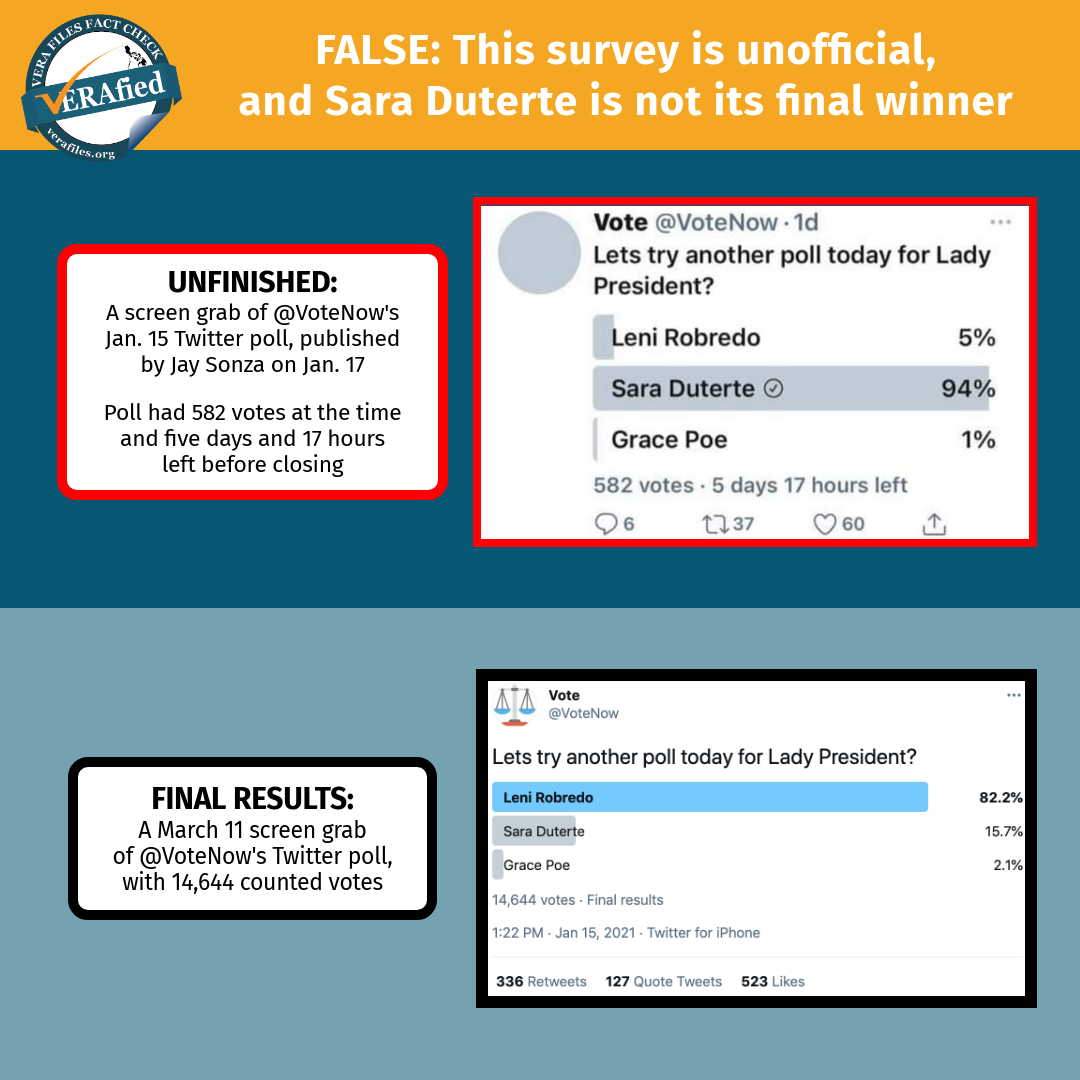 @VoteNow is an unverified Twitter account which describes itself as "neutral" on its account bio. It has 256 followers, and was created last September. Its display photo is a stock image of a weighing scale, and its cover photo is a Shutterstock cartoon image of hands holding Philippine flags.
The account has conducted several informal Twitter polls, but it does not have a well-defined description of its respondents, a clear margin of error, or a disclosure of who commissioned the surveys and what they are for — all of which are present in legitimate election surveys. (See VERA FILES FACT SHEET: What to look for in election surveys)
At least eight FB posts carrying the false claim on VoteNow's unfinished Twitter poll were flagged by VERA Files Fact Check. One copy, published on Jan. 19, was screen grabbed by several netizens and uploaded by FB accounts from March 6 to 10.
Apart from two private netizens, the untrue posts were published on the pages Duterte Yu for 2022 ZDS and Inday Sara Duterte Global Supporters, and FB groups PROTECT THE PRESIDENT DUTERTE, SUPPORT and PROTECT the PRESIDENT DUTERTE, SARA DUTERTE FOR PRESIDENT 2022 MOVEMENT, and The EAGLE and the OWL's ORACLE (DDS-Dilawan Dialogues 3D).
The eight spurious posts have collectively received over 2,400 reactions, 500 comments, and 780 shares from social media users.
Showbiz Fanaticz, a Youtube channel notorious for peddling disinformation, also published a video on Jan. 18 based on the unfinished Twitter poll result of @VoteNow.
(Editor's Note: VERA Files has partnered with Facebook to fight the spread of disinformation. Find out more about this partnership and our methodology.)