Bogus sites promising netizens cash prizes have resurfaced, this time claiming that the Mercury Drug Corporation is giving away a "medical subsidy" worth P7,000. This is a scam and the company has disowned the circulating links.
VERA Files Fact Check debunked scams with the same modus last March. (Read 'Jollibee' 44th Anniversary Lucky Draw is FAKE)
From March up till now, netizens have been sharing the links via Facebook (FB) and FB Messenger. Some fell victim to the posts while others questioned their legitimacy and posted warnings.
The fake sites bore the title: "Mercury Drug Independence Day Medical Subsidy." They featured a photo from a Mercury Drug branch opening in 2020.
Like in the previous scams, netizens were asked to answer a short survey before playing a game to win the "P7,000 prize." The sites also flashed a graphic of Mercury Drug's actual anniversary raffle promo. To "claim the prize," netizens have to share the link to FB groups and friends, enter their address and complete registration.
These are fake. Mercury Drug Corporation's official FB page has released a statement disowning the circulating links and calling them "fake surveys."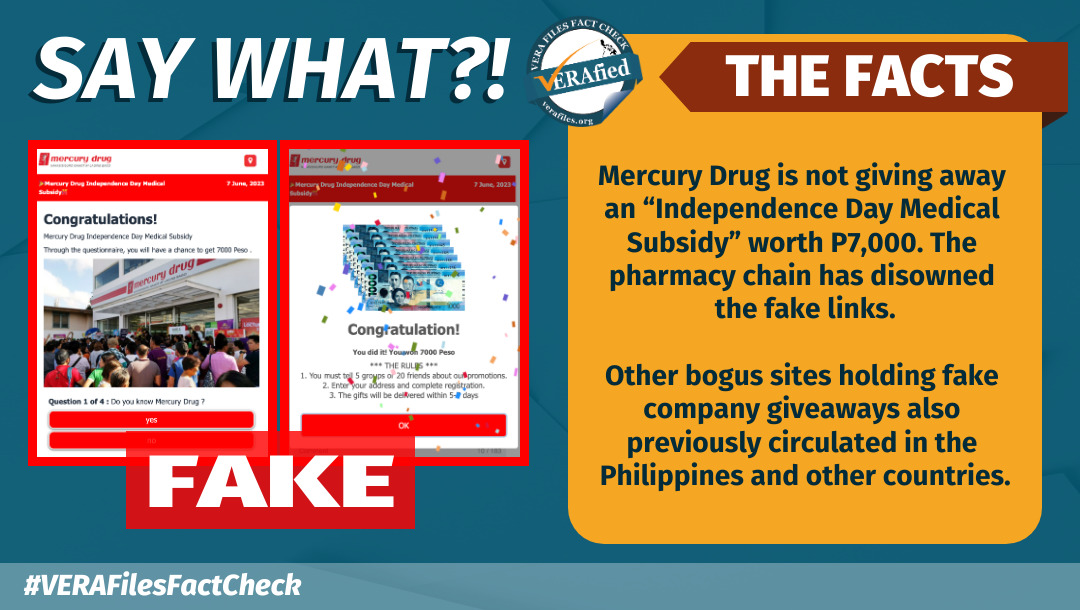 In their advisory that has been reposted twice, Mercury Drug reminds the public to be "vigilant" and get announcements only from their official website and social media accounts.
Last February, the drugstore also debunked an earlier version of the scam bearing "78th Anniversary Benefits Carnival" on its title.
The fake medical subsidy scam surfaced the same month the drugstore chain celebrated its 78th anniversary and continued to circulate days before the country celebrates Independence Day.
Some of the bogus sites carried the domain names 75wuki.cn, pf7bg.cn, fqb5hw.cn, 0ybj5e.cn, pozgio.cyou and xzn3k5.cyou.
Fake cash giveaways of bogus sites imitating companies celebrating milestones are not new and have circulated not only in the Philippines but also in other countries like Africa, India and Indonesia. (Read 'Petron' 7k anniversary giveaway is FAKE)
Have you seen any dubious claims, photos, memes, or online posts that you want us to verify? Fill out this reader request form or send it to VERA, the truth bot on Viber.
(Editor's Note: VERA Files has partnered with Facebook to fight the spread of disinformation. Find out more about this partnership and our methodology.)