A few Facebook (FB) accounts have been publishing photos of a gravely ill baby on a hospital bed and using the images to raise funds supposedly for the child's treatment. Those are scams.
An aunt of the baby, who refused to be named pending a police investigation on the fake posts, has denied that the accounts belonged to anyone in their family. "Puro mga scammer (They're all scammers)," she said.
VERA Files Fact Check found the family of the baby through the comments section in one of the hoaxes, as they called out the post for making false claims.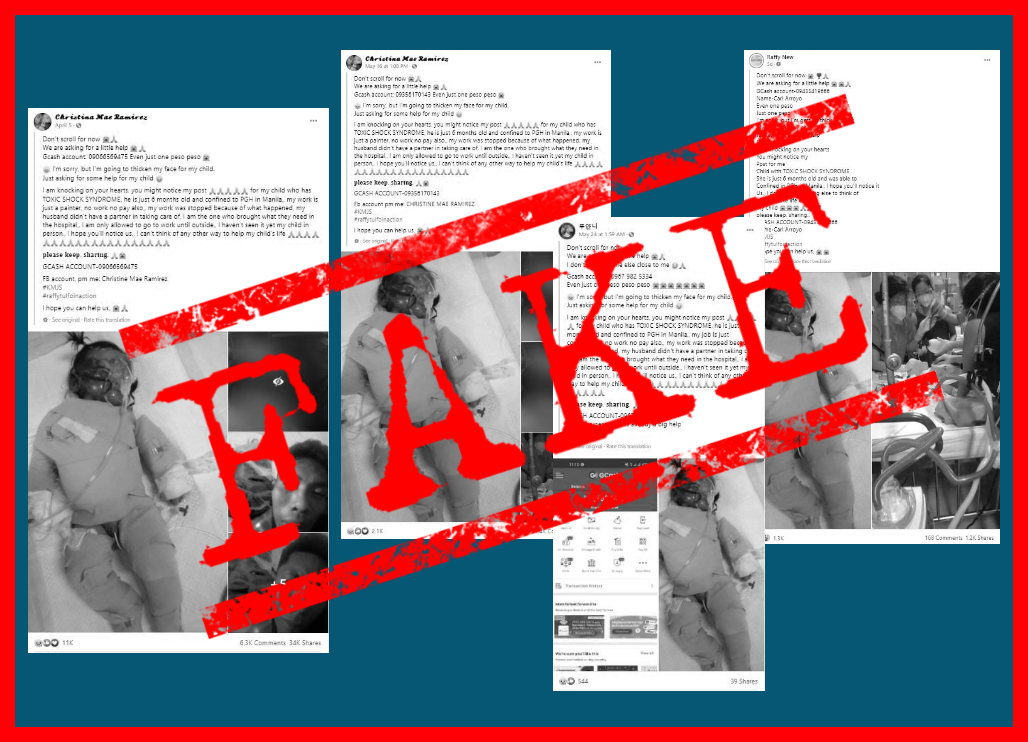 Speaking on behalf of the baby's mother, who also did not want to be interviewed, the woman told VERA Files Fact Check that the child had died on March 17. The baby succumbed to toxic shock syndrome (TSS), a case where bacterial infections release toxins into the bloodstream.
At least four such sham posts are circulating. The page Christine Mae Ramirez posted the photos on April 5 and May 16, while a netizen in the FB group Streetbike concept posted the fake call for help on May 24, and the page Raffy New on May 27.
All four carried a caption saying the baby is currently confined at the Philippine General Hospital for TSS. But they provided different account numbers of the online wallet app GCash. Upon checking, all three were registered under different names: Christine Mae Ramirez, Carl Arroyo and Abrenica D. One post claimed that the parent asking for help was a painter, while the other said the parent was a construction worker.
The posts also misused photos originally uploaded by the baby's mom and other family members, which the aunt said were published in early March.
FB page Christine Mae Ramirez, created on Dec. 16, 2020, shares its fake donation drive for the baby almost on a daily basis. Its earliest post on April 5 got nearly 35,000 shares, where some netizens commented that they have already deposited money to the GCash account provided. Its post in May got an additional 9,000 shares.
Raffy New's version has more than 1,300 shares. The page was created in October 2020.
(Editor's Note: VERA Files has partnered with Facebook to fight the spread of disinformation. Find out more about this partnership and our methodology.)