Several Facebook (FB) pages are fraudulently promoting a milk supplement that claims to treat diabetes in just under a week. 
The promo posts appeared as early as Sept. 19 and continue to circulate this week, receiving 580,000 recent views, according to FB. One of the posts' headlines read: "1,391,510 people have recovered from the disease, leave phone numbers for advice on buying."
Claiming the Food and Drug Administration (FDA) has approved the product, the bogus ads promote drinking two cups of a milk product called Glufarelin daily can treat both types of diabetes even without the use of human insulin and any medication.
Not true. There is currently no cure for diabetes.
Glufarelin is also not listed with the FDA's record of food and drugs with certificates of product registration.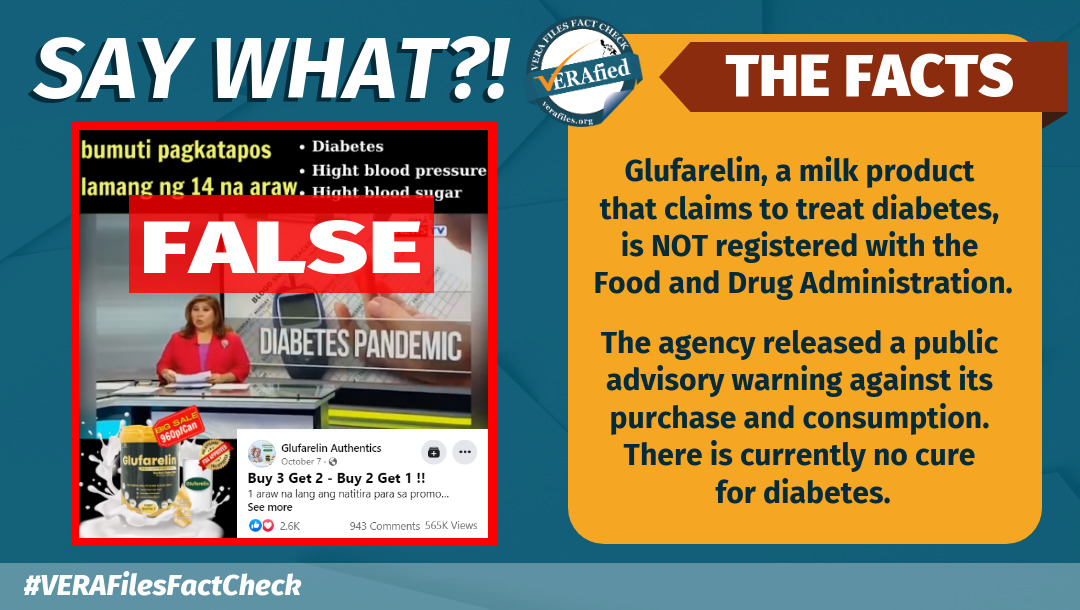 One of the posts illicitly used a September 2019 GMA News report on the diabetes pandemic as a means to legitimize Glufarelin's promotion. Nowhere did GMA News reference to the product throughout its three-minute report.
All of the posts linked to scam websites that ask for personal information. Some asked users to type their phone numbers in the comment section for "doctor consultation."
The posts continue to spread this week, ahead of World Diabetes Day on Nov. 14.
FB pages Glufarelin – Milk for Diabetics (created on Sept. 19), Glufarelin Authentics (Sept. 10), Glufarelins.Asia (Nov. 4) and Glufarelin Diabetic Milk (Sept. 20), collectively garnering over 8,800 reactions, 4,500 comments, 1,100 shares and 1.6 million views.
Have you seen any dubious claims, photos, memes, or online posts that you want us to verify? Fill out this reader request form or send it to 'VERA, the truth bot' on Viber.
(Editor's Note: VERA Files has partnered with Facebook to fight the spread of disinformation. Find out more about this partnership and our methodology.)