An impostor of the Philippine General Hospital (PGH) has claimed on Facebook (FB) that endocrinologist Augusto Litonjua endorsed Glufarelin, a milk supplement that could allegedly cure diabetes. 
"That's fake news," PGH Public Affairs Coordinator and pediatric cardiologist Jose Jonas Del Rosario said in a July 5 message to VERA Files Fact Check. 
The bogus FB page PGH-Philippine General Hospital HotNews created three posts claiming that Litonjua was sharing the most effective way to treat diabetes. The two-month-old posts continue to draw interest and are being shared by unknowing netizens.
Impostors have been using the PGH's name to promote products, Del Rosario added. (READ: VERA FILES FACT CHECK: Milk supplement for diabetes unregistered, NOT endorsed by PGH) 
"Dr. Augusto D. Litonjua is not endorsing any specific product or supplement," endocrinologist Marjorie Ramos, president of the Philippine College of Endocrinology, Diabetes and Metabolism, told VERA Files Fact Check via email on July 6. 
Glufarelin is not in the Food and Drug Administration's registered list of food products.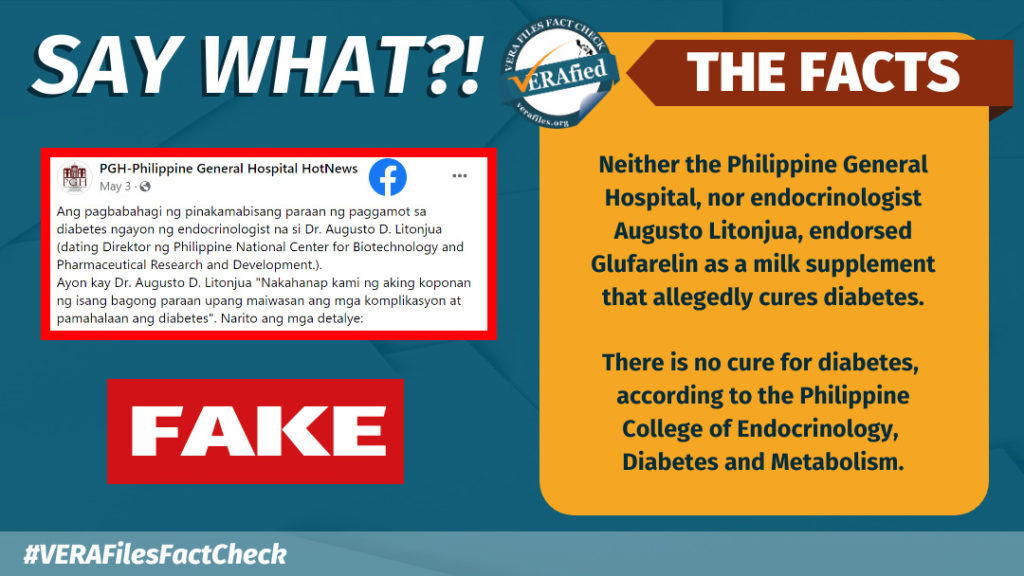 Netizens who click on the fake post are redirected to a blog article (fdashop.online) claiming that Glufarelin restores pancreatic function and completely cures diabetes. 
"We are unaware of any "cure-all" medication for diabetes mellitus. We strongly disagree with products that make unsubstantiated claims, or those that base their claims on anecdotal, scientifically unproven data," Ramos said.
The PGH-Philippine General Hospital HotNews used a version of the state-owned hospital's logo  as its page's profile photo and reposteda fewposts from the Department of Health. The three fake posts got a total of over 20,138 interactions.
Have you seen any dubious claims, photos, memes, or online posts that you want us to verify? Fill out this reader request form or send it to VERA, the truth bot on Viber.
(Editor's Note: VERA Files has partnered with Facebook to fight the spread of disinformation. Find out more about this partnership and our methodology.)