Two Facebook (FB) pages uploaded a doctored news report on an intellectually-gifted young boy and created the post as if it were an advertisement for a children's multivitamin called Bearbites.
The original 24 Oras report, aired on June 18, 2019, only highlighted the intelligence of the four-year-old kid named Miguel, who could count in Russian, multiply in Spanish, and sing the alphabet song backward, among other feats.
Bearbites, which claims to improve concentration and memory retention, is not on the Food and Drug Administration list of verified food and drug products.
Neither is it in the Monthly Index of Medical Specialities database used by doctors for drug information.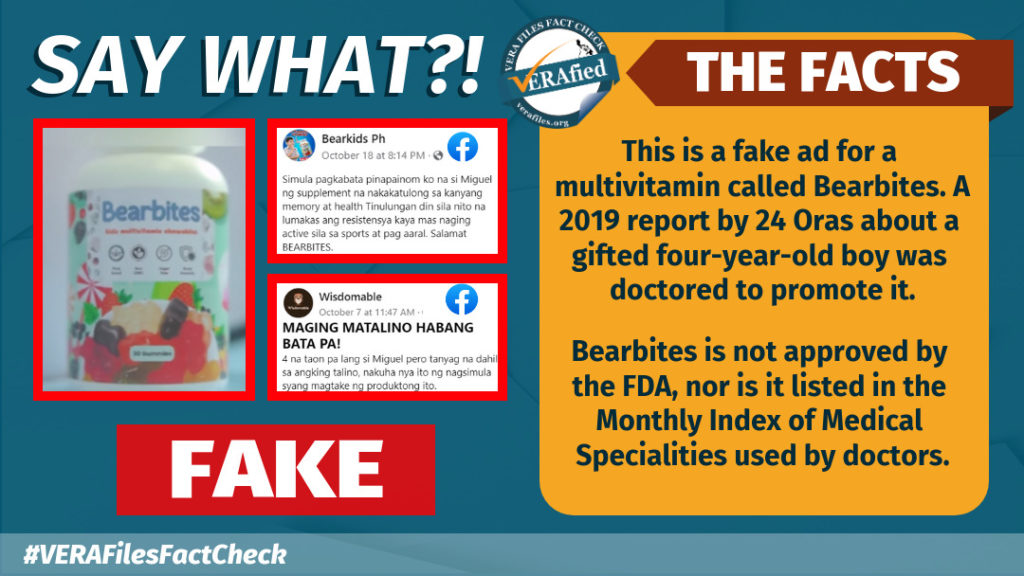 To add credibility to the fake ad, a male narrator revised and re-voiced the 24 Oras report's script, originally read by GMA News journalist Saleema Refran.
The narrator added clips and lines to endorse Bearbites. One of the bogus lines added was this: "Ayon sa magulang ni Miguel, Bearbites daw ang sikreto sa pagiging matalino, bibo, at madiskarte sa murang edad  (According to Miguel's parent, Bearbites is the secret to being intelligent, alert, and resourceful at an early age)."
The child's parents made no such attribution. To further add authenticity to the post, the 24 Oras logo and crawling text were inserted in portions of the footage promoting the multivitamin. 
The fake advertisement, posted by FB pages Wisdomable and Bearkids Ph on Oct. 7 and 18, respectively, also carried a link to a website (smartvit.store) that gathered personal information.
The videos from Wisdomable (created on Oct. 7) and Bearkids Ph (created on Sept. 27) got over 275,680 interactions.
Have you seen any dubious claims, photos, memes, or online posts that you want us to verify? Fill out this reader request form or send it to 'VERA, the truth bot' on Viber.
(Editor's Note: VERA Files has partnered with Facebook to fight the spread of disinformation. Find out more about this partnership and our methodology.)