Several posts circulating on Facebook (FB) are misusing photos of a hospitalized infant in order to collect donations from unsuspecting netizens.
VERA Files Fact Check has flagged two such scams — one posted March 30 and another on April 18 — which bore identical captions but different phone numbers to which monetary donations can be sent. Both claimed "Baby Clarence" was about to be intubated and undergo a CT scan, and that he had "meningitis, a brain infection, and sepsis like dengue."
The posts are fake.
The baby, whose real name is indeed Clarence, has been out of the hospital since March 23, according to the official charity page for the baby, managed by his mother Rizza Villanueva Ecleo.
An April 26 FB Live also shows a healthy Clarence outdoors with his mother. Another post on the charity's FB page shows the infant had "bacterial meningitis post infection hydrocephalus."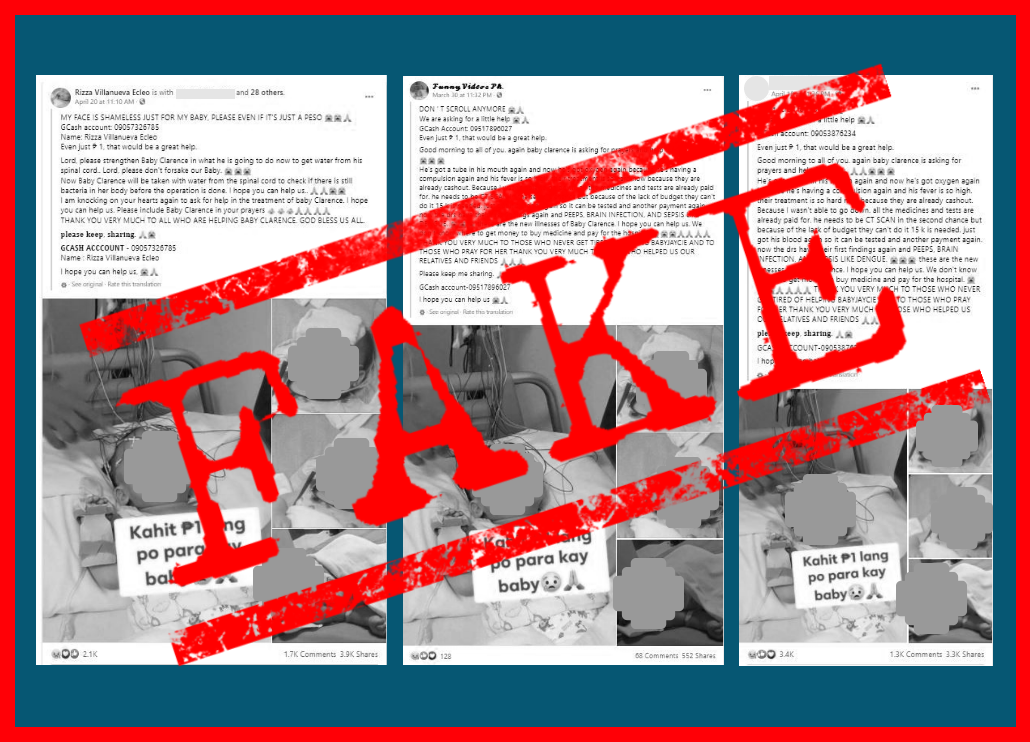 Ecleo told VERA Files Fact Check via FB Messenger on April 26 that she initially posted the photos of her baby to help with his hospital bills, unaware that scammers would spuriously use them.
"My child is very much alive… I do video calls now so everyone can see I am Baby Clarence's mama," Ecleo said in the vernacular, echoing a reminder she gives on her page to request a video call to verify her identity if they would like to send a donation.
One of the publishers of the fake posts, a page called Funny Videos Ph is using as its profile picture a photo of baby Clarence with hospital wires connected to his head. The other account, owned by a private FB user, uses as its display image a photo of Ecleo and her son.
Ecleo warned against accounts that have stolen her identity, as some of the scammers have set up FB and GCash accounts using her name. The phone numbers in the scams do not match the GCash number posted on baby Clarence's charity page.
The bogus posts have gained high traction among netizens: Funny Videos Ph's fake post has gotten over 550 shares, 68 comments and 128 reactions, while Ecleo's impostor received more than 3,300 shares, 1,300 comments and 3,400 reactions. One other post, which has since been taken down, reached over 8,000 shares.
Funny Videos Ph was created on Aug. 23, 2020.
(Editor's Note: VERA Files has partnered with Facebook to fight the spread of disinformation. Find out more about this partnership and our methodology.)