The Philippines' "Queen of All Media" is very much alive.
An undated hoax about the "passing" of multimedia star Kris Aquino is currently making the rounds on the Internet.
One fabricated obituary put out by website 2minsread.pepetv.info bore this headline: "CCTV REPORT: Paalam Queen of All Media Ms. Kris Aquino. Makakasama Mo Na Rin ang mga Magulang Mo. 1971-2018 (CCTV Report: Goodbye Queen of All Media Ms. Kris Aquino. You'll finally be with your parents. 1971-2018)." It carried a video whose thumbnail showed a blurry photo of a hospital room, two photos of Aquino – one where she appears to be healthy and another showing her looking sickly – and the text, "Kris Aquino, 1971-2018, 'Goodbye.'"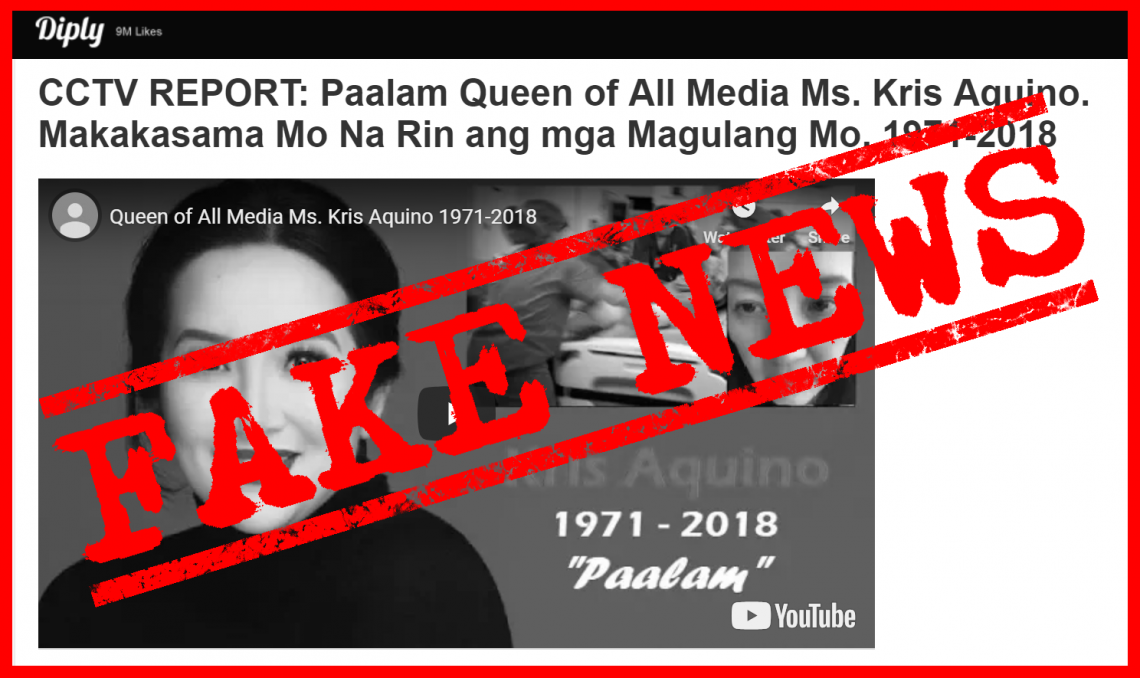 No mainstream media reported news of her "death". In fact, Aquino on Oct 22 posted on Instagram a video showing her alive and well, eating at a restaurant in Hong Kong.
The hospital room photo was unrelated to Aquino, and is actually a 2014 United States Navy photo of medical staff working at the Texas-based Brook Army Medical Center. The image of Aquino in a sickly state, on the other hand, is a screengrab of a video she posted on Instagram on Oct. 11, when she spoke in detail about an auto-immune disease she was recently diagnosed as having.
The fake report also carried an Umagang Kay Ganda report about an artist's passing but stopped playing before the show's host was able to say the name of the individual. The report was actually about the death of actor and director Bernardo Bernardo last March 8.
The modus of this clickbait obituarial report is the same as those that VERA Files fact-checked in the past months, which all carried a provocative headline, a stopping video, and a number of ads that take up more space than the story's actual content. 2minsread.pepetv.info's Aquino hoax, for example, featured 19 advertisements upon loading.
Flemish application developer and fake news expert Maarten Shenck says hoaxes, such as those about "deaths," "rape," and "sex scandals," which easily pull on people's emotions – are often used by websites to quickly generate revenue, obvious from the amount of ads placed on them.
The death hoax on Aquino surfaced less than a week after she was "scolded" online on Oct. 16 by her friend, incoming Foreign Affairs Secretary Teodoro "Teddyboy" Locsin Jr., for "not taking good care" of her health.
Pepetv.info was created Sept. 28.
(Editor's Note: VERA Files has partnered with Facebook to fight the spread of disinformation. Find out more about this partnership and our methodology.)
2018-10-23 12:19:09 UTC>
2018-10-23 12:24:04 UTC>