A YouTube video falsely claimed that celebrity Kris Aquino has died after her health deteriorated. This is fake.
"It's been disturbing that since Friday (Jan. 21) so many have been spreading fake news about me being either in St Luke's BGC or the States but always with the same theme, that I'm in the ICU and in critical condition. NONE OF THAT IS TRUE," Aquino wrote in a Jan. 24 Instagram post.
In an article in the tabloid Inquirer Bandera the same day the death hoax surfaced, Aquino's chief of staff Alvin Gagui said the celebrity was fine, taking a rest and was preparing for her flight to America for medical reasons.
The former talk show host, who is diagnosed with an autoimmune disease, gave the latest update about her health in a Jan. 12 Instagram post.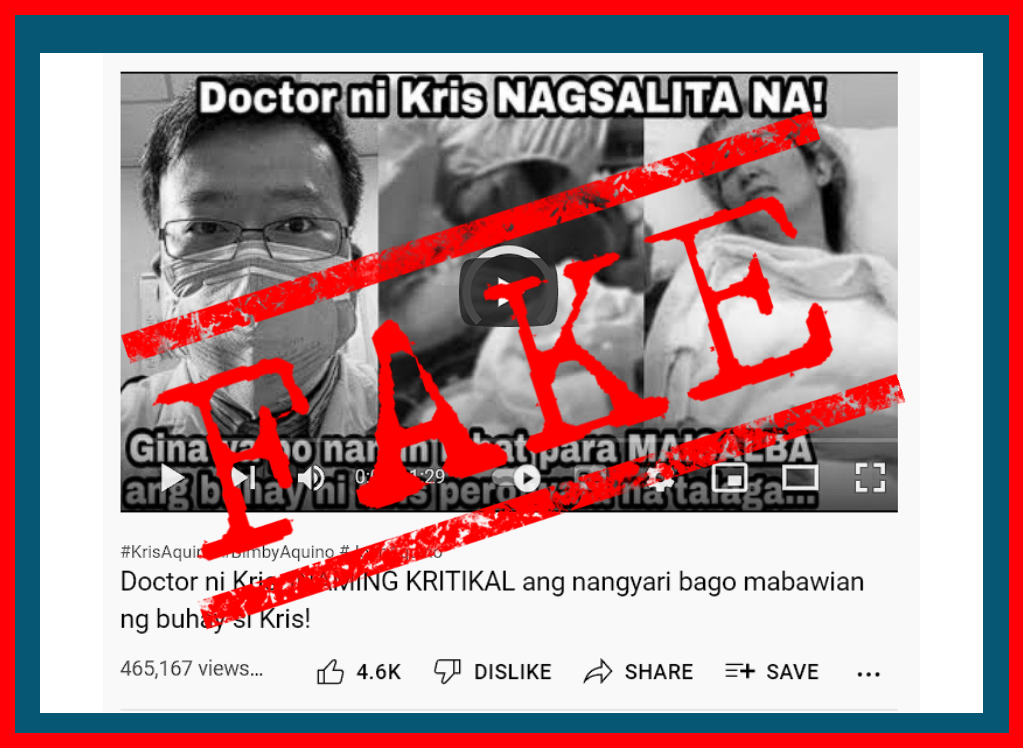 The fabricated video was posted on Jan. 21 by YouTube channel TALAKERA (created on Jan. 7, 2021), and baited netizens by carrying the title: "Doctor ni Kris, INAMING KRITIKAL ang nangyari bago mabawian ng buhay si Kris (Doctor admitted Kris Aquino was in a critical condition before she died)!"
To make the hoax look credible, the video's thumbnail featured a photo of Aquino on a hospital bed, which was placed next to two unrelated images:
a Feb. 1, 2020 New York Times photo of Chinese doctor Li Wenliang, who issued the first warnings about early coronavirus disease 2019 infections in Wuhan, China; and
a March 24, 2020 Getty Images photo of a medical worker in protective gear tending to a COVID-19 intensive care unit patient at the Casal Palocco hospital near Rome.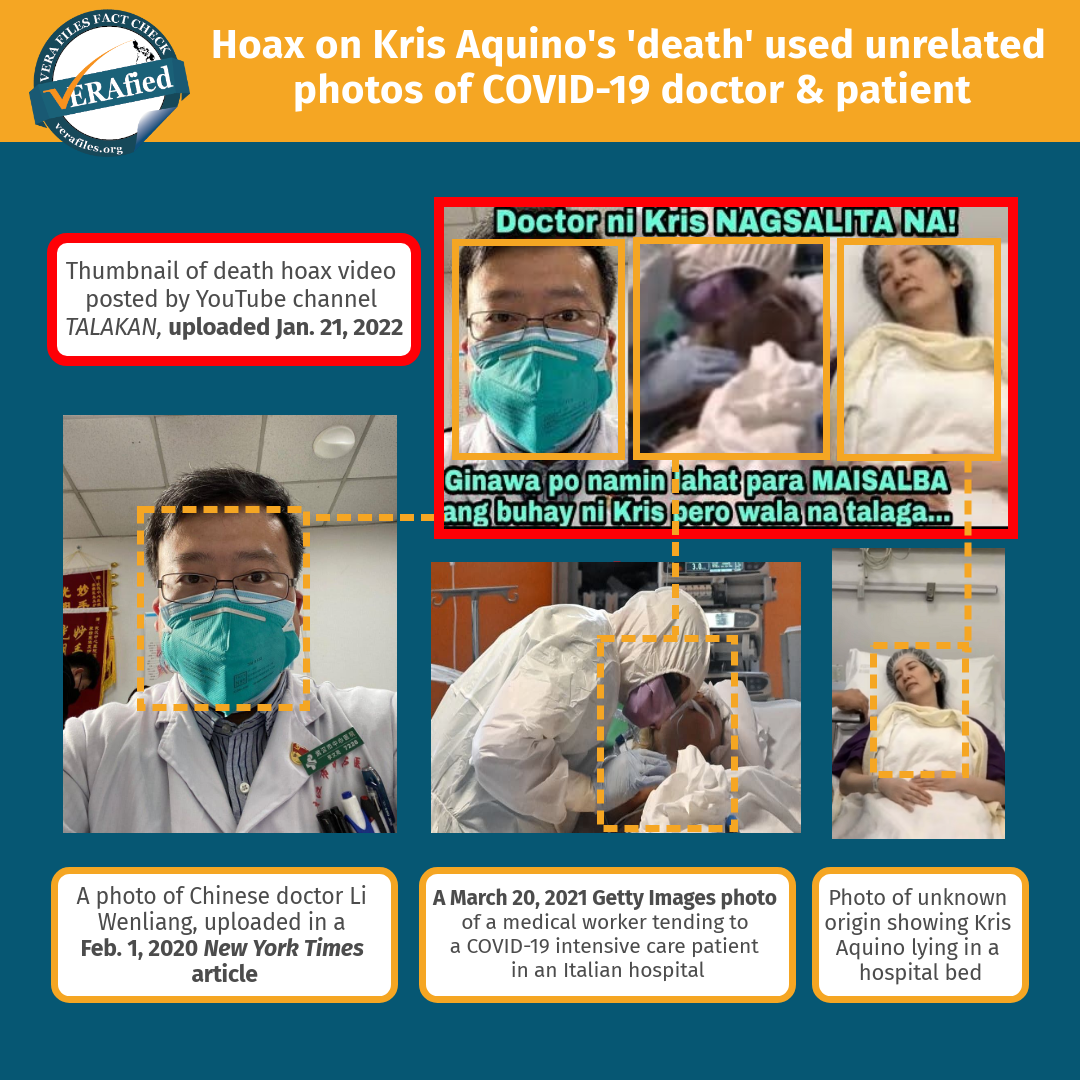 And contrary to another claim made in the fake report, Aquino's ex-husband James Yap did not issue any statement about the supposed "passing."
The death hoax video garnered a total of over 462,000 views on YouTube, and was embedded in a page by website KIDSTVA (created on Oct. 7, 2018) which garnered a total of nearly 6,850 interactions on Facebook. It appeared four days after entertainment news reporter Cristy Fermin said in a Jan. 17 video that she dreamt Aquino had died.
TALAKERA posted other death hoax videos about Aquino from Jan. 21 to 25. It bore the following false claims in their headlines and thumbnails:
that President Rodrigo Duterte made an appearance at Aquino's wake;
that one of her sisters crumpled to the ground after seeing Kris' corpse;
that people crowded at the public viewing at Aquino's wake;
that Aquino's sons Josh and Bimby wailed as they saw their mother's corpse;
that game show host Willie Revillame cried upon learning of Aquino's "death."
Have you seen any dubious claims, photos, memes, or online posts that you want us to verify? Fill out this reader request form or send it to 'VERA, the truth bot' on Viber.
(Editor's Note: VERA Files has partnered with Facebook to fight the spread of disinformation. Find out more about this partnership and our methodology.)