Vice President Leni Robredo has agreed to join a live multi-media interview, contrary to a claim made in a video that spurred the hashtag #LeniDuwag. The assertion that she backed out of the interview over DZRH needs context.
The interview was actually moved to February 2.
On Jan. 23, Youtube channel Showbiz Fanaticz published a video with the headline: "JUST IN: Matapos Tawaging DUWAG si BBM| ROBREDO UMATRAS na SA LIVE INTERVIEW| 'LENI DUWAG Kay BBM?!' (JUST IN: After BBM was called a coward| Robredo backed out of the live interview| 'Leni is afraid of BBM?!')"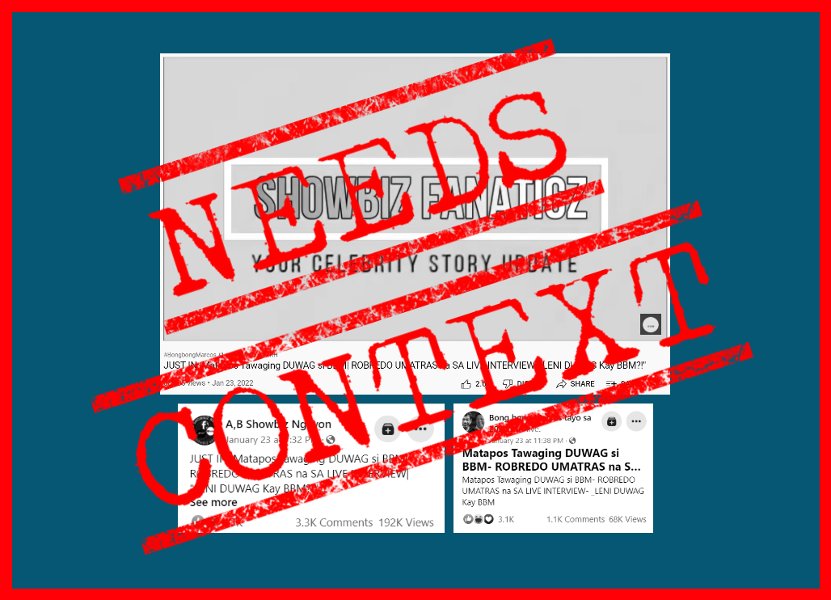 The video was uploaded a few hours after Manila Times columnist Antonio Contreras said in a Jan. 23 Facebook (FB) post that Robredo and Manila City Mayor Francisco "Isko" Moreno Domagoso declined to join the live interview with presidential aspirants.
The video generated comments including one calling Robredo a "hypocrite" for backing out of the interview. #LeniDuwag trended on Twitter shortly after Contreras' post, according to social media monitoring tool GetDayTrends.
Robredo clarified in a tweet that night that she agreed to join the live interview, but at a later date due to a conflict in her schedule. "I'm actually available next week. If they're willing to adjust, let's set it up. I'm always ready to face [them]," she added in Filipino.
The next day, DZRH station manager Cesar Chavez in another tweet confirmed Robredo will appear in a live interview scheduled on Feb. 2 and also invited Moreno to join.
Shortly before this incident, former Sen. Ferdinand "Bongbong" Marcos Jr. backed out of an interview hosted by GMA News broadcast journalist Jessica Soho, claiming in a Jan. 22 press statement that Soho is "biased." #MarcosDuwag trended on Twitter for a couple of days, according to GetDayTrends.
The video has been viewed more than 67,000 times. It was reuploaded by FB pages Bong bong Marcos tayo sa 2022 (created on Oct. 24, 2021), A,B Showbiz Ngayon (Jan. 21, 2022) and has been collectively viewed more than 260,000 times and garnered more than 16,100 reactions, 4,400 comments and 5,100 shares.
Have you seen any dubious claims, photos, memes, or online posts that you want us to verify? Fill out this reader request form.
(Editor's Note: VERA Files has partnered with Facebook to fight the spread of disinformation. Find out more about this partnership and our methodology.)